Access Points vs. Mesh: How to get the best Wi-Fi coverage
Does your old router still work well enough or is it time for something new?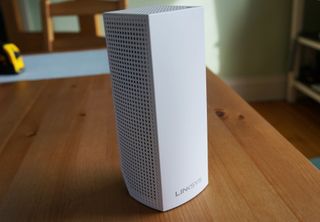 (Image credit: Windows Central)
Mesh networking is gaining in popularity. Buying a kit with a few nodes can spread out fast Wi-Fi across a relatively large area, plus they are easy to set up and maintain, most requiring nothing more than a few minutes choosing preferences in an app. Most of these mesh kits come with a hefty price tag, and your standard router coupled with an extra access point or extender might still be enough to improve your existing network. So, should you switch over to a mesh networking system, or can you live with the router you have, albeit with a few extra access points?
See our beginner's guide to home networking gear
Choosing between extra access points and mesh networking
The wireless network in your home, following the initial setup, should go mostly unnoticed until it's time to upgrade. Whether this isn't the case and you want something more reliable, the router is so old it no longer supports the latest standard, you need new hardware to keep up with faster speeds from your ISP, or you need to cover a larger area, you're probably shopping around for a solution.
I don't want to spend a lot of money
If your existing network — one with a single router — is having trouble hitting certain areas of your home, adding an extender or wired access point will fill that void with glorious Wi-Fi for a relatively low price.
An access point requires an Ethernet cable running back to your router, and creates its own network with the same network name (SSID) as your original router. Setting this up will require you to get into some intermediate networking stuff like Power over Ethernet (PoE), but the end result can be satisfying. Think of a hotel's Wi-Fi, and how you can walk the halls without losing network access.
An extender connects wirelessly to your router and creates a bubble of Wi-Fi for a far corner of your home. The difference here is that an extender is going to cut your speed in half (it has to split wireless traffic coming from and going back to the main router), while a wired access point can rely on the wired connection for backhaul traffic. Extenders also generally use a different network name, appended with something like "EXT."
If you're simply trying to hit your entire home with Wi-Fi without paying mesh prices, an extra access point or extender should serve you well. If you have an old router lying around, you can turn it into an access point, though this does require a bit of tinkering that some don't have time for or simply don't want to attempt.
Best Wi-Fi extenders to improve coverage in your home
My router is old and slow
Changing plans with your ISP in order to get faster internet than you had before won't do much good if the router you're using can't keep up. While many companies will include a router in the plan you pay for, it still might not be up to your standards.
If you're thinking about paying for an entirely new router and you have a large area to cover, it's probably worth upgrading to a mesh network. You might not get the same wireless speed that you'd get with a $500 gaming router, but for most people, the speeds offered with mesh systems is more than enough.
Sure, there are plenty of cheap standard routers out there that can prove suitable for smaller apartments or condos, but for large spaces, you have to add in the price of extra access points or extenders. If you can snag a mesh network kit for somewhere between $200 and $300 (in the case of the Netgear Orbi or Google Wifi), you're likely in the same price range as a standard router setup for a large home or office.
I like to tweak all my network settings
Commercial mesh networking systems do undoubtedly come with fewer advanced settings than your standard routers, but that's seen as a selling point for many people. If you're on the side of "set it up once and forget about for a couple of years," a mesh network will do you fine.
If, however, you're more on the side of "I want to tinker with my network every day," you might be disappointed with the mesh network (you also likely already know what type of router you need and why).
Wrapping things up
Choosing between a standard router setup and a mesh network kit really comes down to three things: your budget, your existing hardware, and how comfortable you are with configuring a custom network.
If your existing router works well other than not being able to hit a far corner, buying an extender or adding an access point can probably fix things up without you having to spend a bundle of cash. Of course, adding your own access point (maybe you have an old router lying around) does require a bit of networking know-how, which some people might want to avoid in lieu of something they can plug in and forget.
For those with an old router that needs to be retired, a mesh network makes a lot of sense when looking to the future, especially if you have a large area to cover. You plug it in, go through a few quick setup steps in an app, and it's good to go. No running cables through the house or worrying about the whole network going down if one of the nodes fails. Its brains keep the network from getting congested when a few people are streaming or gaming, and everything is contained in a single, modular network.
There's not really a single answer for which network option is best for everyone, though hopefully a couple of your questions have been answered. For more information and to further help you decide, check out these links.
Senior Editor, Laptop Reviews
Cale Hunt is a Senior Editor at Windows Central. He focuses mainly on laptop reviews, news, and accessory coverage. He's been reviewing laptops and accessories full time since 2016, with hundreds of reviews published for Windows Central. He is an avid PC gamer and multi-platform user, and spends most of his time either tinkering with or writing about tech.
"Choosing between a standard router setup and a mesh network kit really comes down to three things: your budget, your existing hardware, and how comfortable you are with configuring a custom network." In my opinion you're missing one point here. Most if not all mesh network kits are depending on an app. NEVER ever will i buy a network solution that depends on an app. To make the app work, your mesh-devices must connect to an external service. You never know what this company (or hackers) can do/see about your network. Company no longer exists, or stops support for your network device? You can't use the app anymore, and therefore can't configure your network anymore. Service unavailable at the company? You can't use the app and therefore can't configure your network at that time. App no longer available? You can't configure your network anymore. App or phone updated and your phone/tablet or mesh-devices are no longer supported? You can't configure your network anymore. Etc.. When you might think 'that's not going to happen', search what some big companies did before. Search what Logitech did with their Harmony Link Hub, or what Nest did with the Revolv Hub for smart-home. Hint: service stopped, devices became useless. For me this is the only thing to NOT buy a mesh network. The other 3 things (budget, hardware, configuring) are all fine by me, but still i will never buy a mesh network product that requires an external service to function.

vosManz, that's good advice but it's a risk I'm willing to take. Forgive if this is a dumb question, but could you flash open source firmware to the router? I used to do that with my Asus router and the wrt firmware was better than the manufacturers.

If you want to take that risk that's up to you. I don't, that's why i don't have a mesh setup, so I don't know if it's possible to change the firmware. On my current linksys router it's possible, that's running openwrt now. Combined with an access point it gives me good coverage inside and outside my house.

mmcpher: Yes, it is still possible...

You can easily set up your old router as access point and mesh it in!

I have a large, all-brick bi-level home where coverage and dropped connections were chronic problems. I had set up my own Linksys network consisting of an EA9500 and range extenders. But one of my 5ghz or 2.4 ghz connections kept hanging. I was talking online with Linksys support intending to upgrade the range extender but wound up giving the 3-node Velop a try. So far so good. I did have some trouble setting it up. It wouldn't allow me to add the nodes after the initial unit set up easily. Rather than placing the node where I wanted it in the house I had to set each node up close to the base unit and even then had to try and then reset a number of times. Took more than an hour to get all the nodes linked and in place where I wanted them. But since then its been fast and rock-solid and the handoffs seamless. More of an upgrade from the EA9500 than I expected. And for me, the Linksys mobile and web app UI's are a selling point. I've also done away of running the 5 and 2.4 connections under separate SSID's (as a tweak to try and deal with drops and slowdowns). Now its just 1 SSID and if I want, I can see which node and channel each device is connected to through the web or mobile app. Previously temperamental devices (IP Camera or Amazon Show) have connected easily and stayed that way. I did have to reset the wifi adapter on 1 of my laptops but other than that, smooth and fast sailing so far.

Some Asus router support mesh network with the latest Asus firmware. AiMesh I bought a refurbished Asus router on Amazon ($59) to add to my setup. I already had an Asus router who support mesh network. The AiMesh network is easy to setup and works well with all our device. PC, Mac, iPhone, Android and My Lumia 950. It fixed my coverage issue in the backward. for a small price. Happy to see a company (Asus) reusing old hardware, free of charge to their customers. :)

What about power line networking? You do not mention that yet it is cheap and effective.
Windows Central Newsletter
Thank you for signing up to Windows Central. You will receive a verification email shortly.
There was a problem. Please refresh the page and try again.