AndaSeat has once more created an extremely comfortable chair that helps improve posture. It's a bit expensive, but it's a high-quality product that will last for years and look good in whatever room you put it in.
Pros
+

Provides extremely good posture

+

Comfortable lumbar and neck pillows

+

Quality PVC leather

+

Easy assembly

+

4D adjustable armrests
Why you can trust Windows Central Our expert reviewers spend hours testing and comparing products and services so you can choose the best for you. Find out more about how we test.
I'm not even sure how many gaming chairs I've assembled and tested over the last five years, but it's definitely a regular occurrence for me. More so than any other gaming chair brands, AndaSeat has always stood out to me with its commitment to quality and durability. So, when I heard that the company had a new gaming chair coming out, I was very excited to review it.
After spending over two weeks using this chair during my eight-hour workdays and while playing my best PC games in my free time, I'm happy to report that this is once more another fantastic chair from AndaSeat. If you're looking for a comfortable chair that looks beautiful and will last a long time, then this is the chair for you.
Disclaimer: This review was made possible by a review unit provided by AndaSeat. The company did not see the contents of the review before publishing.
Kaiser Frontier: Price & availability
AndaSeat sells the Kaiser Frontier XL for $450, however, you can often find the chair being sold at a discount on the AndaSeat website. Occasionally, AndaSeat chairs can be found selling on Amazon, but it's more likely that you'll only be able to purchase the Kaiser Frontier from AndaSeat itself.
It comes in either black or maroon and comes wrapped in premium PVC leather for a soft feel.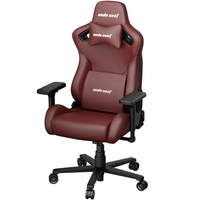 With its impressive materials, sturdy build, and easy assembly, the Kaiser Frontier is an excellent gaming chair for anyone who sits at a desk for long stretches. It's available in maroon or black and is wrapped in beautiful PVC leather.
Buy at: AndaSeat
Kaiser Frontier: Assembly & build quality
Image 1 of 2
Kaiser Frontier XL specs
Price: $450
Recommended height: 5.5' - 6.6'
Max weight: 330 pounds
Materials: PVC leather
Reclining: 90° - 160°
Support: Removable neck and lumbar pillows
I've assembled dozens of gaming chairs over the last five years and AndaSeat has always impressed me with its quality, durability, and easy assembly. The same is true of the Kaiser Frontier XL.
As is usually the case with any gaming chair you purchase, the Kaiser Frontier XL arrives in a somewhat heavy box with all of the parts separate and unassembled. Something I love about AndaSeat is that they always include a detailed and fully illustrated instruction manual in the box along with a set of screws and an Allen wrench for easily screwing them in place. A few weeks ago, I busted my finger playing volleyball and have been trying to be careful with it, but even so, I was able to assemble the Kaiser Frontier XL in about an hour. This was thanks to the aforementioned manual and simple tools.
I requested the maroon version of this gaming chair for review and at first when I opened the box, I thought I'd been mistakenly sent the black one. However, I soon realized that the backside of the maroon chair is indeed black. I actually prefer it this way as it gives more contrast to the chair and helps the beautiful red of the front really stand out.
As far as build quality goes, the AndaSeat Kaiser Frontier XL is a very impressive gaming chair that will look good in any setting. But this grand appearance isn't just skin deep. At its core, the chair has a durable seamless steel frame that's covered in high-density foam for comfortable cushioning. Meanwhile, the PVC leather is extremely soft to the touch and looks very impressive thanks to its textured quality. What's more, the flexible, leathery material is very easy to clean if you happen to spill any food or other items on it.
Thanks to its sturdy build, the Kaiser Frontier XL can hold up to 330 pounds and has always felt extremely stable. I'm five-foot-six inches tall and the chair fits my frame perfectly. This isn't surprising since AndaSeat specifically states the chair is intended for people between five and a half to six and a half feet tall. I will give a warning, though, that the seat cushion does feature a racecar bucket seat type of design that might make folks larger than me feel a little squished around the hips and thighs due to the wings that rise up on either side of the cushion.
More PC gaming
- Best PC gaming headsets
- Best PC games of all time
- Asus ROG Ally review
- Best gaming mouse
- Best pre-built gaming PCs
Much like many of the other AndaSeat chairs I've tested, the Kaiser Frontier XL features 4D adjustable armrests. This basically means they can be moved up and down, front and back, side to side, or even rotated to get them into a more comfortable position. All I have to do is press in the metal button on the side using my thumb or pull up on the mechanism on the outer side and then they adjust according to the pressure I place on them.
A major improvement from past chairs is the fact that the armrests only rotate if the metal button is pressed in. I cannot tell you how many times I've pulled my AndaSeat Fnatic gaming chair somewhere only to find that I had accidentally changed the armrest rotation in the process. So, this is a very happy change.
Kaiser Frontier: Comfort and lumbar support
I've long noted that AndaSeat's chairs are excellent at making the user sit up straight with great posture while still being comfortable and the same is true of the Kaiser Frontier XL. It comes with a lumbar pillow and neck pillow filled with the same foam as the cushion and wrapped in the same PVC leather. They are the perfect mixture of soft yet firm to help give my neck and back the support they need.
The lumbar pillow is loose, which some people might not like, but I love the way it fits into the chair and slides up and down as I adjust the reclining mechanism. This way, it always slides into a position where my back needs it without me intentionally moving it.
Now a warning for tall folks — when my six-foot-five husband sat in the chair, he did find that the neck pillow dug into his shoulders in an awkward way. However, this was remedied by removing the pillow from its intended position and then slipping it over the top of the chair to be a little higher than usual. Of course, you can always remove the neck and/or back pillows if you find you don't want to use them.
Thanks to the handy lever on the right side of the chair, I can easily recline up to 160 degrees back. While this obviously isn't fully parallel with the floor it is far back enough that I can consider taking a nap in the comfy chair. There is also a multi-tilt mechanism below the seat cushion that allows the Kaiser Frontier XL to lean back a bit more. I like this feature when I'm working at my desk, but I prefer a more rigid chair when playing a competitive game, which is why I'm happy that the mechanism can be locked into place to prevent it from leaning back in these scenarios.
It all works together for a very comfortable chair that I have been more than happy to sit in during my eight-hour workdays. In fact, I often forget that I'm testing a chair while sitting in it because it's such a cozy fit.
Kaiser Frontier: Competition
I love AndaSeat and really do think that they create the best gaming chairs you can get. So, if the Kaiser Frontier XL isn't exactly what you're looking for I recommend looking at AndaSeat's other offerings. As I said previously, I've assembled and tested dozens of these chairs and they're all made with quality materials for a comfortable sitting situation. For those looking to save some money the Phantom 3 is a fantastic option. You can get it covered in fabric or PVC leather in a number of different colors. It's designed to hold up to 200 pounds and offers great back support.
Of course, if you want the very best option that AndaSeat has to offer, I cannot recommend the Kaiser 3 XL enough. This is the chair that I use every day. It helps me sit up straight thanks to the built-in adjustable lumbar support and magnetic neck pillow. Plus, the PVC leather is soft and comfortable to sit on. There are also fabric options for those that would prefer that with nine different color variants to choose from. It can hold up to 395 pounds and is very roomy for average to tall people.
Outside of AndaSeat, another excellent gaming chair is the SecretLab Titan Evo. It's around the same caliber and price range as the Kaiser 3 XL. You can get it in either a quality leatherette or a soft fabric material, both of which look very classy. It will provide you with excellent back support in a sturdy frame that can handle 285 pounds.
Kaiser Frontier: Should you buy it?
You should buy this if...
You want a chair that will last for a long time.
You're looking for a chair that can hold a lot of weight.
You want something that offers good back support while still being comfortable.
You should not buy this if...
You're looking for something less expensive.
You'd like a chair in a different color.
You don't need a chair that can hold this much weight.
I cannot stop gushing about the AndaSeat Kaiser Frontier XL. This is an absolutely wonderful gaming chair that looks just as beautiful as it is sturdy. The soft PVC leather looks very chic, and the chair can blend into any scenario whether you're looking for an office chair or a fun gaming den chair. What's more, it's very comfortable to sit in and will help you maintain better posture while using it.
The biggest downside is that the chair is very expensive. While there are several cheaper chairs on the market, many aren't made nearly as well and will fall apart in a few years. Meanwhile, AndaSeat's amazing build quality will last much longer so it's more like an investment that will prevent you from having to purchase more chairs down the line. I highly recommend the Kaiser Frontier XL, but if it's not quite what you're looking for then AndaSeat has plenty of other options for you to consider as well.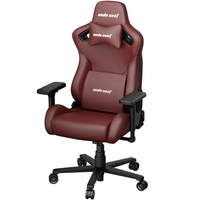 With its impressive materials, sturdy build, and easy assembly, the Kaiser Frontier is an excellent gaming chair for anyone who sits at a desk for long stretches. It comes in a number of different colors in both fabric and PVC leather.
Buy at: AndaSeat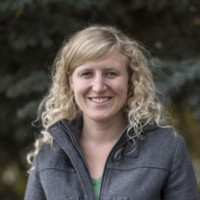 Self-professed gaming geek, Rebecca Spear, is one of Windows Central's gaming editors with a focus on Xbox and PC gaming. When she isn't checking out the latest games on Xbox Game Pass, PC, or Steam Deck; she can be found digital drawing with a Wacom tablet. She's written thousands of game guides, previews, features, and hardware reviews over the last few years. If you need information about anything gaming related, her articles can help you out. She also loves testing game accessories and any new tech on the market.