How to upgrade the SSD in Acer's TravelMate P6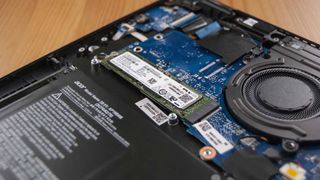 (Image credit: Windows Central)
Upgrading the SSD in Acer's TravelMate P6 is a fairly easy process that can add storage space or boost transfer speeds. The TravelMate P6 I'm using for this guide is model TMP614-52-73EJ, though the same steps should apply to any of the configurations Acer offers in the TMP614-52 line. I've laid out all the steps required to upgrade the SSD, as well as some hardware to get the job done. Here's what you need to know.
How to upgrade the SSD in Acer's TravelMate P6
Note: Before beginning any upgrades on a PC, it's a good idea to back up your data in the unlikely event something should go wrong. You'll also want to ensure you're not working in a static-filled environment since it can cause damage to a PC's internal hardware.
Acer's 2021 TravelMate P6 (TMP614-52) has a single M.2 2280 slot for a PCIe NVMe solid-state drive (SSD). In my TravelMate P6 review, I found the factory drive to be quite speedy, coming in at 3,558MB/s read and 2,942MB/s write speeds. This performance is subject to what drive you get, and depending on availability you might get something faster or slower. You can get storage up to 1TB from the factory, but there's also a 512GB option if you'd like to save some money on the initial purchase.
Acer only offers PCIe 3.0 SSDs in their configurations. Despite the 11th Gen Intel platform, the PC does not support PCIe 4.0 drives. You'll lose out on speed and efficiency with PCIe 3.0, but PCIe 4.0 SSDs are considerably more expensive than their PCIe 3.0 counterparts. Our collection of the best SSDs makes this apparent.
I recommend checking out something like the Samsung 970 EVO Plus or the SK hynix Gold P31 PCIe 3.0 SSDs. The former is available in four capacities from 250GB to 2TB, while the latter is available in three capacities from 500GB to 2TB. You could go with a PCIe 4.0 drive since they're backwards compatible, but that's really only if you want to set yourself up for future upgrades in laptops with PCIe 4.0 compatibility. I use the Crucial P5 Plus in the photos below, but I still recommend a PCIe 3.0 drive.
The TravelMate P6 has just the one M.2 SSD slot inside, so you'll have to decide before the upgrade process whether or not you want to keep your existing data. Our guide on cloning your SSD can help you move everything including apps and OS over to the new SSD, but you will need an external SSD enclosure for the operation.
If the PC is new or you've backed up any files externally and don't mind starting over with a clean version of Windows, you can swap the drives and go from there. There are a couple of steps to take beforehand, which are laid out in our guide to a clean install of Windows 10.
Once you're ready for the actual physical SSD swap, power down your TravelMate P6 and clear out a well-lit workspace. Proceed with the following steps to upgrade your SSD.
Unscrew the 11 fasteners on the bottom of the laptop using a Torx T6 screwdriver.
Pry up the bottom panel using a pry tool or something thin like a guitar pick. Start along the back edge between the hinges and work your way around.
Unscrew the single fastener at the end of the M.2 SSD using a Phillips screwdriver.
Pull the old SSD away from the M.2 slot. Do not lift straight up, to prevent damaging the slot or drive.
Insert the new SSD into the slot at about a 20-degree angle. Notice that the slot and drive are keyed and will only fit one way.
Screw in the fastener at the end of the M.2 SSD. Be careful not to overtighten, but be sure the drive is tight.
Replace the bottom panel of the laptop by applying pressure around the edges until it clicks into place.
Screw in the 11 fasteners on the bottom of the laptop.
If you chose to go with a clean Windows install, now is the time to do so. If you cloned the drive, the laptop should boot up successfully.
Our top hardware and software picks
Either the Samsung 970 EVO Plus or the SK hynix Gold P31 are recommended as upgrades if you're going with a PCIe 3.0 drive.
Superb PCIe 3.0 storage
The Samsung 970 EVO Plus remains one of the best PCIe 3.0 SSDs available today. Grab it in sizes from 250GB to 2TB.
Affordable PCIe 3.0 storage
The SK hynix Gold P31 comes in three sizes from 500GB to 2TB, and it's super affordable.
Fresh look for pros
Acer TravelMate P6 (2021)
The TravelMate P6 for 2021 got some big upgrades that make it much more attractive than previous generations.
Additional equipment
These extra tools aren't absolutely necessary (though you will need an external enclosure for cloning), but they can help get you through the upgrade process.
SSK M.2 enclosure ($19 at Amazon)
This affordable aluminum SSD enclosure works with M.2 PCIe NVMe drives like the Samsung 970 EVO Plus and SK hynix Gold P31 for cloning. Connect to the TravelMate P6 with USB-C.
Macrium Reflect 7 (Free at Macrium)
We've had success cloning drives with Macrium Reflect 7, and have even written a complete guide on how to use it properly. A free edition is available, but you can purchase a full edition with a bunch more features for those who truly take backups seriously.
ORIA PC toolkit ($30 at Amazon)
This PC toolkit has everything you need to open and upgrade the TravelMate P6's SSD.
Rosewill anti-static wristband ($7 at Amazon)
Static electricity can damage sensitive PC parts, so remove the risk with an anti-static wristband. Fasten it around your wrist and clip it onto your PC for peace of mind.
Get the Windows Central Newsletter
All the latest news, reviews, and guides for Windows and Xbox diehards.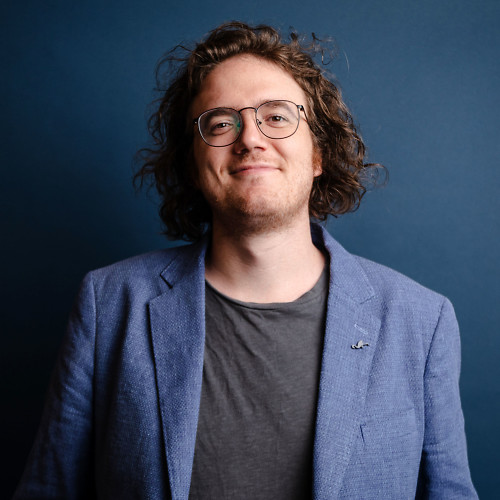 Senior Editor, Laptop Reviews
Cale Hunt is formerly a Senior Editor at Windows Central. He focuses mainly on laptop reviews, news, and accessory coverage. He's been reviewing laptops and accessories full-time since 2016, with hundreds of reviews published for Windows Central. He is an avid PC gamer and multi-platform user, and spends most of his time either tinkering with or writing about tech.