Hands on: Acer's Aspire S 13 is a great, boring laptop
By Daniel Bader published
Boring is OK when it comes to cheap-but-powerful Ultrabooks.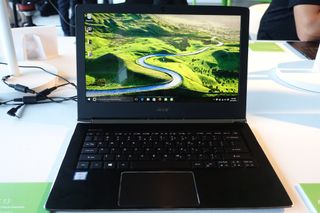 The Acer Aspire S 13 has a "diamond-etched" bezel around the trackpad. That's what a company representative kept saying when helping me differentiate the $699 notebook from its myriad competitors. But while she was talking, I kept thinking back to my first laptop some 13 years ago, a beastly Dell thing that weighed nearly eight pounds and, despite its sub-1Ghz clock speed, could have doubled as a snowblower for all the fan noise it generated.
When it goes on sale next month, the Aspire S 13 will be fourth generation of S-series notebooks for the company since 2012, when the Ultrabook revolution really took off. And in those intervening four years, the cadence of processor releases by Intel has slowed, as has the innovation in the traditional laptop space. Indeed, unless you're really paying attention, it's difficult to tell the difference between Haswell, Broadwell and Skylake.
The Aspire S 13 boasts a 13-inch 1080p panel — touch optional — along with a sixth-generation Intel Core processor, between 4GB and 8GB of RAM, and up to 512GB of SSD storage. Obviously, the $699 entry-level will feature the bottom end of those specs, but there is still a lot to like about the S 13 at that price point. And because even the cheapest option runs a Skylake processor, you're looking at between 10 and 13 hours of battery life, which would have been unheard of just a few years ago.
Acer may not have the brand cache of a Lenovo or Dell, but the company has done a fine job building competent and attractive products in recent years. While the Aspire S 13 isn't as immediately gratifying as the Surface-like, liquid-cooled Switch Alpha 12, it's also got considerably more mass appeal, which makes it more interesting — even if it is boring.
Opinions in reviews isn't needed. More balance please, boring for you isn't for everyone.

Absolutely agree. The notebook has a sleek look, and nice bang for the buck.

Yea don't put your opinion in

The title of this article is so off-putting. Different than its content. For a moment I thought im on the verge. Sigh.

Daniel Bader did you leave Mobile Syrup for Mobile Nations?

It's true that intel has almost forgot to innovate something in last few generation of processors. In mobile space Qualcomm has done so much new interesting innovation but look at intel they have done almost nothing. In Skylake they tried to help get more battery backup only. Other changes are not such significant. Laptop/Ultrabooks have became boring. Only some change in storage or memory. Sent from Windows Central for Windows 10 Mobile

Don't change a system if it ain't broken.

But people keeps changing their phones vigorously. cause there are significant changes in one year gap along with in processor speed. but you cant find any significant changes between 4th gen and 5th gen or any other gen intel core processors. Sent from Windows Central on Windows 10

Is this the successor of the acer s7? The s7 was gorgeous

I recently bought an HP Spectre X360 with 8GB RAM and 256GB hardrive for $720 and I don't see anything about the Aspire S 13 that would make me want to choose it over the X360. The Acer is a hair thinner and lighter but, based on previous Acer laptops, I doubt the touchpad or keyboard will be nearly as nice. The price I paid also included the touch screen with active digitizer, virtually no bloatware, and it's a convertable which I use way more than I ever thought I would. From the sound of it, the build quality isn't as nice as the Spectre either. The only thing that would make me consider this at all is the claimed 10-13 hour battery life but, I have my doubts that will hold up in real world use. I'm getting about 8-9 hours out of the X360 typically with moderate to heavy use and I'm betting the Acer will be within an hour or two of that.

I've been looking for a smaller laptop, currently have an Envy 17. I love what HP has done, except for the trackpad... it's horrendous, reading online it looks to be a weak spot for HP pretty much accross the board.....How is the trackpad on the Spectre?

Whats interesting was that Chromebook 14 with backlit keyboard for less than $400. Too bad it comes with crappy Chrome OS.

And that's why it is that cheap.

can i get those green wallpaper from laptop ..!please
Windows Central Newsletter
Get the best of Windows Central in in your inbox, every day!
Thank you for signing up to Windows Central. You will receive a verification email shortly.
There was a problem. Please refresh the page and try again.