AMD Smart Access Memory benchmarked: How much of a difference does it actually make?
Is AMD's Smart Access Memory feature a true selling point for its Radeon RX 6000 GPUs? We tested some of our favorite games to find out.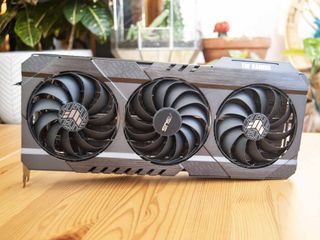 (Image credit: Windows Central)
AMD's "Big Navi" Radeon RX 6000 GPUs, unveiled and released late 2020, include a feature called Smart Access Memory (SAM). It was one of the main features advertised to come with these RDNA 2 cards, alongside Rage Mode easy overclocking and DirectX12 Ultimate support with ray tracing, variable-rate shading, mesh shaders, and sampler feedback. AMD stressed that SAM could make a sizable difference in gaming performance, so we thought we'd test it out at QHD and UHD resolutions in a bunch of games to find out how well it actually works. Does this feature really turn what is already one of the best graphics card options into a beast?
What is AMD Smart Access Memory?
Smart Access Memory was introduced alongside Radeon RX 6000 graphics cards (GPU) as a way for AMD hardware to together provide boosted performance in games. With a Ryzen 5000 processor (CPU) and a Radeon RX 6000, GPU both on a motherboard with a 500-series chipset, the CPU and GPU's data channel is wide open, allowing for full utilization of the GPU's VRAM instead of the typical 256MB ceiling.
This is essentially "resizable Base Address Register (BAR) support" by a fancy new name, a feature that came along with PCIe 3.0. Because none of this is proprietary, it's expected that NVIDIA will implement this feature as well.
There's no extra cost on AMD's side, and marketing claims it can boost performance by up to 16% in some titles. That's a bold claim and undoubtedly one with focused and specific test settings. It appears as though AMD used a Ryzen 9 5900X CPU and Radeon RX 6800 XT GPU in its testing, which are both high-end components that the majority of users will no be using. And while our test bench is still on the higher end, it's a more reasonable look at the performance most people will enjoy when going full AMD.
If you'd like to enable SAM on your own system, you first need to ensure you're using an AMD Ryzen 5000-series CPU, an AMD Radeon 6000-series GPU, and a 500-series chipset motherboard. You also need the latest motherboard BIOS (AMD AGESA 1.1.0.0 or newer) and Radeon driver version 20.11.2 or newer.
With that hardware, driver, and BIOS update in place, restart your PC and enter the BIOS. Enter the Advanced settings menu and enable Above 4G Decoding and enable Re-Size BAR Support. Save your changes and boot into Windows 10. SAM should now be enabled on your PC. No need for any toggles or switches once you've booted into Windows.
Testing Smart Access Memory at 1440p and 4K
We decided to test SAM using popular games with built-in benchmarks. The uniform testing sequences allowed for more accurate testing than just jumping into a game and recording average frames-per-second (FPS). We ran tests at 1440p (QHD) and 4K (UHD), the two resolutions for which this GPU is best suited. Check out our test system specs for an idea of what we're working with. And be sure to have a look at our AMD Ryzen 7 5800X review for more information about the CPU.
Swipe to scroll horizontally
Category
Spec
OS
Windows 10 Home
Processor
AMD Ryzen 7 5800X
8 cores, 16 threads
Up to 4.7GHz
Graphics
ASUS TUF Gaming
Radeon RX 6800
16GB GDDR6 VRAM
Motherboard
MSI MAG B550 Tomahawk
RAM
2x16GB DDR4-3200MHz
Dual-channel
CL16
Storage
SK hynix Gold P31 1TB
SK hynix Gold S31 1TB
Cooler
Cooler Master Hyper 212 Black
GPU Driver
20.45.27.02
Now onto the benchmark results. We tested first with QHD and UHD resolutions without SAM enabled. We then doubled back and retested again at both resolutions with SAM enabled.
Assassin's Creed: Origins (Ultra High)
We saw a 4.7% performance increase at QHD, and a 3% performance increase at UHD.
Civilization 6 (Ultra)
We saw a 0.3% performance increase at QHD and a 1.6% performance increase at UHD.
Deus Ex: Mankind Divided (Ultra)
Not really any change here. There was a slight decrease, but results are still quite close.
F1 2019 (Ultra High)
We saw a 1.1% performance decrease at QHD and a 1.8% performance increase at UHD.
Far Cry 5 (Ultra)
We saw a 4.7% performance increase at QHD, while performance stayed the same at UHD.
Gears 5 (Ultra)
Huge decreases in performance here with SAM enabled. We saw an 11.9% performance decrease at QHD and a 9.7% performance decrease at UHD.
Grand Theft Auto 5 (Very High)
GTA V testing at both resolutions didn't really make a difference. Few frames here and there, but SAM didn't have a huge effect for the most part.
Metro Exodus (Ultra)
We saw a 1.4% performance increase at QHD, while results remained basically the same at UHD.
Red Dead Redemption 2 (Ultra)
Red Dead Redemption 2 is a tough game to run. Performance remained close at QHD, but at UHD, it saw a 2.6% performance increase with SAM enabled.
Shadow of the Tomb Raider (Highest)
We saw a slight dip in performance at QHD with SAM enabled. Results stayed the same at UHD with and without SAM enabled.
Is AMD Smart Access Memory a selling feature?
AMD stresses that results may vary per system, and indeed they do. There are no doubt games available that will greatly benefit from having SAM enabled, but it's certainly not a selling point on its own. It's a nice addition to a GPU that is lacking some of NVIDIA's main selling features, but it's probably not going to make as much of a difference as, say, an RTX 3070 GPU in a game that supports DLSS. Keep in mind AMD, Intel, and NVIDIA are working hard to bring versions of all these features to PC gamers no matter the mix of hardware they're using, and the near future may look wildly different in terms of what GPUs and CPUs can and cannot do together.
SAM seemed to make the biggest positive difference at a 1440p (QHD) resolution in our testing. Assassin's Creed: Origins and Far Cry 5 both saw a 4.7% performance increase at Ultra in-game settings.
As for 4K (UHD), Assassin's Creed: Origins benefitted from a 3% performance boost, while Red Dead Redemption 2 hit a 2.6% performance increase. Interestingly, Far Cry 5's gains at QHD were gone at UHD, with performance remaining the same before and after SAM.
And Gears 5 shows us that not all games will benefit or remain even with SAM enabled. It saw an 11.9% decrease at QHD and a 9.7% decrease at UHD after enabling the extra feature.
Getting back to AMD hardware and SAM, since it requires a boot into BIOS, most people will likely either have it turned on or off and keep it that way. Our recommendation is to give performance a look in games you often play before enabling it, then testing again with SAM enabled. If you see a boost to performance, keep it on. If you're not, there's no harm in disabling it again.
As Tested
These GPUs aren't easy to find due to stock shortages, but if you manage to get your hands on one, you'll be laughing all the way to high-end QHD and UHD PC gaming.
Get the Windows Central Newsletter
All the latest news, reviews, and guides for Windows and Xbox diehards.
Senior Editor, Laptop Reviews
Cale Hunt is formerly a Senior Editor at Windows Central. He focuses mainly on laptop reviews, news, and accessory coverage. He's been reviewing laptops and accessories full-time since 2016, with hundreds of reviews published for Windows Central. He is an avid PC gamer and multi-platform user, and spends most of his time either tinkering with or writing about tech.