Are third-party ink replacements actually as good as the manufacturer ink cartridge?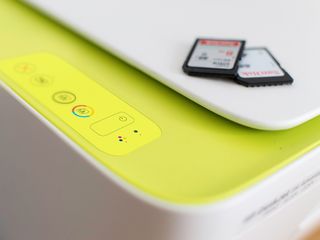 Are third-party ink replacements actually as good as the manufacturer ink cartridge?
Best answer: Yes! In most cases, third-party cartridges perform at the same level as OEM cartridges and are a viable, inexpensive alternative.Best for Canon: E-Z Ink ($16 at Amazon)Best for HP: Smart Ink ($25 at Amazon)Best for Dell: Speedy Inks ($28 at Amazon)
Throwing in real-world experience
My trade is that of a writer and photographer, and that means I plow through ink and paper faster than most. From cardstock to glossy photo paper to envelopes, I've spent a lot of time trying to find the best ink available for every job.
There are three types of generic inks today, including refillable, compatible cartridges, and remanufactured cartridges.
Refillable inks are those little bottles of ink you see on late-night TV or in the drug store. They create a watery mess no matter how steady your hand is, and we'd advise you to stay far, far away.
Remanufactured ink cartridges are once-used containers that were made by your printer company. The shells are cleaned, refilled, rebranded, and then made available through a different company. These cartridges have a slightly higher rate of failure than compatible cartridges because some companies don't refurbish the cartridges before refilling them. If you're willing to shop around and be choosy, these are an eco-friendly alternative that can save you some cash if you find a reliable brand.
However, he cartridges we're featuring here are all compatible cartridges. These are compatible shells designed by a company other than your printer manufacturer. Most have smart chips that measure ink levels and help you through the installation process. Ink quality is excellent, and tanks yield the same amount of printed pages as OEM cartridges, and sometimes more.
Compatible cartridges offer the most bang for your buck, and what I recommend. The three companies and cartridges listed below have stellar reputations and prove over and over that cost is not always indicative of quality.
Busting third-party ink cartridge myths
There are more than a few misconceptions out there when it comes to brand compatible ink cartridges. While it may be true that some of the first third-party cartridges on the market guzzled ink and didn't always fit snugly in printers, today's cartridges operate just as efficiently and cleanly as those made by your printer's manufacturer.
For one, using non-OEM cartridges will not void your printer's warranty. Thanks to the Magnuson-Moss Warranty Act, printer manufacturers cannot require you use only brand name ink.
Secondly, replacement cartridges do not use inferior ink. Back when DIY refillable ink kits were a thing, it was fair to say that those water-based inks were a runny mess and produced prints of questionable quality. Today's replacement cartridges are different. You no longer have to refill cartridges yourself, and each new unit comes stocked with the same high-quality ink as that of your favorite brand.
Our Pick
Longer lasting than Canon OEM cartridges

You get a lot of high-quality ink for the money with E-Z Ink. There are 15 cartridges included in this bundle, all with a shelf life of 24 months. Ink colors are accurate, even for high definition photos, and the cartridges outlast most Canon OEM units.
Best for HP
A wise choice for HP photo printers

This is an economically-priced set of 10 cartridges that cost one-quarter of the manufacturer's offerings. Colors are vibrant and accurate, text is clean and clear, and you'll get the same high yield as you would from HP. This is a great choice for photographers!
Best for Dell
Perfect for any kind of paper

This six-pack of ink cartridges renders colors correctly. This inexpensive set yields 700 pages per cartridge and is perfect for color brochures, photos, and basic printing. These cartridges work great on everything from glossy photo paper to all-purpose paper.
Get the Windows Central Newsletter
All the latest news, reviews, and guides for Windows and Xbox diehards.