Best AMD CPUs in 2022: For gaming, creative work, and enthusiasts
The best processors AMD has to offer.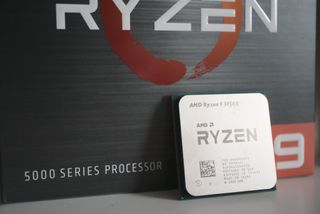 (Image credit: Future)
AMD processors are split into different families of stock-keeping units (SKU). Depending on your available budget and just how powerful you need your PC to be, it's possible to go with an affordable Ryzen 3 processor or an enthusiast Threadripper for maximum performance. This guide will walk you through our best AMD CPU recommendations.
AMD Ryzen 5 5600X
Best overall AMD CPU
Reasons to buy
+
6-core performance
+
Great value
+
Unlocked
+
Includes stock cooler
+
PCIe 4.0
Reasons to avoid
-
X570 board for PCIe 4.0
-
No PCIe 5.0
-
No DDR5 RAM
-
No GPU
The AMD Ryzen 5 5600X is a fantastic processor, aimed at gamers, creators, and even those looking for a solid mid-range CPU that won't destroy your budget. To make the value even more appealing, AMD bundles a decent stock cooler that can keep this processor at reasonable temperatures.
There are six total physical cores on this 7nm CPU, with 12 threads available for demanding tasks. It's unlocked, allowing for some degree of overclocking (though you'll want to replace the stock cooler), and there's even support for PCIe 4.0. The latest generation of PCIe makes it possible to throw in a PCIe 4.0 NVMe SSD and enjoy even higher transfer rates.
The downside to the AMD Ryzen 5 5600X, like other 3000-series AMD processors, is the requirement for an X570 motherboard if you want to unlock PCIe 4.0. Not everyone has enough budget to spare for an expensive motherboard. There's also no integrated GPU, so you need to make sure you have a dedicated GPU card around to boot the PC.
Finally, Intel has a slight edge at the moment with the inclusion of support for PCIe 5.0 and DDR5 RAM, but the average PC owner won't notice too much of a difference.
AMD Ryzen 5 5600G
Best AMD CPU with graphics
Reasons to buy
+
6-core performance
+
Great value
+
Unlocked
+
Includes stock cooler
+
PCIe 4.0
Reasons to avoid
-
X570 board for PCIe 4.0
-
No PCIe 5.0
-
No DDR5 RAM
The Ryzen 5 5600G is part of the same family of AMD processors as the 5600 and 5600X, also featured in this collection. There's a good reason for this since while this processor may only have six cores, it houses a Radeon integrated GPU. Not only that, but AMD also bundles a good stock cooler for use out-the-box.
Like all other AMD CPUs, the Ryzen 5 5600G is unlocked and supports PCIe 4.0. The only drawback to this is you will need an X570 motherboard to enjoy the benefits. Still, the Ryzen 5 5600G is one of the best places to start with a gaming rig. You don't even need a dedicated GPU to enjoy some PC titles with friends, either.
AMD Ryzen 5 5600
Best budget AMD CPU
Reasons to buy
+
6-core performance
+
Best value
+
Unlocked
+
Includes stock cooler
+
PCIe 4.0
Reasons to avoid
-
X570 board for PCIe 4.0
-
No GPU
-
No DDR5 RAM
-
No PCIe 5.0
AMD's Ryzen 5 5600X takes our top spot in this collection, but we have to give a shoutout to the Ryzen 5 5500 (a non "X" variant), which also comes with 6 cores and 12 threads. The only significant difference between the two is the clock speeds with the more affordable Ryzen 5 5500 coming in a little lower at 3.6GHz (boost 4.2GHz) vs. 3.7GHz (boost 4.6GHz).
They both come with the same cooler, allowing you to save a little for a slight dip in performance. Still, it's a 6-core processor with ample room for overclocking and will smash through the latest games and video editing software. Just make note that you will need a dedicated GPU like most other Ryzen CPUs on this list, and PCIe 4.0 is out of the question unless you spend more on an X570 motherboard.
AMD Ryzen 9 5900X
Impressive 12-core performance
Reasons to buy
+
12-core performance
+
Good value
+
Unlocked
+
Includes stock cooler
+
PCIe 4.0
Reasons to avoid
-
No GPU
-
X570 board for PCIe 4.0
-
No DDR5 RAM
-
No PCIe 5.0
Technically, a 12-core CPU is a little overkill for gaming since most PC games won't make full use of all available cores. That said, I also include streaming into the gaming category since many new streamers run both the game and stream on the same machine. Having this many cores and threads available for doing both simultaneously makes the 5900X a perfect CPU.
There's also the new PCIe 4.0 support added in this generation of Ryzen CPUs, and it's unlocked. Still, you will need amazing aftermarket cooling, and I'm talking about the absolute best air coolers or custom water loops. The bad side of this CPU reveals a lack of integrated GPU, and you need an X570 motherboard.
We reviewed the more powerful sibling to this processor, the AMD Ryzen 9 5950X, and found it to be an excellent chip for gaming.
AMD Ryzen Threadripper PRO 5995WX
Best AMD CPU for enthusiasts
Reasons to buy
+
64-core performance
+
Ideal for enthusiasts and workstations
+
PCIe 4.0
+
228MB cache
+
4.3GHz boost clock speed
Reasons to avoid
-
Expensive
-
Requires sWRX8 motherboard
-
No GPU
-
No cooler
-
Niche deployment
AMD wasn't happy with 32 cores and wanted to up the game a little by announcing the Threadripper PRO 5995WX. This monster of a CPU comes with 64 cores and a total of 128 threads. To put this into context, the Ryzen 9 5900X is considered a solid CPU with 12 cores and 24 threads.
The CPU itself can boost up to 4.5GHz, and you have 256MB of cache to play with. It's designed for creators, video editors, software engineers, and anyone who wants to utilize all cores for some serious computing. You likely won't ever need the Threadripper PRO 5995WX, but it's sure good to know it's there if you do.
It's not all good with the 59950X. Firstly, it's horrendously expensive. Second, it requires an sWRX8 motherboard. No AM4+ here. There's also no GPU nor cooler, meaning you'll need to throw in some aftermarket components. It's fantastic for niche deployments, but you really should consider other options in this collection.
Choosing the best AMD processor
Why you can trust Windows Central Our expert reviewers spend hours testing and comparing products and services so you can choose the best for you. Find out more about how we test.
Are you looking for the best overall CPU for an AMD build? That's the AMD Ryzen 5 5600X. This 6-core processor offers excellent value with plenty of performance for each buck spent. There are additional benefits like PCIe 4.0 support, an included stock cooler that isn't terrible, and it's unlocked for considerably overclocking capabilities.
If six cores just aren't enough, you could always go for my favorite AMD CPU as of right now, the Ryzen 9 5900X. Not only does this CPU offer double the cores and threads of the 5600X, but it's not massively more expensive. The 5900X is perfectly suited to gamers and streamers alike.
Get the Windows Central Newsletter
All the latest news, reviews, and guides for Windows and Xbox diehards.
Rich Edmonds was formerly a Senior Editor of PC hardware at Windows Central, covering everything related to PC components and NAS. He's been involved in technology for more than a decade and knows a thing or two about the magic inside a PC chassis. You can follow him on Twitter at @RichEdmonds.