Best Buy will give you at least $200 towards a Surface Pro 3 when you trade in your old tablet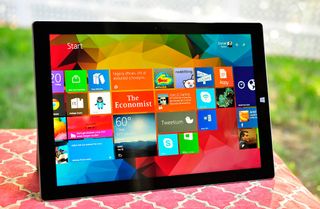 Best Buy is currently running a promotion in its retail stores that offers potential buyers of Microsoft's Surface Pro 3 at least $200 towards the purchase of the 12-inch device if they trade in any old, but still working, tablet.
The promotion runs from now until Saturday, April 18 and can only be used in Best Buy's brick-and-mortar stores. Trading in the old tablet will give the customer at least a $50 Best Buy gift card, but that amount could be even more depending on the make and model of the device. The promotion also offers those users a $150 coupon that can be used to cut the price of buying any Surface Pro 3 model, so combining the coupon with the gift card will reduce the price of getting Microsoft's tablet by quite a bit.
E-readers and Boogie Board devices don't count as tablets for this promotion. Each person can trade up to two old tablets for this deal, and there's just one coupon being given out per person. The gift card can obviously be used at any time for any product but the Surface Pro 3 $150 coupon must be used by April 25.
Microsoft recently announced the 10.6-inch Surface 3, which will go on sale May 5. If you want to learn the differences between the Surface 3 and the Surface Pro 3, we have got you covered.
Source: Best Buy (opens in new tab)
I wonder if they will take my old HP Touchpad with Cyanogen on it.

I had the same thought. I guess it would depend on who is checking out the device when you turn it in. As long as it turns on, I think it's okay. They probably would just use them for recycling purposes. I can't imagine they'd try to resell all tablets they'd receive. I still use my Touchpad with Kit Kat, but I'd use a Surface Pro 3 a bit more.

Did they ever get Cyanogen working well on those Touchpads? I just remember there were some pretty bad deficiencies for a while (no video, no camera, etc.) Might be fun to fire them up again!

Never bothered using the camera, and the only thing I use mine for is propping up on a treadmill so that I can Netflix while I run. Works great for that.

Yes they even have Lollipop (Android 5.x.x) running on the Touchpads. I have installed it but I prefer to wait until the OS is more stable so I reverted to the latest KitKat build of Android until Lollipop has matured (if you didn't know I was referring to operating systems this statement sounds absurd). On KitKat the camera and bluetooth are fully functional. You can remove webOS entirely but I actually like webOS and prefer it the latest Lollipop Android (I also prefer Windows Phone 8.1, 10 and iOS 8.3 to Android, and I've used Android since version 1.5 Cupcake). By today's standards the Touchpad is slow and heavy and low-res, so a refurbished Nexus 7 2013 is a much better option for most people who want a decent (affordable) Android tablet. I bought the tablet in the Great Fire-sale for $99 and it is almost 4 years old now so it was a great purchase. For overall usage I still prefer webOS to Android but the app selection has no comparison. My young son uses the Touchpad and it's great because I don't care if he drops it or scratches it (and Netflix works perfectly). Some good resources for installing Android on the Touchpad: http://rootzwiki.com/topic/179730-rom-guidehow-to-install-android-50x-44... http://forum.xda-developers.com/showthread.php?t=2147284

Lollipop on my TouchPad runs better most days than on my 2012 Nexus 7. Getting the right nightly build seems to make a big difference. I'm using the cm-12-20150124-UNOFFICIAL-tenderloin nightly and am very satisfied. Using Android's "dream mode," the TouchPad makes a fine digital picture frame when on the Touchstone dock, and it's still a perfectly usable tablet when I need to reach for it. Makes me smile every time! I'm actually more inclined to trade in the Nexus 7 for an SP3 and keep my TouchPad.

BB website says $0 for HP touchpad.

$0.00. They say they don't accept it. Though the site did say they would give me $34 for my Dell Venue 8

I was offered an LG tab for free when I got my traitorous daughter an iPhone 6. I should go get it and trade it in...lol

Good time to unload BB Playbooks! Lol. Too bad I dont have an extra $1k laying around. :(

And here I was thinking of trading in my Dell Venue 8 Pro!! LOL! I forgot about the BB Playbook I have that has been stashed away in a cabinent for years! :D

Good, make good use of that thing! ;)

Looks like i will be Trading in the Nokia Surface 2...

What does the Nokia Surface look like?? :P

Is this $150 off the usual promo $100 off any surface device? I always see deals of $100 off a surface tablet. So is it a combined $300 off a surface device? Posted via the Windows Phone Central App for Android

Trading in a tablet will get you $50 gift card (minimum) + $150 coupon towards SP3. You can use that coupon on a NEW SP3 for whatever retail price they are selling it for. Then you can opt to use the $50 gift card towards that purchase. The MS promo is a discounted price, whereas this is a trade in program that offers an additional coupon. Essentially, the coupon is designed to undercut the MS promo pricing.

Wish I could do this in the UK and trade in my original Surface RT!

I didn't see Pro in the headline was about to turn in my RT for a Surface 3

Wondering if they'd accept the garbage chromebook my parents have so I can get them this.

Might be a good time to trade in that old Viewsonic g-tab I have laying around.

I'd be shocked if they accepted any tablets that didn't have any trade in value on their Trade-In Calculator. Something tells me my $40 chinese tablet isn't eligible.

Does the tablet have to be working ?

You did read the article, didn't you?

I will keep my first Gen rt. Because it does work and I like the dark magnesium vs all this silver stuff.

If this was a Surface 3, my $200 Surface 2 would be GONE! SP3 is too expensive for my blood.

I was also hoping for a Surface 3 discount. Right now I'm on the fence, but this would have pushed me over. Oh well, looks like I'll continue sitting here in the middle.

I wonder what my mint-condition red Lumia 2520 would be appraised for.

Since it runs RT, you'd probably get more for it if you sell it on eBay.

They'll charge you a $50 disposal fee.

What does Best Buy gains from this kind of trade??????

Traffic and sales of course. The $150 SP3 promo is underwritten by Microsoft, so Best Buy is not putting any of their own profits at risk. The $50 gift card just establishes their minimum trade in value--it could in fact be higher than that depending on the device--but it will not be more than what they would normally offer you at any other time.

All right, so Microsoft is the one cutting off prices after all! (...but it will not be more than what they would normally offer you at any other time.)

I am sold on a $200 trade in for a surface 3. Although I would love a pro 3, even the i3 with 200 off is still $500. But for a $300 surface 3, I will give them my rt. ( I do love my rt though). I will hold out for a surface 3 trade in.

Sure, we'd all want that. But you might be waiting until a few months before the Surface 4 is launched to get it :-)

If I get a coupon, and my wife gets one, will they stack together for one SP3 purchase?

I wonder if I can trade in my surface pro and my wife her dell venue 8 separately and use both coupons and gift cards toward a low end sp3? Na, that would be great.

I wonder if they'll take my HP Stream 7 that I bought for only $80.

I'm wondering the same thing

Oh dear god, my wallet can't take this kind of abuse.

Well I have a dying sero 7 pro, and a crap Polaroid tablet... Dayum, if only this was for Surface 3... Still cheaper at Costco...

I7 256gb 8gb with pen and black keyboard 1500

The Surface 3is actually 10.8 inches, John.

The Surface RT 32 gets you a $62 gift card so there's an extra $12. If i could trade in 2 tablets and get $400 this would be a done deal. I bout they let you combine them tho.

Nice deal...bad timing for me. I hope they bring it back later.

Didn't find this deal on Bestbuy Canada website. Probably for our neighbour only.

So we just have to drive across the border. but then the currency rate is not good for Canadian money now. So just hope they do that sometimes in Canada here soon, I mean , they finally get rid of futureshop brand.

To bad it cant be used towards the regular Surface 3. I want a tablet, not a laptop.

You can trade in two tablets. That sounds nice. Could potentially offload a Kindle Fire and a Touchpad or Surface RT, for a $400 discount... Too bad it can't be used towards a Surface 3 pre-order. Edit: You can trade in two, but only one coupon per transaction. So that'd leave you at $150 coupon + $50 Gift Card + $50 Gift Card. $250. Oh well.

I find it amazing how many people wanted anything put the pro killed

Too bad it doesn't include the Surface 3. Only paid $299 for my Surface 2 so $200 off the S3 would be nice. Then again I like RT 8.1, Charms, and don't really need full Windows. Guess I'll hold out and see what kind of RT 10 update MS provides later this year.

I also will miss my surface 2 on RT 8.1

The heading should be 'at MOST' or 'UP to' not 'at LEAST'.

No, you get the $150 certificate and a $50 MINIMUM gift card. $200 is the minimum.

Too bad its no good for the new surface 3

Wish I could trade my Surface 2 for a basic Surface 3.

Wonder if you can do this with an Amazon price match, where the i5 version is $107 less than Best Buy. I also wonder if you could stack it with the $100 off i5/i7 coupon for students.

I was wondering the same thing about the student coupon but that coupon specifically says it can not be used with another coupon :\ Price matching though sounds like its worth a try

So...trade in my old Surface RT ($62 trade in value) and get a Surface Pro 3, i3, 64gb + type cover for about $720. Or would you be better off, keeping the Surface RT and just buying a Surface 3 bundle from Costco for $700. Is there a significant difference in performance or battery life when comparing the baseline Surface Pro 3 and the new Surface 3? I had heard that the battery life was basically the same. Seems like I can keep my Surface RT as a kids Netflix tablet and also get an updated Surface 3 when pen experience and save $20. Thoughts?

The surface 3 is nice. Was playing around with it today. Takes a while to get used to that windows button on the right though - coming from a surface 2

Has anyone done this? I am serioulsy wondering if they will take my old HP Touchpad

Amazon has the surface pro 3 for a discount. The I5 4gb ram and 128gb is for $899 instead of $999. Wonder if you can use that coupon with Amazon or if BB will price match?
Windows Central Newsletter
Thank you for signing up to Windows Central. You will receive a verification email shortly.
There was a problem. Please refresh the page and try again.