Best Comcast Modems in 2019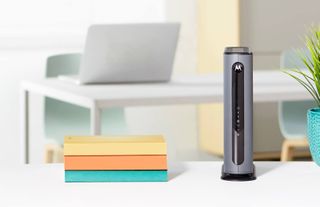 If you're looking to save money on Comcast without compromising on speed, buying your own cable modem is a great place to start. A modem takes the cable signal from outside and converts it to something your router or computer understands. The Motorola MB7621 has high-speed capabilities and a 2-year warranty from a trusted name in communications.
Best Overall: Motorola MB7621
Why you can trust Windows Central Our expert reviewers spend hours testing and comparing products and services so you can choose the best for you. Find out more about how we test.
Motorola MB7621
Supports top speed
Reasons to buy
+
Gigabit speed
+
DOCSIS 3.0
+
Two-year warranty
+
Well-placed LEDs
Gigabit speed is a bit more than the most people need right now but considering how much our data needs have been increasing with streaming video and connected homes, it won't be too long before broadband internet needs to be faster and hit that threshold. Luckily, the MB7621 from Motorola can deliver speeds up to 940 Mbps down on Comcast Xfinity's Gigabit Speed plan.
Supporting DOCSIS 3.0, a connection standard that supports Comcast's fastest home speeds, the MB7621 provides top performance for all but the heaviest users. With 24 downstream channels, this modem can deliver downloads up to 1000 Mbps on an internet plan that supports those speeds. It is also capable of 246 Mbps upload speeds on eight upstream channels.
Five LEDs on the front of the modem make it easy to spot a connection problem and a well-ventilated case makes sure the modem stays cool enough for long operation. Connect this to a router or computer to complete your network.
Best Compact: Linksys CM3008
Linksys CM3008
Small size, big power
Reasons to avoid
-
Ventilation easily blocked
-
One-year warranty
For some users, saving space is the most important consideration when choosing new technology. For these folks, a compact modem like the Linksys CM3008 is a great option. This modem is about the size of a pocket calculator, laying flat with all connections on the top end. The one main issue we have with this modem is that ventilation can get blocked easily. All modems need ventilation to stay cool and at this small size, so users will need to take care not to stack anything on top blocking the holes.
The CM3008 provides download speed up to 343 Mbps over its gigabit Ethernet port with eight downstream channels. It even supports upload speeds of 120 Mbps with four upstream channels. Even with its compact size, it manages to include five status lights for easy network diagnostics. If keeping a low profile with your networking equipment is a top priority, the Linksys CM3008 is a strong option.
Best future ready: Arris SB8200
Arris SB8200
Fast for now and the future
Reasons to buy
+
Fast DOCSIS 3.1
+
Dual Ethernet ports
+
Two-year warranty
+
Future-proof
Reasons to avoid
-
Only four status lights
-
Not fully utilized
Many people work from home and rely on the cloud for file storage or frequently need to stream large amounts of data. For those people staying on the cutting edge of speed, the Arris SB8200 modem boasts support for up to ten times Comcast's current Gigabit Speed plan. This modem pulls off this speed with support for DOCSIS 3.1 along with 32 downstream and eight upstream channels.
The SB8200 has dual gigabit Ethernet ports on the back that can be used together to improve access speed to the router. The front of the modem has only four status lights making troubleshooting slightly more cumbersome than others on this list, but not impossible. The rest of the modem is made of white plastic with plenty of ventilation on the sides and front.
The SB8200 is fully backwards compatible with DOCSIS 3.0 so even though, for now, the device isn't completely utilized, you can get the most out of your gigabit connection.
Best Value: Motorola MB7220
Motorola MB7220
Just enough
Reasons to buy
+
DOCSIS 3.0
+
Gigabit Ethernet
+
Two-year warranty
Reasons to avoid
-
Limited speed upgrades
-
Large size
For a lot of people, the 343 Mbps download speed of the Motorola MB7220 is more than enough. That makes this modem a great way to save money over renting. With 8 downstream and 4 upstream channels at DOCSIS 3.0 speeds, this modem also offers a respectable 123 Mbps upload speed.
Falling in line with Motorola's other modem designs, the MB7220 has a well ventilated plastic housing with five LED status lights on the front. It also has gigabit Ethernet on the back to keep speeds high on the way to the modem. This modem is a good choice for someone that doesn't need much speed and wants to own their own equipment.
Bottom line
Any of these modems will help you take back control of your network and can even help you save money on rental fees. The Motorola MB7621 delivers all of the speed you can get on Comcast and will be fast enough for nearly everyone for quite a while. Whether you want to save some money or just take back control of your network with something strong to go with your new router, the MB7621 has everything you need to take advantage of the best speeds available today.
Get the Windows Central Newsletter
All the latest news, reviews, and guides for Windows and Xbox diehards.