Best CPU for Playing Anthem on PC in 2022
At Windows Central, we specialize in all things tech, especially hardware, and that includes PC gaming products like CPUs. When we recommend a processor for a specific game, you can rest assured knowing that we know what we're talking about.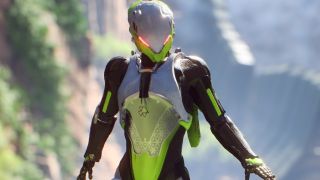 Overall, the best CPU on the market for Anthem is the Intel Core i7-8700K. With six cores and 12 threads, the i7-8700K is packing a lot of power, and that's important for Anthem since the game is very CPU-intensive. It's far from cheap, but it will give you the power you need in order to play the game at high settings in standard HD resolution at a buttery-smooth frame rate.
Intel Core i7-8700K
Perfect balance of power and price
Who should buy the Intel Core i7-8700K?
Why you can trust Windows Central Our expert reviewers spend hours testing and comparing products and services so you can choose the best for you. Find out more about how we test.
If you're looking to play Anthem at a high framerate while also having the settings on high and your resolution at 1080p, the Intel Core i7-8700K is the CPU you should opt for. It offers all the power you need, and will also be more than enough for other games that aren't as processor-dependent as Anthem is.
Is it a good time to buy the Intel Core i7-8700K?
Right now is a good time to buy the Intel Core i7-8700K because Intel recently came out with a new line of high end cards that surpass the i7-8700K in power. However, that doesn't mean the i7-8700K is obsolete or outdated — it's more than capable of handling every game out right now on high settings. Having newer, higher-end models out just means you can find great deals on older processors, including this one.
What makes the Intel Core i7-8700K so good?
The main reason why the i7-8700K is such a great processor is because it offers excellent performance for a good price. At $365, you're getting the full power of six cores and 12 threads, which is more than enough for pretty much every game on the market right now, even CPU-intensive ones like Anthem.
When playing Anthem with this processor and an equally competent GPU, you'll have few issues turning the settings up and maintaining at least a rate of 60 frames per second (FPS), if not more. In addition, the i7-8700K is unlocked and can be overclocked, which allows you to push the processor harder then what the developer recommends. By doing this, you can even start to push higher resolutions like 1440p while still maintaining the same frame rate.
It's true that $365 is far from cheap, but when you compare that to the steeper prices of CPUs that are only slightly better for gaming, it's a great deal.
The only issue we see with the i7-8700K is that it's a couple of years old at this point. This eighth-generation CPU hit the market in 2017 and we understand that some people might want the most recent tech to ensure years of use. However, thanks to this processor's power, it'll be relevant for a while, so there's no need to pay more for a newer CPU.
Alternatives to the Intel Core i7-8700K
If you think the i7-8700K isn't right for you — whether it's because it's still too expensive or you want something more — there are other options out there. One is a budget processor that manages to handle Anthem decently as long as you don't mind turning some settings down, while the latter is an absolute monster of a CPU that can be used to push Anthem to 4K resolution.
Intel Core i3-8100
Entry-level power
If you don't have much money to spend on a CPU but still want a change, the Intel Core i3-8100 is your best bet. It offers decent performance for the rock bottom price of $130. Its four cores and four threads are far from enough to push Anthem to its best looking settings, but if you turn things down to medium or low, you can get the game to run at around 50-60 frames per second, which is a great result for this little money.
Intel Core i9-9900K
The best you can buy
If you want the absolute best of the best when it comes to processors, look no further than the Intel Core i9-9900K. It has a whopping 8 cores and 16 threads, which is a ridiculous amount of processing power that can meet any game's needs without even breaking much of a sweat. If you're looking for a processor that you can use to comfortably take Anthem into 4K territory with, this is it. Just make sure you have a 4K monitor to go along with it.
Bottom line
At the end of the day, the Intel Core i7-8700K is the best overall CPU for Anthem. It's not the strongest processor out there, but it's definitely a high-end choice, and it's currently sold for a very reasonable price.
Intel Core i7-8700K
Perfect balance of power and price
Get the Windows Central Newsletter
All the latest news, reviews, and guides for Windows and Xbox diehards.
Brendan Lowry is a Windows Central writer and Oakland University graduate with a burning passion for video games, of which he's been an avid fan since childhood. You'll find him doing reviews, editorials, and general coverage on everything Xbox and PC. Follow him on Twitter.