The 8 coolest things at Gamescom 2017
After a week in Germany at Gamescom 2017, we saw two consoles, several accessories and a slew of new games. These are the best things from the event.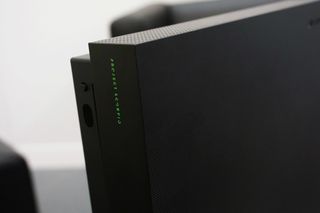 The gaming industry flocked to Germany last week for Europe's biggest video game convention, Gamescom. Only a few months after E3, the show is a great way to experience what's next in gaming on the other side of the pond, over the course of a week-long event.
And if any year proved to be significant, the offerings of numerous companies made this one worth attending. Microsoft debuted its upcoming Xbox One X console in Europe with a first hands-on, while major publishers also showcased their upcoming games and expansions for the months (or even years) ahead. Between some impressive hands-on sessions and some exciting announcements, we rounded up our highlights after Gamescom 2017.
1. 'Project Scorpio' is back
Why you can trust Windows Central Our expert reviewers spend hours testing and comparing products and services so you can choose the best for you. Find out more about how we test.
For those gearing up for Microsoft's next Xbox One console, the Gamescom 2017 Xbox live show delivered a long-awaited announcement. After securing approval from the Federal Communications Commission (FCC), Microsoft finally opened up preorders for the device, over two months since its initial unveiling back at E3 2017.
Better yet, Xbox One X preorders kicked off with a "Project Scorpio Edition" – a version of the console with an exclusive design inspired by the device's codename. Offering a smooth gradient and green branding, the design is a discreet but distinct step up from the base model. We also managed to get an exclusive hands-on with the console during the show.
Although the limited availability of this console meant it sold out rapidly, Microsoft is already gearing up to announce details surrounding standard edition preorders in the future.
Hands-on with Xbox One X Project Scorpio Edition
2. Cuphead is just around the corner
One of our personal favorites of the show this year was StudioMDHR's long-awaited run and gun side-scroller, Cuphead. After being announced as a part of the ID@Xbox program over three years ago, the project has managed to secure a significant following, despite multiple delays that pushed the release into 2017.
Now, with a launch currently set for September 26, Cuphead's arrival finally appears to be on the horizon. This year as a part of Microsoft's Gamescom offerings, we managed to get 30 minutes with the title behind closed doors, to get a feel for what to expect as the game nears completion. Not only has Cuphead been refined across the board – the game's content has also hugely upscaled.
Whether you're a fan of challenging platformers or simply attracted to its endearing 1930s cartoon art style, Cuphead is a title you likely won't want to miss on Xbox One and Windows 10 this fall.
Cuphead for Xbox One is pure eye candy — with a punishing edge
3. Forza Motorsport 7 is stunning on Xbox One X
Forza has always been a hallmark of Xbox One visual showcases, and with the upcoming release of Forza Motorsport 7, Microsoft is truly driving home its graphical fidelity. Forza Motorsport 7 will be the only major in-house title dropping around the launch of the Xbox One X, and its 4K, HDR and 60 frames per second (FPS) offerings are a great way to market the console's additional resources.
As seen during a private demonstration, the game can look truly stunning when played on large 4K HDR displays. When paired with recent additions such as dynamic weather, the Xbox One X hardware truly shows its potential with Forza Motorsport 7. Sadly, the visual improvements are something you can only truly quantify when seeing the game for yourself, but regardless, the game clearly makes a significant leap over its predecessors.
Everything we know so far about Forza Motorsport 7
4. Star Wars Battlefront II improves upon its predecessor
Star Wars Battlefront was a faithful recreation of the iconic universe, with authentic sounds, gorgeous visuals, and explosive combat. It was all a little too patronisingly simplistic, however, perhaps because EA and DICE skirted around the idea that youngsters might be looking to pick up and play. Youngsters today are playing Counter Strike and Dark Souls, though, and given how fast Battlefront's player base slipped off the radar, EA might have been a little overzealous.
We went hands-on with Battlefront II at Gamescom, namely its new Starfighter Assault mode, which is a love letter to everyone upset that the previous game didn't include any meaningful space battles. And from early accounts, it seems as though EA and Criterion have nailed it.
Battlefront II's new space combat mechanics draw on the first game, but have greatly improved the speed and accuracy required to succeed. It simply felt good, which is something I'd struggle to say about the former experience. Aiming felt more accurate and precise, you can hear your thrusters speed up and slow down as you alter your acceleration, and each kill sends debris hurtling through space in zero-g. It could be the spectacle Star Wars fans really wanted to see in the first game. If the ground war gameplay has improved in similar ways, Battlefront II could prove itself to be the ultimate Star Wars shooter.
Everything we know so far about Star Wars Battlefront 2
5. Crystal-clear game capture from Elgato
One of the least expected announcements to come out of Gamescom 2017 was an all-new capture device from one of the current market leaders: Elgato. While the firm has continually iterated on its video capture devices over the years, the Elgato 4K60 Pro (you guessed it) records gameplay at 4K resolution at 60 FPS.
This announcement comes only a few months prior to the launch of the Xbox One X, with a greater push for consumers to adopt 4K gaming. Although the new card will be hooked up to a PC over PCI-e, this should be an easy solution for those striving to capture sharp footage. While right now pricing, availability and system requirements are yet to be announced, details are expected to be unveiled in the weeks ahead.
6. Eye-watering HDR violence in Wolfenstein II
Wolfenstein II is shaping up to be a beastly entry in the series, providing 4K HDR visuals at 60 (FPS) on the Xbox One X. In our hands-on with a similarly specced PC, it became practically certain that this game should climb high on many people's "must-buy" lists this holiday season.
In Wolfenstein II, you play as the franchise's staple B.J. Blazkowicz as he hunts down more Nazi scum in an attempt to liberate America in an alternate reality where the Nazis won World War II.
Retro-futuristic mutant cyborgs, twisted Nazi experiments, and some of the greatest modern character-delivery combines with viciously satisfying FPS combat, and essential HDR visuals should see Wolfenstein II through to greatness when it launches in October, 2017.
Wolfenstein II: The New Colossus preview: Eye-melting, Nazi-vaporizing, blood-soaked joy
7. A blocky treat for Minecraft lovers
While the focus lays on the Xbox One X in the months to come, those still rocking the current generation of hardware aren't being left behind. With the Xbox One S now being positioned as an entry-level solution for Xbox gaming, Microsoft has unveiled a limited-edition bundle themed around one of its biggest properties: Minecraft.
Inside the package, you'll get a 1TB Xbox One S console, with a design themed around Minecraft's grass block. When stood vertically a hidden secret also lays below – a shiny Redstone circuit built into a translucent underbelly. Special edition controllers are also launching alongside the console, themed around the faces of the iconic creepers and pigs. Although its $399 price point might be a little steep for some customers, the device is a must-buy for any Minecraft fan.
Hands-on with the Minecraft Xbox One S Limited Edition Bundle
8. First headsets that utilize Xbox Wireless emerge
Gamescom is all about the games, but it's also about how we play games, and several hardware vendors were on the ground to show off their latest kit.
LucidSound's upcoming LS35X retains the company's stylish designs and heavy-duty comfort, with bold metallic frames and all-black coloration. The headset will also be among the first to be completely wireless, using the new Xbox Wireless protocols for peripherals. There's no USB dongle to worry about here, just connect and play goodness.
Turtle Beach also has two Xbox Wireless headsets on the horizon, with the Stealth 600 and the Stealth 700 respectively.
You can certainly expect all sorts of new accessories to go on sale in the coming months, leveraging the new Xbox Wireless system, and we'll be here to let you know which are the best.
Your thoughts on Gamescom 2017
Did you head out to Germany for Gamescom 2017? Or did you watch the action back at home? We want to know what you're most excited about, so be sure to drop your highlights of the event in the comments section.
Get the Windows Central Newsletter
All the latest news, reviews, and guides for Windows and Xbox diehards.
Matt Brown was formerly a Windows Central's Senior Editor, Xbox & PC, at Future. Following over seven years of professional consumer technology and gaming coverage, he's focused on the world of Microsoft's gaming efforts. You can follow him on Twitter @mattjbrown.