Best resin 3D printers 2022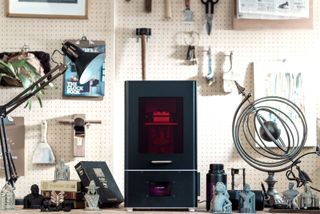 Resin 3D printing — often called LCD printing or MSLA printing — is the latest technology to reduce in price to the point where the hobbyist can afford to play. If you are looking to buy your first resin printer, then we suggest the Elegoo Mars 3 Pro. The Mars is a great 3D printer for a fantastic price, and it has an amazing community to help you make the most of it. We have used a lot of these printers over the last few years, so we have plenty to recommend as the best resin 3D printers.
Best overall: Elegoo Mars 3
Why you can trust Windows Central Our expert reviewers spend hours testing and comparing products and services so you can choose the best for you. Find out more about how we test.
Elegoo Mars 3 3D printer
Community favorite
Reasons to buy
+
Great price
+
Superb print quality
+
Fantastic community
Reasons to avoid
-
Pricier than similar sized machines
Elegoo has been at the forefront of the MSLA revolution, and the Mars series is its flagbearer, now in its third iteration. If it were an FDM printer, the 90mm x 143mm x 175mm print area would be laughed out of town, but because it is resin, the volume is respectable, and with its 4K resolution and monochrome panel, it has pinpoint details as small as 35 microns and can cure layers as low as 1.5 seconds each!
Whilst the price has crept up a bit since the first Elegoo Mars, every upgrade is worth it, with the bigger screen, higher resolution, bigger build volume and lower layer times, as well as a more uniform UV LED. I still struggle to believe that a printer that cost so little can produce such quality prints. Even at 0.05, the tallest layer height you'll want to use, the layer lines are all but invisible to the naked eye. The models are so crisp, so smooth, that they could easily be mistaken for injection-molded products, rather than the 3D-printed models they are. Some of my favorite prints I've ever produced have been made on the Elegoo Mars.
Because Elegoo is so active in the 3D printing community, and its printers are so reliable and relatively cheap, there is a massive community around the Mars series. The community has embraced the machine and set about making it even better with printable parts to enhance your experience. One of my favorite additions is the angled build plate holder, allowing you to tilt the build plate 45 degrees after a print has finished allowing the excess resin to slide off.
The Elegoo Mars 3 is a fantastic printer for just about anyone. Are you just starting? The Mars is simple to learn, with very few moving parts to go wrong. Maybe you are looking to start a business? The Mars is cheap enough that you could buy several and make yourself a print farm. The possibilities are endless with the Elegoo Mars.
Best bundle: Prusa SL1s 3D printer and CW1s curing station
Prusa SL1s 3D printer and CW1s curing station
Premium quality and price
Reasons to buy
+
Insanely fast
+
The curing station is the best thing ever
+
The resin sensor is very helpful
Reasons to avoid
-
Really, really expensive
I'll start by saying that the SL1s/CW1s is expensive, likely too expensive for a hobbyist. However, if you are a small business owner, it may be worth picking up. As a system, the SL1s is fantastic. From the start of the print through to the curing of the finished model, the Prusa SL1s works flawlessly. The internet connection is beneficial if you want to create a print farm too. You can use multiple SL1s printers in tandem to make a little mini-factory using PrusaConnect.
What sets the SL1s apart from other resin printers is the speed, it's what the S stands for, and with the monochrome screen and tilting vat mechanism, the SL1s is faster than most mSLA printers out there.
Special mention has to go to the CW1s — the curing station that comes in the bundle — as it is an almost perfect piece of design. Not only can it cure your print using UV, but it can also wash and dry it. If you want to get the most out of your resin printing, a good curing station is essential.
The Prusa SL1s looks excellent and has some unique features that make it stand out from the crowd. The resin detection is excellent — it tells you how much resin is in the vat and whether you have enough for the print you are trying to make — and the filter system gets rid of all those smells and potential particles that come from resin printing.
The price is still far too high for the average user, but if you are looking to make 3D printing your job, the Prusa SL1s and CW1s combo is a great choice.
Excellent detail: Anycubic Photon Mono 4K
AnyCubic Photon Mono 4K
Unfailingly good
Reasons to buy
+
Solid construction
+
Excellent print quality
+
Anti-aliasing
Reasons to avoid
-
The LCD screen is a little janky
When I first decided to try resin printing, the Anycubic Photon was the printer I picked, and I wasn't disappointed. A few years later, the new low-cost model is the Photon Mono 4K, and as you can tell it has a monochrome 4K screen for high detail and low print times.
The print quality on the Photon Mono 4K is terrific, and, more importantly, it is consistently amazing. In the time I have been using the Photon Mono, the previous version of this, I have had just three failed prints, out of more than 100, and those were user error. Once you have the build plate leveled, and if you don't move the printer, the Photon will print almost perfect prints continuously.
My biggest complaint about the Photon is my biggest complaint of 3D printers everywhere. It seems like all of the big printer companies got together and decided that putting small resistive touchscreens with poor viewing angles on the front of their products was a good idea. It isn't by the way; it's a terrible idea and needs to go away as soon as possible. Prusa figured this one out, and so has Creality, waiting for the rest to catch up.
Manufacturing monster: Phrozen Sonic Mega 8K
Phrozen Sonic Mega 8K
Create a mini-factory
Reasons to buy
+
Massive build area
+
8K resolution
+
Solid construction
Reasons to avoid
-
Absolutely gulps down resin
Sometimes size does matter. The Sonic Mega 8K by Phrozen has a truly monstrous print area, one of the biggest on an MSLA printer I've seen. It's around five times the area of the average resin printer and can print objects up to 400mm high; that's taller than most standard FDM printers! The size will allow you to print some awe-inspiring models in one piece, including cosplay items, but that's not the best thing about the size.
Having a massive build plate on a resin printer allows you to print multiple models at the same time without increasing the amount of time it takes to print them. For a small business, looking to manufacture on a medium scale, something like the Sonic Mega 8K is perfect as it allows you to bulk print quickly and with stunning detail. Or for prop makers, large scale staffs and swords are easier than ever.
While the price is high, it isn't so high that you could invest in one or two to start your business empire. Be warned though: The Sonic Mega 8K absolutely gulps down resin; be afraid for your wallet.
Best for starters: Creality Halot-One CL60
Creality Halot-One CL60
Punching above its weight
Reasons to buy
+
Network ready
+
Very nice touchscreen
+
OTA Software updates
The Halot-One CL-60 from Creality has some great features that make it worth your purchase. For starters, it is one of the few printers to come with a glass capacitive touchscreen at a reasonable size. The design is pretty heavily inspired by the SL1 from Prusa, and that's no bad thing, as the ports are on the front so there's no need to do a reach around. The Halot One also has support for OTA system updates, much simpler than the USB sneakernet method of most other printers, much simpler for newbies as well.
The only downside of the Halot-One is the build volume, at 127mm x 60mm x 160mm it is much closer to the smaller first-generation machines than the newer ones. The Halot slicer is a bit buggier than I'd like, but the Halot-One can also now be used with Lychee Slicer, a much more powerful and up-to-date slicer.
Unique look: Anycubic Photon Mono SQ
Anycubic Photon Mono SQ
Cute cuboid
Reasons to buy
+
Unusual build volume
+
Rigid construction
When most resin printers are built using the same blueprint, they tend to look very similar. The Photon Mono SQ, however, tries to break that mold slightly by using a different screen. By utilizing a near square screen (1.07:1) the Mono SQ has a unique build volume of 128mm x 120mm x 200mm and takes up less space on the desk. This still uses the Photon Workshop slicer, so you can get going as soon as you receive it.
The square build plate of the Mono SQ is interesting, as height takes the longest on resin printers, so the Mono SQ is almost less practical by letting you have fewer things on the build plate, but it does give you more vertical room. Whilst it's hard to find a use for the SQ, the price and looks make it a fun choice.
Bottom line
If you are looking to buy your first resin 3D printer, or if you are looking to expand your collection, I cannot recommend the Elegoo Mars 3 Pro highly enough. It sits at that perfect intersection of fantastic price, excellent build quality, and superb printing results. I currently own two Elegoo printers, and they are easily my most-used machines. They always churn out quality prints daily.
While the other small-scale printers on this list are also great — the Anycubic Photon Mono 4K is another workhorse that I adore — the Mars is the best choice for those getting into the hobby. Some of 3D printing's best stars use The Mars, and because of that, the community has embraced it as the go-to machine for learning the basics.
Building materials
While MSLA/resin printers can be purchased extremely cheaply, the materials you need to print things can be expensive. Unlike FDM printing, which uses relatively safe filament — the filament is a solid plastic that gets melted by the 3D printer — resin printers use a liquid that reacts to UV light.
The process of making this material makes the result cost more than its FDM counterpart. While the prices are still not too crazy, you should expect to pay significantly more for your resin than you would for filament.
Play it safe
Resin is a tricky substance to play with. It's messy, smelly, and toxic if it gets on your skin, so you need to choose the right one and handle it with care if you can. There is a lot more equipment required to work with resin, a lot of them for your safety.
First and foremost, you want to have a good pair of disposable nitrile gloves between the resin and your skin at all times. I made the mistake of getting some resin on the back of my hand, and the next day, I had to take a trip to the doctor to get pills to stop the reaction from swelling my eyes shut. Resin is no joke people; it can even cause chemical burns, so be careful.
Get the Windows Central Newsletter
All the latest news, reviews, and guides for Windows and Xbox diehards.