Top 5 Twitter apps for Windows 10 PC and Mobile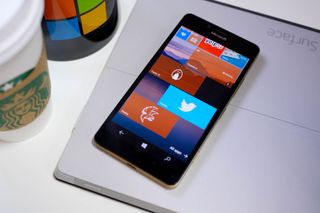 Twitter has over 320 million monthly active users and you're most likely one of them. Whether you use it for keeping up with the news or telling the world what you are doing, we'll show you the best apps on Windows 10 PC or Mobile for your Tweeting needs.
There are many uses for Twitter, and most people use it as a platform to let everyone know what they're up to. You can find out what's going on in your town or across the globe. It's also another way to follow your favorite sites. For example, you can follow Windows Central on Twitter!
There are plenty of great options for Twitter on Windows 10 PC or Mobile — these are the best!
Twitter
Why you can trust Windows Central Our expert reviewers spend hours testing and comparing products and services so you can choose the best for you. Find out more about how we test.
The official Twitter app is great on Windows 10 for PC. It was designed from the ground-up for Windows and was released in July of 2014, and has received some nice updates since. The responsive layout ensures that the app looks great no matter how wide or narrow you set the app window's width. As you would expect, it has all the latest features from the social network such as thumbnail previews, quote retweets, animated GIFs, multiple image uploads, and multiple account support.
Notifications are supported in the Twitter app, which you can fine-tune in the settings. For example, you can filter mentions, likes, and retweet notifications from just people you follow instead of anyone. The timeline also automatically refreshes when new tweets come in, so you can stay up to date.
While we love the Twitter app for Windows 10 PC, the official app for Windows 10 Mobile hasn't caught up yet. It's good enough for basic needs, but it's missing many of the features available on Windows 10 PC version. We hope it gets updated soon, but there are great third-party apps you can check out in the meantime.
Download Twitter for Windows 10 (Free) (opens in new tab)
Tweetium
Tweetium has been around for a while and it's a solid third-party Twitter app. It's a universal Windows 10 app, so you can install it on both Windows 10 PC and Mobile. It has a responsive design, so it changes the app layout automatically when you change the window's size. If you make the window narrow enough on Windows 10 PC, it'll show a layout that looks very similar to what you'll see on Windows 10 Mobile. It supports the important features like quote retweets, thumbnail previews, and even lets you upload videos.
Even though Tweetium is packed with features, we wish it looked better. The icons aren't pretty and the interface needs a bit of extra oomph. On a positive note, many users will be glad that they can personalize the app by changing the theme colors.
Tweetium is $2.99 from the Windows Store, and you'll need to subscribe to Pro for more features. The Pro subscription, which costs $7.99/year, adds support for push notifications, multiple accounts, integrated news reader, and synchronized last read positions.
Download Tweetium ($2.99/In-app purchase) (opens in new tab)
Fenice
Another favorite third-party Twitter app is Fenice, which brings several unique features to the party. It's a universal app, so you get a familiar user interface whether you're using the app on Windows 10 PC or Windows 10 Mobile. One of the top features include interactive notifications, which let you reply, like, and retweet a mention without even launching the app. Another cool feature is the ability to add memes to your tweet. The usual thumbnail previews, quote retweets, and multiple accounts are also available.
Fenice is $1.99 from the Windows Store, but there's an in-app purchase of $1.49 to add more accounts.
Download Fenice ($1.99/In-app purchase) (opens in new tab)
Tweet It!
If you're looking for a clean design, Tweet It! has it. The icons, layout, and short animations look great, while not ignoring the important features. It supports multiple columns and even automatically determines how many columns to display depending on the width of the window. You can also choose from three themes: light, dark, and grey.
The usual Twitter features such as thumbnail previews, quote retweets, and multiple accounts are included, but Tweet It! doesn't currently support Moments. It's a new section introduced by Twitter recently to display the top stories of the day. On the other hand, Tweet It! includes a trending section with popular topics or hashtags.
Tweet It! has the most expensive up-front cost at $5.99. The good news is that there are no in-app purchases to unlock additional features.
Download Tweet It! ($5.99) (opens in new tab)
Aeries
Power users on Twitter should consider Aeries on Windows 10. It doesn't have the cleanest design from this list, but Twitter users who follow a lot of people will appreciate some of its features. Aeries lets you create and add sections, which can be really helpful for those who look for certain keywords on Twitter. You can also pin sections that are important to you on the home screen. Another powerful feature is the ability to filter certain hashtags or keywords from showing up in your timeline.
Aeries gives its users control over gesture, allowing you to customize what happens when you tap, double-tap, or tap-and-hold items in the timeline.
Aeries costs $2.99, without additional subscriptions or other in-app purchases.
Download Aeries ($2.99) (opens in new tab)
What's your favorite Twitter app for Windows 10 PC or Mobile? Let us know in the comments!
Windows Central Newsletter
Get the best of Windows Central in your inbox, every day!
Tweetium on my 950XL always fails to update. Has been like that since I bought the phone. Anyone knows how to fix this

Why not try uninstalling it, then install again

Try moving it to phone memory.

Mine updates just fine. Aeries is the one I have update issues with. Aeries and Tweet it also have issues with keeping position at last read tweet which is really annoying when you have 50+ tweets when loading and the placement of the timeline is at the top so it becomes very difficult to fdind where you last left off. If you have hundreds of tweets then forget. Tweetium is simply best with desktop layout as well as the others force single column displays per category. I prefer the entire screen to cascade with multiple columns of my category. And that it correctly tracks my position between Desktop and phone is priceless. That said, I have major issues with Tweetium on phone due to a keyboard bug. It is not working correctly. I swipe my words and the bug requires you to manually insert a space to be able to swipe in another word, whereas normally you just swipe from word to word. iF you forget to manually enter a space after every word, then you end up writing only every other word you swipe in. Additionally, after entering a word you can just press the back key to erase it and start over. The bug in Tweetium makes you press back key per character as the word reference simply is not there. Finally, It also seems to not as well as the keyboard normally does in terms of properly selecting words I am swiping. Anyone else having this issue? I'd really like juse one of these apps to work consistently for me from phone to desktop This is all on 950XL running Windows 10 Mobile, build .71, but the issue has been with all builds/firmware.

Ceger, I too have 950 XL, And I too have exactly the same problem with Tweetium's input. But, I don't think it's a bug per se. I guess, the app invokes a different 'kind' of keyboard, that's all! The swipe recognition also seems inferior to the regular keyboard. Incidentally, I'm right now typing this comment on mobile version of this web site on Microsoft Edge from my phone, and it's exactly the same kind of keyboard that's got initialized as with Tweetium.

Hi there. It's actually not a "different" keyboard. It's just a bug in the current Win10 Mobile release that affects certain kinds of Win10 apps. The fix is in the latest Insider Preview (fast ring) build. Hoping they release the fix more broadly soon.

Hey there. The input bugs you're talking about are actually OS bugs in Win10 Mobile. That's why they affect other apps like Edge as well. These issues are fixed in the latest Insider Preview (14267). I was told there would be an update for the release track (th2 builds) but it still hasn't come sadly. Unfortunately there's nothing the app can do about this until Microsoft releases the fix more broadly.

Are you having keyboard input issues?

Tweetium costs $2.99. Not free

MeTweets used to be in the list before, what happened to that app..

Last update was late 2014....

I still use it.. I'm not a hardcore twitter user.. So a free app like MeTweet is the better option for me..

Aeries for me on my phone, waiting for official twitter app

I like and use Aeries but have you figured out a way to view conversation threads? On the official Twitter app on other platforms you could tap on a Tweet and it would show you the entire thread for context. So far none of the Windows apps, including Aeries, seem to have a way to view the original thread the the Tweet was part of. At least that I have found. I ended up responding to Tweets incorrectly.

MeTweets is the only one I've tried that lets you view conversation. Hasn't been updated in awhile, I think, but works for me.

double tap on tweet body to open conversation.

I'm hoping that the official Twitter app updates soon, as in tomorrow..

You mean hopefully the next couple of minutes

I don't use any of the desktop apps and am on WP8.1. I miss the great twitter apps - gleek! and Mehdoh. I miss windows 8/8.1 with integrated social networks overall. But since that's a thing of the past I'm at least hoping for better individual apps on Windows 10.

I miss Mehdoh & Carbon. :-(

I really like Aeries for phone, but Tweetium wins for many options on 8.1

Any third party Facebook apps ???

Yes, Facebook and Facebook BETA.

Several things: The official UWP Twitter app sucks in terms of full Twitter functionality and space efficiency. Lists are practically useless in it. Tweetium is too expensive relative to the competition & offers little marginal value for the feature you get. $7.99/year for a feature(s) you can get for free in Tweetdeck? LOL no thanks. Tweet It! looks promising, but $5.99? Yikes. Aeries seems to have no real-time updating capability. Fenice has the most promise in terms of pricing and features. As much as I'm happy to see all of this, nothing beats Tweetdeck on the desktop (mobile and tablets are a different story). It's hard to make an argument to use anything else, unless its free and has a superset of Tweetdeck's features.

You know that you don't have to use the pro with Tweetium, right?

IIRC correctly Tweetium Pro is the only way to get multipe account support &/or real-time notification support on the app, both of which I need. Any client without both of the above (among other things such as list pinning, activity notifications, etc.) is useless as far as I'm concerned. Also, as I said, they're charging for features you get for free in Tweetdeck. Not worth it.

TweetDeck is made by Twitter and has special access (and tons of funding). Tweetium Pro offers features no other third-party app on Windows offers, and which cost me a lot of money for servers every month. Hence why it costs extra.

Meh, I don't mind the Twitter app, I mean I don't really need much from twitter, just as long as it doesn't do what the website does EVERY time, which is (Not Responding)...but I'm sincerely hoping that when they DO finally update it, that they won't be brain damaged and only update every 5 years or so, or they'll forever be Dorsey's Dodos =\

I have Tweetro, Rowi, MetroTwit, Fenice and the official twiiter app installed on my windows 10. I still remember Tweet@Rama.

Looking for some help from people who have used the other apps... Tweetium user here, and mainly use lists to read twitter. Tweetium allows me to add people to lists but not remove people from lists so I must go to the website to remove people. Do any of these other third party apps allow adding AND removing people from user created lists?

How come we don't have download app on windows central....
And where is the windows central update...?

People try tweetone. It is beta, but works perfectly, have all features

Yes, you're right. I'm sorry. Firstly phone corrected the part of the word and i didn't noticed.
By the way, how will you rate the app?

Please take a vote, I'm curious what your favorite Twitter app is: http://www.strawpoll.me/6726821

That's been around for a while. When was Peregrine last updated?

My favorite is Peregrin. Simple and clean.

I love Tweet It and got it half price in the sale at Christmas. However, notifications still don't work properly in the app (all you get are new (un)followers on the Interactions pivot) and the usually helpful dev has gone quiet on the subject.

Same here no notifications

On phone I use Aeries, it has the best design and performance IMO. But on PC I like the official app most. Hope Twitter release the mobile version of their new app soon.

Official twitter app works.just fine for me. No need.to.pay for something that should be free

Are there no twitter app which can display tweets analytics directly in the app ??

Did you ever hear about twabbit?

I have Tweetium, Aeries, & Fenice. They're all okay and I find I use Aeries the most. However I really wish there was an app more like Tweetbot (iOS), Twittelator (iOS), or Tweetcaster (Android) due to features available for WP.

I love Fenice on tablet. but I prefer Aeries on my phone. I love Twitter official app to. but the bug with backup (stuck at certain percent and never finishes) makes me staying away from it. and less features too, but it is simple and faster to get to the point.

There's no 'good enough to mention' free third-party Twitter apps? I really, really miss an update on the official Twitter app to match W10M and I'm not willing to pay for an app yet.

I miss Gleek, best twitter client I ever paid for. Too bad it hasn't received any love lately

Looks like none of the clients apps are free. Don't really like the idea of paying for social apps that should be free in the first place Posted via the Windows Central App for Android