Cheapest Xbox Live Gold deals: Best prices for June 2023
Go for the Gold with these Xbox Live Gold savings.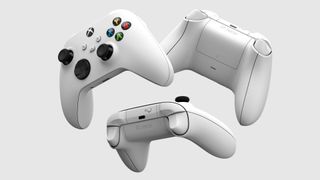 (Image credit: Microsoft)
Xbox Live Gold is Microsoft's original premium online service that allows Xbox users to upgrade their gaming experience. The monthly subscription service grants access to online multiplayer for all Xbox games, huge discounts with Xbox Deals with Gold, and four free games to download every month.
While Xbox Game Pass Ultimate offers mountains more discounts, features, and free games to try out every month at $14.99, Xbox Live Gold offers a less expensive option at $9.99 per month. It gives players a taste of the Xbox's online perks, including the full online capabilities of the Xbox One, Xbox Series S, and Xbox Series X, without the added bloat of Xbox Game Pass Ultimate.
However, paying upfront on the Microsoft Store for Xbox Live Gold membership isn't the only way you can purchase this service. You can buy codes that offer several months of Xbox Live Gold Membership in bulk, sometimes offering better value over the regular monthly fee. We're rounding up all the places where you buy membership codes for Xbox Live Gold at discounted prices, helping you save money on future Xbox gaming ventures.
The cheapest Xbox Live Gold deals right now
There are multiple options available when you want to purchase Xbox Live Gold. You can buy codes for Xbox Live Gold Membership, which grant several months' worth of membership time. While the same one-month and three-month plans are available, Microsoft also sells six-month and 12-month codes.
The one-month code costs $9.99.
The three-month code costs $24.99.
The six-month code costs $39.99.
The 12-month code costs $59.99.
Out of all these deals, the 12-month code represents the best value for money. You would be acquiring a year-long Xbox Live Gold Membership for half the price it would cost if you went with the default monthly subscription. However, the six-month and 12-month codes aren't sold through Microsoft Stores; they're sold through third-party retailers like Amazon, Best Buy, Walmart, and others.
Best Xbox Live Gold Deal
Currently, the best deal for a 12-month Xbox Live Gold code is on Amazon. It is on offer for $55 versus the standard price of $60, or $120 if you were paying separately.
Xbox Live Gold (12-month membership)
Xbox Live Gold is an essential service to unlock the online capabilities of the Xbox One and Xbox Series X|S. This code offers you up to 12 months of online gaming, discounts on a plethora of games, and four free Xbox games to download every month.
Xbox Live Gold Monthly plans
You can also procure one of two monthly plans from the Microsoft Store, spanning a $9.99 monthly rate, and $24.99 for three months, both of which can be canceled at any time. If this service isn't to your liking or you are low on funds, you can get a refund by canceling your membership before your first reoccurring bill is due.
Start your Xbox Live Gold membership today with these monthly plans and gain access to discounts and free games every month, and be able to play online multiplayer with all compatible games.
Is Xbox Live Gold worth it in 2022?
In our Xbox Live Gold review, we stated that it is becoming increasingly harder to buy this subscription service over Xbox Game Pass Ultimate, which only has a slightly higher monthly fee of $14.99. Xbox Game Pass Ultimate has Xbox Live Gold built in alongside Xbox Cloud Gaming and EA Play.
Xbox Game Pass Ultimate also allows you to download hundreds of games for a lengthy period of time. These can range from AAA blockbusters like Halo Infinite to third-party indie titles like Hades. And unlike Xbox Live Gold, which is only limited to home consoles, the features of Xbox Game Pass Ultimate apply to all Microsoft platforms such as home consoles, PCs, and mobile devices where you can stream and play the best Xbox Game Pass games via Xbox Cloud Gaming.
However, that doesn't mean Xbox Live Gold doesn't have merits on its own. The subscription cost is cheaper, especially when paid upfront through codes, the free games per month and Deals with Gold are exclusive to Xbox Live Gold, and it has a neat secret trick where you can save money when purchasing Xbox Game Pass Ultimate.
When you upgrade your account, it converts any remaining months of Xbox Live Gold membership into Xbox Game Pass Ultimate, at a 1:1 ratio, i.e., one month of Gold equals one month of Game Pass, with a max conversion limit of 36 months. So, you could potentially buy three years' worth of Xbox Game Pass Ultimate time by converting the time you acquired through 12-month Xbox Live Gold membership codes. And the best part is that a 12-month Xbox Live Gold membership code ($60) is only $15 more expensive than the retail price for one three-month Xbox Game Pass Ultimate code ($45). This means you could get 12 months of subscription Xbox Game Pass Ultimate time for under half the cost of four three-month Xbox Game Pass Ultimate codes ($180).
Although, if you're not interested in Xbox Game Pass Ultimate's Netflix-style service and only desire the online features to play all multiplayer games online for a lower price, you can't go wrong with Xbox Live Gold.
Get the Windows Central Newsletter
All the latest news, reviews, and guides for Windows and Xbox diehards.
Alexander Cope is a gaming veteran of 30-plus years, primarily covering PC and Xbox games here on Windows Central. Gaming since the 8-bit era, Alexander's expertise revolves around gaming guides and news, with a particular focus on Japanese titles from the likes of Elden Ring to Final Fantasy. Alexander is always on deck to help our readers conquer the industry's most difficult games — when he can pry himself away from Monster Hunter that is!