Best Xbox One Games of 2016
Ah, 2016, a year of political upheaval, celebrity deaths, and ... VIDEO GAMES!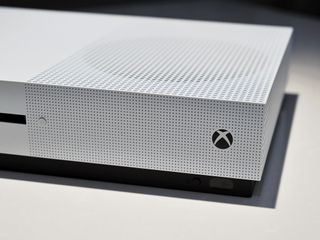 That's right, folks, 2016 was a year when video games happened. And they happened a lot. They happened on PC, they happened on PlayStation 4, and they also happened on Xbox One.
What were the best games of 2016? Fear not, friends. I am here to satisfy your curiosity. These are Windows Central's picks for the best Xbox One games of 2016.
30. Axiom Verge
Why you can trust Windows Central Our expert reviewers spend hours testing and comparing products and services so you can choose the best for you. Find out more about how we test.
Axiom Verge is a wonderful homage to the classic Metroid games, both in terms of aesthetics and gameplay.
You guide the character Trace across an ancient mechanical world in lovingly recreated Metroidvania gameplay with over 60 items to hunt down and collect.
29. Virginia
Virginia is a first-person graphic adventure with an edge of thriller and mystery.
You play as a rookie FBI agent attempting to solve the disappearance of a young boy. As events unfold, Virginia takes a twist for the supernatural.
28. Overcooked
Overcooked is the ultimate party game, with support for local four-player co-op across a series of increasingly difficult reactionary cooking puzzles.
You work together to prepare meals in various scenarios, making sure to serve things properly without setting the kitchen on fire. Overcooked is a riot.
27. Oxenfree
Oxenfree is a coming-of-age tale wrapped in an artistic 2D adventure game.
A group of teenagers arrives on an abandoned island for a secret party. However, they soon discover that they aren't alone. This supernatural narrative adventure is as mysterious as it is thrilling, and it's available on both Xbox One and Windows 10.
26. Shantae and the Pirate's Curse
Shantae and the Pirate's Curse is an old-school game with a fun anime slant and retro visuals.
You guide Shantae on a quest to recover her genie powers in a side-scrolling, action-packed platformer that doesn't take itself too seriously. It's pure fun.
25. Layers of Fear
Layers of Fear is a twisted first-person horror game that follows the tale of a failing painter.
In a game that's as darkly atmospheric as it is unnerving, you uncover a mystery of family tragedy, destroyed relationships, and mental breakdown.
24. Dishonored 2
Dishonored 2 is a supernatural stealth game that revolves around player freedom.
You play as either Emily or Corvo on a mission to reclaim a lost throne, and whether you want to deploy non-violent methods, or cause a city-wide blood bath, all tactics are valid.
23. Unravel
Unravel is a 3D side-scrolling platformer that stole the spotlight at EA's 2015 E3 conference.
In the game, you play as the charming Yarny through a series of gorgeously detailed locations scattered with physics-based puzzles, on a quest to recover a loved one's memories.
22. Final Fantasy XV
Final Fantasy XV emerged after 10 years in development, chasing utterly huge expectations. And it met them, for the most part.
Final Fantasy XV is a large open-world adventure with action RPG combat, gigantic boss battles, and tons of side objectives to keep you busy.
21. The Elder Scrolls V: Skyrim Special Edition
We live in an age of remasters, but few are as grand as Skyrim's Special Edition.
Skyrim is undisputedly one of the best RPGs ever made, full of dynamic gameplay systems, a huge open-world, and dozens upon dozens of hand-crafted dungeons. You can play as a thief, a mage, a warrior, or a combination of the three in one of the most liberating games on Xbox One.
20. SUPERHOT
Superhot is the most innovative shooter I've played in years.
In Superhot, time moves as you move, transforming what would've been a generic shooter into one of the most exciting and stylish games in recent memory. This game is an absolute must-play.
19. Rainbow Six Siege
Rainbow Six Siege is a tactical-shooter with a twist.
It might've had a rocky launch, but now it's one of the most-played games on Xbox One. You utilize an array of skills and gadgets in a class-based multiplayer first-person shooter (FPS) with strategic environmental destruction and high amounts of realism.
18. Titanfall 2
Titanfall 2 is a sci-fi FPS from Respawn Entertainment, a company comprised of the talented individuals behind Call of Duty Modern Warfare.
Titanfall 2 continues the series's tradition for explosive mech warfare, and throws in a surprisingly engaging single player campaign for good measure.
17. Stardew Valley
Stardew Valley is a RPG-meets-Harvest Moon mashup with a retro aesthetic.
Stardew Valley is a charming game that allows players to grow and customize their very own pieces of farmland, while managing relationships with local townsfolk, battling strange monsters, and upgrading their characters. Stardew is a rare gem that will lift your spirits and make you smile.
16. Deus Ex Mankind Divided
Deus Ex Mankind Divided launched in mid-2016 after a series of delays, taking the stealth-action series to new heights.
Taking advantage of various cyberpunk gadgets and tools, players can battle their way through missions in any way they see fit as they unravel a global conspiracy that threatens the world.
15. Inside
Inside is the maddening follow up to Limbo, which took the world by storm during the Xbox 360 era.
Inside is at its core a puzzle platformer, but be warned. The chilling music, haunting atmosphere and twisted plot make Inside an experience you won't soon forget, no matter how much you want to.
14. Rocket League
Rocket League is a global phenomenon that burst onto Xbox One in early 2016.
In what is essentially soccer-meets-racing, Rocket League pits teams in a variety of vibrant arenas inspired by various sports. Bash the ball into the opposing team's net to win, in a physics-based competitive sports game that's hard to put down.
13. Dark Souls 3
Dark Souls 3 brings the brutal action RPG series to a close in style, delivering huge amounts of nail-biting combat in a gorgeous medieval Lovecraftian fantasy.
You battle hulking revenants, twisted abominations, and die, die and die some more.
12. Firewatch
Firewatch is a unique first-person adventure game that takes place in Shoshone National Forest in Wyoming, U.S.
The player is required to navigate a gorgeously stylized map that increases in size as you play, uncovering items to help you progress the story, while building a relationship with a single character via walkie-talkie. Firewatch is a mysterious game that is best experienced first hand.
11. Quantum Break
Quantum Break is a third-person adventure game from Remedy, the brains behind Max Payne and Alan Wake.
It is an action-packed journey through a detailed city fracturing under the destruction of time itself. Quantum Break's impressive visual effects are complimented by satisfying super-hero combat and high-quality live action cinematics.
10. The Flame in the Flood
The Flame in the Flood is a gorgeous survival game from a team comprised of huge industry talent.
This twisted and stylized adventure pits you and your trusty dog on an endless trek down a flooded, post-societal America, scavenging supplies, purifying water, and avoiding dangerously hungry wildlife.
9. Hyper Light Drifter
Hyper Light Drifter is a pixelated action RPG with a top-down view and gorgeous retro visuals.
Styled on classic Zelda games, Hyper Light Drifter is all about fast-paced action and slicing through hordes of monsters, in an audiovisual tale of survival.
8. Far Cry Primal
Far Cry Primal is an open-world action game set in the Stone Age.
As Takkar, you'll trade the series's signature rifles and shotguns for spears and arrows, as you survive in a gorgeously realized pre-historic setting, taming animals, hunting your enemies, and reclaiming the birthrights of Takkar's Wenja tribe.
7. Hitman
Hitman is effectively a reboot of the classic stealth franchise, and it's arguably the best in the series so far.
Don the suit of Agent 47 in a series of increasingly complex and open-ended stealth sandboxes, where assassination is your only goal. Hundreds upon hundreds of assassination methods open up over the course of play, making this one of the best stealth games on Xbox One today.
6. Overwatch
Rising out of the remains of a failed MMO, Overwatch took the world by storm and will ultimately change the landscape of FPS games for years to come.
Supported by cosmetic lootcrate micro-payments, Overwatch receives piles of free content to keep its unique, character-based FPS formula fresh. Easy to play and difficult to master, Blizzard has once again proven its unique ability to transform simple ideas into piles of cash.
5. XCOM 2
Hot on the heels of XCOM: Enemy Within, XCOM 2 continues the franchise's tradition of alien-busting, turn-based tactical action.
You manage a growing army of human guerrillas in a global war to overthrow an evil alien occupier. It's addictive, rewarding, and timeless.
4. Gears of War 4
Gears of War 4 is a huge three-pronged assault that has something for everyone.
You can battle it out against a new enemy in the game's meaty co-op campaign, join up with four friends and battle waves of increasingly difficult enemies in Horde, or step into Versus mode and kill your friends instead. This is the best game in the series.
3. DOOM
Retro is pretty hot right now, but 2016's DOOM proved its formula isn't simply retro — it's timeless.
DOOM is an unashamedly violent, blisteringly fast-paced FPS that shrugs off all pretence and hands you a chainsaw. It's easily one of the best shooters in recent memory.
2. Forza Horizon 3
As far as racing games go, they rarely get better than this. Forza Horizon 3 was undoubtedly Microsoft's biggest win of 2016, for its high-octane, open-world arcade racing set in the dazzling Australian outback.
If you're a fan of racing games, you're doing it wrong if you haven't picked up Forza Horizon 3.
1. Battlefield 1
Battlefield 1 isn't just one of the best shooters from 2016, it is one of the greatest FPS games ever made.
DICE's sobering reconstruction of WWI warscapes makes for one of the most explosive and brutal Battlefield games yet. It is thoroughly unmissable 64-player warfare.
These are our picks for the best 30 games of 2016 on Xbox One. No doubt there are some that we'll kick ourselves for not including here later, but there were just so many great titles released last year that it was simply too close to call.
Are there any titles that aren't on this list that you think should be ? Please let us know in the comments.
Get the Windows Central Newsletter
All the latest news, reviews, and guides for Windows and Xbox diehards.
Jez Corden a Managing Editor at Windows Central, focusing primarily on all things Xbox and gaming. Jez is known for breaking exclusive news and analysis as relates to the Microsoft ecosystem while being powered by caffeine. Follow on Twitter @JezCorden and listen to his Xbox Two podcast, all about, you guessed it, Xbox!