Buy a new Lumia and get a $25 Windows Phone Store gift card along with 9 free Gameloft games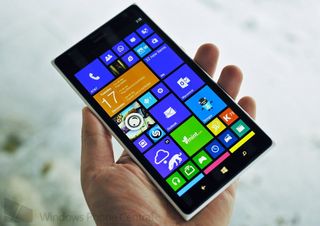 Microsoft is running a promotion where buyers of new Nokia Lumia smartphones will be treated to $65 worth of free content. The promotion, which runs through spring in 39 countries worldwide, offers owners of newly purchased Lumia Icon, 1020, or 1520 phone $40 of Gameloft titles as well as a $25 Xbox voucher.
According to Nokia, users will be treated to 9 Gameloft games including popular titles such as Asphalt 7 and Assasin's Creed – Altair's Chronicles. Nokia and Microsoft had ran a similar promotion in the past, offering 9 free Gameloft titles that include those popular titles as well as Brain Challenge, Earthworm Jim, Let's Golf 2, Modern Combat 4: Zero Hour, N.O.V.A. 3, Order & Chaos Online, and Shark Dash. To redeem the offer for free games, you can visit the Nokia site (opens in new tab) for instructions.
In terms of the Xbox offer, in addition to the free Gameloft titles, users will also receive a $25 voucher for Xbox movies and videos. To get the Xbox offer, users will need to buy a new Nokia Lumia Icon, 1020, or 1520 and then go to the Nokia Collection in the Windows Phone Store on their devices to download the Gift Voucher app. After downloading the app, users will need to launch the app and follow the instructions to redeem the offer.
Source: Nokia (opens in new tab)
Windows Central Newsletter
Get the best of Windows Central in your inbox, every day!
Chuong's passion for gadgets began with the humble PDA. Since then, he has covered a range of consumer and enterprise devices, raning from smartphones to tablets, laptops to desktops and everything in between for publications like Pocketnow, Digital Trends, Wareable, Paste Magazine, and TechRadar in the past before joining the awesome team at Windows Central. Based in the San Francisco Bay Area, when not working, he likes exploring the diverse and eclectic food scene, taking short jaunts to wine country, soaking in the sun along California's coast, consuming news, and finding new hiking trails.
So if I get a 1020 on at&t I can get all this stuff ?

<p>Yes. This would be a great time to get a Windows Phone!</p>

I bought my 1020 last year. I'm still able to download the Gift Voucher app and receive a $25 voucher!

Bought my 1520 in December. Funds added to my account just now.

I received the $25 voucher as well for my lumia 1520. Is there a due date before which this balance will expire or can I use it whenever I need in the next few months?

Goto http://commerce.microsoft.com/ for applicable expiry date

Thanks. I checked but it does not say when it will expire

Thats weird it did for me it said August. So id guess 90 days after activation in account

yes. I was also able to see the account expiration and it is August. Thanks.

it says the app is not available for my phone, and i have a lumia icon. very odd. maybe because im on WP 8.1 preview???

That sucks, and is lame if it's true. Because I have an Icon and am on 8.1 as well.

Mine worked on my 1520 on 8.1

I've got 8.1 on my 1520and was able to get it. Bought mine in December

Also does not work on my Icon. Do they even test this stuff before announcing it?

Hey, make sure if you have 2 phones registered under your account to select the 1020. It happened to me before as the store defaulted to my old 521 instead of my new phone.

Same except using gdr3 on Lumia icon. So more than likely it hasn't been pushed to all devices on marketplace yet

People, the vouchers are only available for Lumia 1020 and 1520 be it Windows Phone 8 or 8.1 Developers Preview only

Queue the complainers who bought their phone before this promo...

Its for recently bought phones so many will get it.

Got my 1520 at launch (was a pre-order) and I just redeemed this voucher, so... Not upset at all, ha ha. Thanks Nokia and MS!

Hi, How did you get the voucher? Did you get any notification or email? I have 1520 in US but I did not get any such thing. :(

Got my 1520 in February and my wife got her 1520 in march... It just worked for both of us... Just an FYI... Thanks Nokia and MS

The 25$ voucher is a Region limited offer please include the regions it's available in.

Is this available in India also?

which 39 countries, give the link?

I'm pretty sure I read about this before on WPCentral. Somebody asked me about it last week and a Bing search brought me to WPCentral article. A reminder us always nice for those that missed it though.

Yup, but its official now ;)

Dan do you have any info on why the Icon is not able to download the voucher app?

Chances are nokia hasn't updated permissions yet for it in nokia collection

Yea I bought mine in February and I saw a mention of it in the forums and tried and worked I bought child of light with mine

the app is not available on the Icon, very very weird

Bought 1020 September last year. Didn't work for me. Maybe because I upgraded to 8.1? Back to Bing Rewards!

Not seeing the app...anybody have a link?

Might want to click on the link in the article where it says you should click for more info: http://www.nokia.com/us-en/campaign-world-of-entertainment-x/

Just got mine for my Lumia 1520!!!
Took all of 3 minutes!

I got this about a month ago in the UK I just tried again just incase this was new but it says that I already got it. I got £40 for my 1020 and 1520

Just bring the 930 to at&t. My renewal is due and I am just waiting to upgrade my 920.

Off topic but... +930 for the UK :D

Awesome!!! Bought my Lumia 1520 earlier this yeat and the deal worked for me. Thanks guys!

I bought my Lumia 1520 when it was first released. This worked for me. Got all the games and the $25 credit. I installed the games to my 64GB microsd card :)

+1520 I don't even play games but I love free ish and the extra room for activities is great

Just bought a 1520 and got my gift! Awesome, thank you Nokia and Microsoft :)

Kinda lame no 8.1 support. Real windows phone lovers get no love?

Correction no Lumia icon 8.1 love?

Yea my 8.1 1520 worked like a charm

My 8.1 1520 worked also, I posted about this in several forums last week. Look for Get some Nokia love. But it wasn't for the icon, the 625, 1020, 1320 & 1520 Is all that was listed. So no Icon love, sorry.

Haha what does this guy mean "real" WP lovers?! Don't be mad at US cuz you got left out, We All Love WP!
Don't worry your day will come. ;)

I said that when i thought it was a windows phone 8.1 issue. Yes, I think people who install a preview /beta update have more love for an OS than those who don't take the risk. It is obviously an icon issue tho.

Something is wrong here with this article. I just got done talking with Nokia support about this. They currently have no promotions running in the US. And, since the Icon is only a US phone, then this promotion is not for the Icon. As stated in the article, there was a previous promotion and it *was* available in the US, however it ended on February 15th, 5 days before the release of the Icon on the 20th. So, the Icon has never actually even been part of a promotion.

In The US 1520. Just got it

Weird, Nokia rep said there were no US promotions....unless he was just meaning the Icon is not allowed and I misunderstood him. But he said no promotions in the US, he didn't single out the Icon when he was talking to me.

My AT&T 1520 (running 8.1 DP) that I bought a month ago was able to download the app and get the $25 code just now.

I don't think the offer applies to the Lumia Icon, unfortunately.

Anyone else being redirected to the App Social page when clicking the link for the free games?

Yes, go to the app (or download if you haven't already) and go to the Gameloft section. You can then download the games from there.

How do I find the Gameloft section?

It should be the very first screen when launching the app.

Didn't work on my 1520.3 I just got from newegg last week. Lame.

Just wanted to chime in on this. Because the 1520.3 is not the AT&T Variant, I believe that is what is screwing the offer. The T&C also state that you must purchase it from an authorized retailer, which I think is just covering their butts in the case of something like this. I bought my wife a 1520.3 a week or so ago and the deal isn't working for her either.

I noticed it when I got my new Lumia 1520 last week

Unfortunately, the article is wrong. This is not in the US, so the Icon is out, and I assume US versions of the 1020 and 1520 as well. Funny thing is when you read the terms and conditions it says the US and the Icon.

It is for the US, and works fine on ATT 1520. Did it a few days ago. Judging by comments, maybe the deal does not work just with the Icon.

Yeah, it appears it's not working with the Icon, even though it is listed. This is annoying. 1 that it isn't working, 2 that I asked a Nokia rep and he said there were no promotions in the US.

Worked for me in the U.S. with an ATT-locked 1520 running the 8.1 dev preview.

Does the voucher auto apply or are you able to gift it to someone via redeemable code?

Purchased my icon last Thursday and I can't download the gift app...wth?

Bought my phone during Christmas, got a warranty replacement, and this still works.

Doenst work on my ICON. The website is NOKIA - USA and the link says: 1) Buy a new Nokia Lumia Icon, 1020 or 1520. 2) Go to the Nokia Collection in the Windows Phone Store and download the Gift Voucher app. 3) Follow the instructions in the app to redeem your $25 gift card - and let the fun begin! ERP WHA?

mehh I don't know about MS gift vouchers...you can't use them for physical items from the MSStore. Last time I got one from Dell it never worked and eneded up expiring before I could ever purchase anything with it.

I have used my "Windows Phone" gift voucher(s) to rent movies in Xbox Video and even buy games and avatar stuff on Xbox live. One of the many benefits of this emerging ecosystem!!!!

Chatting with another rep now....will update.

I'm in the US. I bought my 1520 in December. I just used the voucher. I have no issues. Those games are listed as free for me in the store and I'm on 8.1...

At least that confirms the US availability, which is what I thought was true. This isn't working unfortunately for Icon 8.1 users.

Does this offer not include the 625? Either way, nice offer and a great intro to entertainment on wp!

Is there a mod on here deleting comments? Like 5 of mine just up and dissapeared. What the heck?

Still waiting on a TMO 1520 Variant
http://i.minus.com/ib115hIugmsfNA.jpg

Better start kicking rocks...

Got Lumia 1520 in December and just got another $25. Sweet

YESSSS!!! This is the perfect timing! I was planning on upgrading from my 900 to a 1520!

I know this is probably an obvious yes, but just out of slight paranoia, would these offers be void if I redeemed them before or after I update to WP8.1 when I get my 1520?

Just finished chatting. It is in the US, tho they don't know why its not working on the Icon. Marketing is supposed to call me to fix the issue, but I wont hold my breath.

Sweet, please keep us updated. Thanks for taking the time to chat with them, from a fellow icon user.

No prob...now I called, too...better to keep hounding them...am on hold...I'm gonna post my chat session below...he does confirm it should work with the Icon (tho he called it the 929).

I bought two 1520s and two 2520s a month ago. Wish they added those.

Alex: Hi, my name is Alex. Thank you for contacting Nokia Care Chat. How may I help you? Alex (16:30:00) How are you today? Darkgift (16:31:03) Hi I cant's seem to download the voucher app, and I get redirected to the App Social page when I follow the link to the free games...regarding the Windows Phone Entertainment App offer. Alex (16:31:25) Let me help. Alex (16:31:39) Before we proceed, can you provide me your full name, please? Darkgift (16:32:30) Anthohy Romano...Lumia Icon Darkgift (16:32:42) sorry...Anthony Alex (16:32:54) Thank you, Anthony. Alex (16:35:09) Just to verify, you already have the voucher code, but you were not able to redeem it, am I correct? Alex (16:36:09) Please follow the instruction below: 1.Go to the Nokia Collection in the Windows Phone Store, download the Gift Voucher app and Start the application
2.On the T&C (Terms and Conditions) and Privacy Policy screen tap Continue.
3.Enter your LiveID in the 1st field and your password in the 2nd field and then tap Login.
4.On the next screen tap the Redeem Voucher Button.
5.Your Voucher Code will be displayed on the next screen. Tap Copy and activate Voucher to copy your voucher code to the Clipboard and Open the Wallet. Alternatively on the start screen, swipe left, and tap Wallet. (You can search for the Wallet app in the App list screen by tapping the magnification glass icon on the right top corner and then type "Wallet" in the text field.)
6.To add the voucher tap [+] > Microsoft gift card, and follow the instructions on the screen. Note: if Microsoft gift card option is not visible go back and tap [+] again.
7.Tap the Enter Microsoft gift card code field and paste your voucher code by taping the paste icon.
8.Fill in the fields marked with * and tap next.
9.Your Microsoft account balance has been updated. You are now ready to buy apps and games from the Windows Phone Store. Darkgift (16:36:40) no...I am supposed to download a voucher app, which I can't find in the store, and the link for the games just takes me to the App Social page on your website Darkgift (16:37:53) when I do a search for the app on my phone, it doesn't appear. when I follow the link for the app from ur website, on mt PC it says not for my phone. Alex (16:38:20) I am currently checking this here. Darkgift (16:38:39) i have a Lumia icon in the US, which by the Terms and conditions of the promotion, is valid Alex (16:38:47) One moment, please. Alex (16:42:20) Sorry to keep you waiting. Alex (16:42:30) I will need more minutes for this. Darkgift (16:42:38) no prob Alex (16:42:45) Thanks. Alex (16:45:58) Thank you for waiting patiently. Alex (16:46:09) I am still checking this with the relevant department. Darkgift (16:46:27) no prob Alex (16:47:12) Just to clarify, you already have redeemed the voucher, but you were not able to download an application on your phone, am I correct? Darkgift (16:47:46) no...i have to download the app to get the voucher Darkgift (16:47:55) iu cant download the app Alex (16:48:16) Alright. Thank you for clarifying. Alex (16:50:08) Anthony, are you using the link below: http://www.nokia.com/us-en/campaign-world-of-entertainment-x/ Alex (16:50:33) Or search "Gift Voucher" from store using your phone. Alex (16:50:48) Please tell me if you will have the same error message. Darkgift (16:51:44) nothing Darkgift (16:51:51) nothing shows up Darkgift (16:52:37) I'm not the only one w/ an Icon having this problem...i can send a link to an article and if you read all the comments, everyone with an Icon is having an issue Alex (16:53:10) Can you please open that link using your PC then scan the QR code using your phone? Darkgift (16:53:40) what link Alex (16:53:56) Please refer to the link below: http://www.nokia.com/us-en/campaign-world-of-entertainment-x/ Darkgift (16:55:04) ok....one minute Alex (16:55:17) Thank you. Take all the time you need. Darkgift (16:55:18) it says its not for my phone Darkgift (16:55:42) but you have it listed as one of the phones that is valid Alex (16:55:45) When did you receive that message "its not for my phone"? Alex (16:56:00) Yes, it should work for Lumia 929. Alex (16:56:06) When did you purchase your device? Darkgift (16:56:19) i scan the qr code...the it takes me to the app page in the Windows Store...but it won't let me downlaod Darkgift (16:56:44) it says "This app is not available for your device. Tap here for more info" Alex (16:57:12) Alright. Please try to sync your Microsoft account. Alex (16:57:36) Please go to "Settings" > "Email+accounts" > tap and hold on your Microsoft and choose "Sync". Alex (17:00:13) Once done, please try to scan the QR code again and let me know the outcome. Darkgift (17:01:51) k Alex (17:02:02) Thank you. Alex (17:02:21) While you are doing that, I am coordinating this with the Marketing department. Darkgift (17:03:49) http://www.wpcentral.com/buy-lumia-1020-or-1520-and-get-25-microsoft-store-gift-card-along-9-free-gameloft-games Darkgift (17:04:12) that is the link to the article...everyone with icons are having problems Alex (17:04:34) I am checking it. Thank you for that information. Darkgift (17:05:52) still get the same message Darkgift (17:06:36) http://www.nokia.com/us-en/campaign-world-of-entertainment-x/tc/ that is the link to the rules and conditions...Icon is listed Alex (17:07:06) Alright. I have spoke with the relevant team and for us to resolve the issue they advised to escalate the issue. With this, I will be needing basic information from you. Alex (17:07:36) Please provide the information below: IMEI
Date and place of purchase:
Email address:
Best contact number:
Best call back time: Darkgift (17:08:07) ok, but i don't think it is just me...i think it is on your end. all Icons are having trouble, so it seems like the app doesn't have the right permissions for the Icon to download it. Alex (17:09:21) I am sorry about the inconvenience. One from the relevant department will call you and fix it for you. Darkgift (17:09:55) 358***************** Darkgift (17:10:25) Verizon Wireless Hazlet NJ USA Darkgift (17:10:49) dark************* Darkgift (17:11:00) 73269****** Darkgift (17:11:14) Tomorrow, anytime Alex (17:11:32) Thank you for all the information you have provided. Let me document everything to leave you a reference number of this recorded chat conversation.One from the relevant department will call you within 48-96 hours on business days. Darkgift (17:11:40) But you might want to fix it for all users...not just me Alex (17:12:07) This should be handled by the Marketing department. Alex (17:12:28) I have noted all the information you have said. If that is the case, this should be investigated. Alex (17:12:36) Rest assured, we will work on it. Alex (17:12:56) Please understand that we have limitation to handle this type of issue. Alex (17:13:15) I have forwarded your concern with the relevant department. Alex (17:13:25) I can leave you with a service request number of this recorded chat session as your reference. Darkgift (17:13:29) I'm just saying...there are a lot of frustrated customers out there, and the promotion ends soon Darkgift (17:13:44) sure Alex (17:14:28) For your reference please note this SR number, 1-15***********. Alex (17:15:21) Anthony, before I let you go, would there be anything else I can possibly assist you with aside from this one? Darkgift (17:15:44) no thanx Alex (17:15:52) Okay. If you need our assistance, do not hesitate to contact us and we will be happy and more than willing to assist you. Alex (17:16:08) If there will be no other concern, thank you for contacting Nokia Care Chat. Have a good one, Anthony. Alex (17:17:38) Take care. Cheers! Alex has disconnected. Thank you for chatting with Nokia Care Chat

1020 from November, no love for me :(

Bought my Lumia 1520 in Australia at the start of the year and the app just credited me $40!! :D Suppperrrr happy. Going to buy up some videos on my Xbox One.

Worked on my international 1520, bought in January. Thanks MS/Nokia!

Thanks @Darkgift for posting the chat. I too am on the Lumia Icon with the 8.1 developers preview and cannot claim any if these goodies. I thought it was due to disallowing location for the store app, but turned that on and restarted several times and still no luck :( will wait for a Nokia response.

I also chatted with Windows Phone support. They said it's definitely a Nokia thing, but escalated it any way, so I should here back from them too. I'll post that chat session also.

I bought Lumia 1320 week ago.. So I think I don't qualify ?

Go to the forums and look for my post. 625, 1020, 1320 & 1520

This should read Source: Me >_

I won an AT&T Lumia 1020 at the Opportunity Rings giveaway and it says I don't qualify :(

Info: Please wait for an agent to respond. You are currently '1' in the queue.
Info: Privacy Statement
You are now chatting with 'Joshua B.'.
Joshua B.: Hello Anthony, my name is Joshua B. with Microsoft Windows Phone and Xbox Music Support. Please give me a few moments as I review the information you've submitted.
Joshua B.: It looks like you cannot download the Nokia Gift Voucher app, is that right?
Anthony: yes...it says it is not for my device, but the Icon is listed as a valid phone for the promotion.
Anthony: and I am not the only one...it seems all Icon owners are having the same problem.
Anthony: http://www.wpcentral.com/buy-lumia-1020-or-1520-and-get-25-microsoft-sto...
Anthony: if you read the comments on that article you will see all the Icon owners can not download the app.
Anthony: http://www.nokia.com/us-en/campaign-world-of-entertainment-x/tc/
Anthony: that is the terms and conditions, where the Icon is listed.
Joshua B.: Thanks, please give me a moment to look into that for you.
Anthony: I just got off the phone with Nokia, and they escalated it saying they needed to contact you guys.
Joshua B.: Was it the escalation team that told you to contact us, or did they both escalate it and tell you to contact us?
Anthony: no...regular support was escalating it...the escalation team said they were going to contact you, then get back to me. I just decided to contact you myself.
Anthony: I'm just saying, there are a lot of us frustrated, and the promo ends soon.
Anthony: to me it seemed like they were treating it as an individual case, when its not. its all Icon owners, so it needs to be fixed on a mass scale.
Joshua B.: I see what you mean. It is under their scope of support, so their escalation will be the right place to get a resolution. However, if you would like I can escalate your case through us as well, because you were told to contact us, and we do have the ability to escalate your issue.
Anthony: sure...but like I said, its all Icons, not just mine.
Joshua B.: Yes, it is not just an issue for you but for many others as well.
Anthony: exactly
Joshua B.: And it is supported by Nokia primarily. However, if you would like to help us come up with a solution on our side, I will go ahead and start the escalation for you.
Anthony: sure...it just seems like the app doesn't have the right permissions for the Icon to download it. Not sure if that's an app thing or a store thing.
Joshua B.: Okay. For your records, the number for this case/escalation is 124*********.
Anthony: ok....so what happens now?
Joshua B.: I am getting the escalation started for you. Could you please give me your full OS and firmware versions from your phone?
Anthony: sure...1 min
Joshua B.: No problem.
Anthony: os: 8.0.10521.155
Anthony: firmware: 1028.3539.1402.1042
Joshua B.: Thanks. What is your best contact email?
Anthony: darkgift***************
Anthony: weird...I'm actually getting an update as we speak.
Joshua B.: An OS update?
Anthony: I thought I was up to date.
Anthony: yes
Joshua B.: Or the app?
Joshua B.: Ah.
Joshua B.: Please give that a try before I finalize the escalation.
Anthony: I do a check weekly...I wonder what update this is.
Anthony: if I had the Dev preview on my old HTC 8x for 8.1, I still wouldn't get that update on my Icon with out the Preview app installed, right?
Joshua B.: You are correct.
Joshua B.: Did you figure out what the update was for?
Anthony: ok...so its not that. but I have to charge my phone before the update continues. you wanna wait or just escalate it, and if the update works, I will contact you with that escalation number and inform you guys?
Joshua B.: I will just escalate it, and if it works you can let them know when they contact you.
Anthony: sounds good
Joshua B.: I have finished the escalation request. At this point, you will be contacted by the escalation team at your contact email in 3-5 business days. They will be able to help you out from there. Do you have any other questions for me?
Anthony: that's it...thanx
Joshua B.: You are very welcome, have a nice day Anthony.
Joshua B.: To end your chat session please click the Close Chat link above the chat window. If you have any additional questions after you disconnect, feel free to contact us again. Thank you for contacting Microsoft Customer Support.
Anthony: u too
Joshua B.: Thanks.
Info: Your chat transcript will be sent to darkgift*************** at the end of your chat.

Got my Lumia 1520 months ago, 25 buck credit to me

Lame. I bought my ICON on April 8th, apparently 6 days too early.

nope...icon here and it does not work....anyone finf a work-around for it ?

Unfortunately not yet. I tried different setting my phone to different regions last night - no go. Was half tempted to go back to Windows Phone 8 - see if it works. If it does, take advantage of the offer then upgrade back to Windows Phone 8.1 A lot of work though for something I'm sure can easily be fixed on Nokia/Microsoft's end.

Which are these 39 countries? I want to know whether Kenya is among them

Bought my 1520 used off eBay... Got the $25 bucks :-)

First app I purchased after getting the voucher is wpcentral :P thank you for the info guys! Btw, am from India and it works fine here. Bought 1520 2 weeks ago.

"runs through spring" - so I have to wait another 6 months for the promotion to even start? :P

Yeah, i got almost all those games on my Lumia 1320 (WP8.1) from the previous promotion. Got NOVA 3, MC4 and more. It was a bit difficult to find though. Here's a workaround: open any Gameloft game on a store, and go to the "more from Gameloft" section. There scroll down and you will find some games are enlisted twice, one is free and the other is paid. Get the free ones. The free ones do not turn up in the store search, dunno why.

any resolution for the Icon yet?

I have a Nokia 900 and am unimpressed that you cannot download songs for a ringtone on your own phone, even with the song in the phones music library. Any future phones from Nokia need to have the ability to download ringtones. For many, it's a deal breaker. What was Nokia thinking?

not working for the 929/icon yet

not working on lumia 1020, got phone yesterday with that bonus offer at the store.

Guess they fixed it on lumia icon just downloaded & redeemed

Just redeemed the credit for sonic & sega all stars racing transformed & lego marvel their on sale on 360 marketplace(though i still had to add $10 to it it was worth it

yea this works on the lumia icon now, got the $25

Thanks to those updating its now working on Lumia Icon. I can also confirm it works for me today. Voucher redeemed.

Yes...I got the phone call today from my ticket placed with Nokia. They said it is now working on the Icon. I checked and it was there, and my voucher was redeemed.

I got the voucher now. + the $ 25 !