Canadians can get a free $249 Bose speaker with new Surface Pro 4 or Surface Book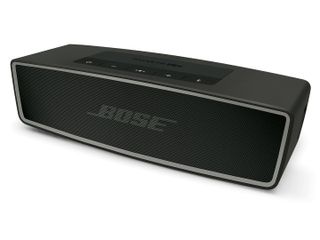 The Microsoft Store site in Canada is giving buyers of a new Surface Pro 4 or Surface Book a free Bose SoundLink Mini Bluetooth Speaker II, which is normally worth $249, for a limited time.
Here's what Microsoft has to say about this Bose speaker that's part of this new promotion:
This particular promotion will end on Sept. 29. Again, this is only for buyers at the Canadian Microsoft Store site.
See at Microsoft Store Canada (opens in new tab)
Windows Central Newsletter
Get the best of Windows Central in your inbox, every day!
Canada and US and UK and.... not India
MSFT hates us. :(

Well yes, I'm aware of that. I read the article. But this is nothing new.
So many special 2-in1's, tablets, laptops have been discounted on the store which we don't even have over here.
And the special offers are mostly in the countries I mentioned.

Microsoft hates Europe. Never any sales or offers like this.

@beatheaven, what about all those L950/XL discounts and the already released HP Elite X3 with it's own discounts which hasn't even popped up on the Indian HP or Microsoft website ?

Sorry Abhi I down voted you. I don't like your opinion.
P.S.- I'm also from India

The downvote isn't an issue bro. You're just blinded by something.
They just provide really poor support in India and there's no doubt about it. There are so many points on this issue. 1) Surface Pro support. There are NO dedicated service centres in India. Only replacements are provided and that too after months of talks. Just look at the review on amazon.in as proof. They sell them starting upwards of ₹80k which isn't cheap by any means. Customers expects that kind of service too. There are no dedicated numbers which you can call for Surface related issues. 2) Bing rewards which was recently started has been discontinued. The rebranded version is no where to be seen. 3) Do you know we don't even have a MSFT Store like the one in the US, UK, Canada? So basically we don't have the opportunity to buy Signature devices (Pure Windows like the ones from HP, DELL and Microsoft themselves). We don't access to the heavy discounts available there like the current one of $500-1000. As an example, HP ENVY 15t costs $750 (₹51,000) and in India the same laptop but older 2015 design costs ₹82,000 ($1205 - base model).
The only thing I've ever bought online from Microsoft is Office 365 and Windows 10. I'm a huge MSFT and Windows fan (Really bought Windows 10 Pro unlike the majority of people who simple crack things !!)
So please, before commenting, know about how things happen in India. They (higher execs & mainly Satya Nadella) don't think we're an important market. Sad truth.
Don't be a blind fan please. EDIT - As Jesse here said, even Australia has this offer. So that's another country in the elite list.

Microsoft hates Africa as well. In South Africa we have no stores, no specials, no discounts, can't even buy a surface/pro/book or even a band for that matter. No cortana, no bing rewards nothing nada! Also we recently got an online store but all old products being sold like the dt-900 wireless chargers!

At least there is surface pro 4 for sale in your Microsoft store india... We do not have it here in the Philippines

Haha. @bluekalo, its a joke man. They just know how to sell. There's no point in selling if there is no support. A guy gave a very detailed review including the complaint number. His issue was that the SP 4 didn't boot unless it was plugged in. So basically, it couldn't be used on battery. He still hasn't got a replacement - Device bought in February.

Nokia was wat beter than Microsoft at customer service.

Nokia was wat beter than Microsoft at customer service.

DEFINITELY !! At least in India !!
In the US, customers can go to any MSFT store and exchange their L950/XL, Band, Surface within half an hour if the device is found defective.
Here, we have a waiting period of 30 days to 2 months. How nice. /s

(2) A great product. But pathetic support.

So well, this is a common issue then. They just dont care about markets other than the US, UK, Canada, Australia.
India is such a HUGE market for ANY company and even then they ignore us. I can understand why Apple isn't successful here. Because they just wont budge from their profit margins. The iPhones are made for about ₹12,000-₹15,000 and sold starting at ₹62,000 ($911)..

You are right but that doesn't mean Microsoft hates us and all the countries except US. Sounds Childish

Yeah. 'Hate' might be a bit too much. Sorry for that. But they are definitely VERY GOOD in 'ignoring' us.
What does that tell us?
That we aren't an important market for them. Why?!! Who the hell knows!!!
In a way they still feel we are a 'developing' market which is just bad.

I agree you in this. I was frustrated with their ignorance for Bing Rewards.

No love for Europe MSFT lovers!

Thanks for waking me up... It's midnight here and I have work tomorrow, but HEY!!! FREE SPEAKER!!!

Who woke you up? Your phone? The one you control? I'm confused. Blame Canada! Blame Canada!

Yeah why do you have to blame us Canadians? What did we ever do to you that caused you to have a heart attack and become mean individuals?

Its an excellent speaker.

Yep, though I already have the Bose Soundlink 3 and this promotion should have come 6 months ago when I was purchasing the Surface Pro 4.

Thank God.
Your first +ve comment(That I saw)!

Does it feel food? LOL. O, and loving my brand new 950. Best Phone ever.

For once Canada gets a good deal

Such a great deal. Bose > beats

Bose shouldn't even be compared to awful beats, beats cost alot only for the branding. Bose gives god like guality always and is priced only for what you really _get_ from Bose and it is pure and crystal sound, speaking from actual experience.

It is surprising how much sound and depth this little speaker has. Its really quite good for the general non-audiophile consumer

Offer has been on here in Australia since Sept 7th

Really? That almost makes me want to get a Surface Pro 4.

Plus some versions of the surface pro 4 and surface book also have an additional $300 off.

So add Australia to the list then. Great.

I'm 1/4 Canadian and live in Maine, does that count? ;-)

if you're close enough to the border, then yes. but not really.

Even Canadians know to Buy Other Sound Equipment. Even if it is "free",

Bose actually is incredibly good in the sound quality department.

Sound may well be 'good enough' for most listeners. However the price Bose tend to charge is unjustified. But hey, this is "free"!

Yeah, but this has absolutely nothing to do with price in this instance. I haven't seen a single comparison article putting anything other than the Soundlink Mini as the best sounding device in it's class. And I did a LOT of research before getting a speaker (for those interested, I actually went with the JBL Charge 2, which trumps the SLM on battery life, which was a major factor for me).

Good deal! maybe won't make much difference since Canadians pay high GST+PST, from 13% to 15%

Bose, the Apple of the audio world, nice looking but poorly made.

That is just plain wrong on all counts.