Cellular bug holds back Windows 10 Mobile Insider build 14316 release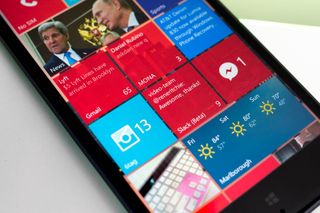 While Microsoft released Windows 10 Insider build 14316 to PC users today, the company didn't push the build out to Windows 10 Mobile, breaking a recent pattern of simultaneous releases. According to a post from the official Windows Insider Twitter account, the lack of a new Mobile Insider build can be chalked up to a cellular data bug:
There's no word on when we may expect a new Windows 10 Mobile Insider build, but it's likely not far off.
In the meantime, be sure to check out everything that's new in Windows 10 build 14316 for PC, which includes a truckload of new features destined for this summer's Windows 10 Anniversary Update.
Dan Thorp-Lancaster is the former Editor-in-Chief of Windows Central. He began working with Windows Central, Android Central, and iMore as a news writer in 2014 and is obsessed with tech of all sorts. You can follow Dan on Twitter @DthorpL and Instagram @heyitsdtl.
That's sad, but I'm glad they held off on it with this sort of bug. Can't wait till we get the next update though. Really liking the new build on PC.

I think I can see this in relation to the PC update, if you find Messaging on there Skype has been decoupled and it has a sync toggle that is currently disabled...this might be tied to something with cellular. The emojis are all new as well so that's another tick in the mobile mishaps. =p

I'm beginning to doubt whether there really are bugs preventing them from releasing the build or they are just being lazy so they invented an excuse.

Yes, because that's it...they're lazy. CAUGHT THEM!

Don't feed the troll. He crawls out of the woodwork everytime the Verge and the rest of the internet declares that Windows Phone is dead. Rewind a few months ago and he was saying the same things.

Oh I know, just having some fun ;)

We dont declare it dead.. we declare a constant fall in market shares even in europe. the last western stand of windows on mobile. and that mainly due to the commitement from Microsoft.

Constant? It has been going up until they announced the retrenchment... Posted from Windows Central for XL

Some Windows Insiders are like Meth addicts. They need their daily dose of Build or else they'll think that there is a conspirancy going on and go absolutely batshit crazy. You are one of those specimen. Congratulations.

Illuminati?! ----------
I am someone, of the 2639th variety.

How many people works at these things 5 or 6, they can manage everything in short time, if they want. But they dont know what they want, every day is a new message and plans. Big words for two years, and our products are still buggy, even our expencieve 950 XL phones. We pay to be betatesters. I stop to trus Microsoft, everything is buggy, delayed or they change strategy 10 times. They talk a lot, but we sit back with nothing, and if we are lucky we get a mountains of bugs.

You saying microsoft is run by females? Lol

@tofferne I really hope you aren't on the insider builds and saying this because they have always been unstable by their very nature. If you are on the builds just because you want the latest and greatest instead of giving feedback to improve the OS then you get exactly what you deserve. As for complaining that MS keeps changing strategy, the simple fact of the matter is that if one thing isn't working then a company has to try something else and if the direction MS is going in bothers you then you can always choose another OS. No one is holding a gun to your head and no, you aren't paying to be a beta tester as that is an optional program meant for people who actually want to help.

I have a hard time believing that only (5) people are working on the code for W10.......

in fact it is a HUGE BUG! Gabe also reply me a tweet with the same response... hope they fix it soon

That is odd! How could that happen while W10M is not a focus for MS this year?!

Look up the definition of focus, and then apply it to MS's situation. You'll figure it out eventually.

It shares a core OS. Do some research before spouting gibberish.

Windows 10 is in focus... Our phones are running it... Posted from Windows Central for XL

Lol. Yeah I think they mean not doing zing zang whiz bang stuff

What's more odd is that latest W10 build broke W10M development tools. As if no one tested W10 Mobile development with the new build. As if no one does W10 Mobile development. As if they are following Windows boss Terry Myersons instructions not to do any W10M development but concentrate on iOS & Android for the next couple of years.

They tested it, otherwise they couldn't have found and reported it as a known bug ;) But they chose to ignore it and advise developers to skip the build. No biggie, this is a fast ring preview, not meant for daily production use.

The Development Tools are Fine for W10M only the Emulator is Broken which has a work around to deploy app on physical device. FYI Hololens Emulator is also Broken Which has the same work around . But according to ur cynical mind MS don't want developer to work on HOLOLENS but to Work on VR!!! Don't be so cynical and be more supportive and provide better Feedback to MS.

HoloLens has 0 users. Windows Phones has tens of millions.

HoloLens has more than 0 users... Posted from Windows Central for XL

You still don't understand that only the emulator is broken but all the coding part still work and developers can definitely skip this build if they really want emulator since next update will probably have fix for it else they can get this build and test their app on a physical device.

That's exactly why the bug happened :p

It may be delayed, but it is much better than having such an important feature broken.

True and unfortunate. Hope they fix the battery draining and screen flickering issue in the upcoming build.

Screen flickering? Sent from my Windows 10 PC.

Video / Camera flickers a few times before it stabilizes, for around 2 seconds. A very very minor inconvience, yet here we are with the whiny little goof...

Ah, that one! :) Yeah, it's a little annoying.

Nope man. He's talking about something else. It's about mobile build 14295. Just play a video in full screen in landscape mode and touch the screen or press any volume rocker button. The screen will insanely flicker and will never stop doing it until you exit the player or in some cases, return to portrait mode. It's a serious issue which I expected to be fixed in this now upheld build.

This is still not fixed? Holy cow! I can confirm that this issue persists since TH2. May I ask what device you are running this build on?

Lumia 830. And I have been experiencing this issue since build 14295 (fast ring) only.

Having the same issue since build 14295 Nokia Lumia 1520
~The Power of Windows 10~

I am on the same boat too...Lumia 830 Build 14295. The flickering issue along with the People app taking eons to load and the battery drain makes this build the worst ever for me. Waiting for the next near-perfect build.

When I go from portrait to landscape while full screen video I have one quick flicker and no other issues on the same build. I can touch the screen and change volume with no issues.

That quick flicker is ok not the other issue. I would like to mention here that the issue only occurs when playing non 4:3 videos for me. I did a hard reset hoping that it might fix the issue but it didn't. Instead it worsened it further. Before hard reset, if I returned to portrait mode, the screen flickering used to stop. But now even that doesn't work. Btw, did you update via fast ring or slow ring?

test build 14295 on my 950xl... this problem does not happen

I wish you had said this in the first place. If it doesn't happen to you does not mean it's fake or made up. Many others are experiencing that issue. Just open the Feedback Hub and see how many feedbacks about that issue have got how many upvotes and then you'll get an idea about its seriousness and that it's not a "very very minor inconvenience".

That bug has the different effects for each models, my 640 XL has the same issues you described, but my 950 XL is just flickering once or twice at the first.

Do you even watch videos on mobile? If yes then you would have known the issue better.

Has the "Do you even lift?" meme come to this...?

Also when watching videos on edge and the mobile is horizontal the screen flickers a lot.

Edge, myTube, Films & TV, Netflix, etc. all have this issue. However, not all are experiencing it but most are.

Even my already production build of W10M also suffers from this issue, especially from apps mentioned above. Sometimes the player even shirks its size and worst case happens, it even freeze the app.

Pretty sure he's referring to the flicker that does not stop in horizontal when you touch the screen. Flipping the phone vertical then back to horizontal fixes it, but it is bad when it happens. It's bad enough to give someone a seizure if they are an epileptic.

Also fullscreen videos on landscape mode cause the screen to spazz out.

I had the battery drain issue on my 950XL and 1520....then I reset each phone and the issue is now o gone.

Yeah, this bug is a serious one and it's just right that it has to delayed for now until fixed. We can't test builds if it prevents to be usable to the basic functionality of the phone.

I'm using Lumia 830 with 14295 have same issue. Screen flickering and no background apps. My button backlight also not function. Now revert to 164.

I can wait a bit :) Wouldn't want cellular data being broken lol. the new PC build already has me happy enough right now.

Damn... I stopped insider builds on PC, but still going on with my spare 730. This build is the most tempting one so far, except the very first insider build. Please be fixed soon...

How is windows 10 mobile running on 730?

Mine is smooth and stable (.164) but some keyboards and languages aren't downloading and sometimes glitches when changing the music . I haven't faced a single crash or reboot Posted from Windows Central for Windows 10 with a Nokia Lumia 730

Try enabling insider slow before downloading keyboards and languages, opt out immediately after the install. Used to work for me.

i have the same issue with languages

This is purportedly fixed in the latest update. I experienced this problem each time after a reinstallation. But it self-cured after some time. Try the following: Install the desired language (US English in my case), discregard the error message or persistent "Downloading" message. Let the phone sit for some time, eventually rebooting it several times. Go to Settings>Update where after some time you will find an invitation to reboot to install that language. Done.

I'm using my 730 for insider builds, so, it's on the latest Redstone build now. It has a video flashing issue and some unstable third party apps, otherwise, working as expected. My 640XL runs on the stable release, which is not that stable to be frank. Actually my 730 was more stable on that build.

Yup. My PC has been resting on the regular release since the November update, but I'm sooo tempted right now.

Well there has been a bug that cause the lines to be switched when making and receiving a call, that has still yet to be fixed which has been W10 since day one.

Hopefully 1 - 2wk delay max. The pc build sound amazing. Hopefully the mob build will have some of the build announced features inc.

Hopefully before the end of the week, haha. Windows Central for Windows 10-Microsoft Lumia 640

Id like to wish them same but as they are doing joint release for pc and mob, I don't think we will see the mob build til the next pc release. I could be wrong though.

All the features in PC were shown in Build 2016. What wil be new for Windows Mobile?

Windows 10 is Windows 10 no matter what hardware it runs on. Sent from my Windows 10 PC.

They aren't the same. different. layouts and UI

Please, do a search with "universal Windows plataform" and "Windows OneCore" and then we can come back to talk again...

That's not what is being updated... Posted from Windows Central for XL

No they are not. Not even close.

Good luck with installing Windows 10 Home Premium on your phone

My phone runs the same core, runtime and driver stack... So... Same thing. Posted from Windows Central for XL

Please, check back the news again... there were plenty of new stuff related to Windows 10 Mobile in Build 2016.

Except for Bash and Cortana, non of the changes in this update where announced at Build. You could say the changes to Edge where, but they where already announced prior to that. And this is just a subset of the changes to Cortana. We still have to get the majority of the changes that where announced. Windows Ink, Cortana improvements, the new Action Center, the new Start experience, live tile updates, etc. And that all makes this even more intresting.

I don't want a build full of bugs after Build 14925. It's okay I can wait whatever it takes. Posted on Lumia 930 with
Windows 10 Mobile

Then you shouldn't use the redstone-branch. :) Sent from my Windows 10 PC.

Agree but there was no reason to release 14925 on stable branch, fast ring I understand.

That's probably why it wasn't released to the stable branch.

Hi. I have a 930 as well and I experience 2 main issues. When I open a link in Edge from Facebook, Facebook always switch off. There's no return. And secondly I can't share anything. I've tried via messaging, mail, social apps,... The apps always switch off. Do you have the same problems. I'm on the fast ring. Thx

Bad news but I still love that Putin's smile

At least they used a clever way of saying we "Screwed Up"

You clearly have never programmed anything before. Ever. Windows Central for Windows 10-Microsoft Lumia 640

he has maybe! one called auto troll that is so broke that it can even post negetive comments right :P

Apparently neither have a lot of the w10m team.

Knock it off... Posted from Windows Central for XL

You obviously have no idea how volatile development is. If I program something and it works first time, I start looking for what I did wrong. (Ok, not *quite* that bad, but just about.) Sent from Narnia

Get rid of one bug and different keypress can affect other way.

Do you have any idea about programming? It isn't like programming your game pad just how you like it..

And what clever way do your parents say "we screwed up"

Rolled back my L520,L1020 and L640 all to WP 8.1 forever. They couldn't do well with WM10 or RS1 for 640 either. May be 2017 year of return! :)

Redstone isn't working well on Lumia 640s. I hope it gets fixed

Working absolute fine on my 640 lte

Runs awful on my 640 xl DS. Blank tiles, camera crashes, video flickering, baterry drain, apps not updating or dl'ing to SD, audio glitches, low headphone and speaker volume. Wifi connections made during this build need be manually turned on every time you need to use it. I could go on.

I hope 640 will get Redstone...

True! My L640XLLTE becomes a brick with 14295 build

Lumia x20 devices (except 1520) are unfortunately won't have official upgrade path to W10M. Maybe, if ever they will optimize the current W10M TH build so it can be more usable again for those devices. The .168 build was a start on getting better on older devices, still needs work but way better than previous builds, but nope, they just have to pull the plugged indefinitely.

.164 runs perfectly well on my Lumia 950 xl and I am going to install it on my brothers 830 tomorrow. Posted via the Windows Central app for Windows 10 Mobile

That is an excellent reason to not release this to mobile. We can wait.

I have had data issues since our last build.. Multiple resets until data works

Daniel, any idea when the BLU Win JR LTE X130e is likely to get the W10M update. Both Blu and Microsoft have been quiet after reversing their stance last week.

With the current slow insider build, I already have cellular data issues. If cellular data is enabled, my phone reboots every 30 seconds. So, since the update, I've had to have cellular data disabled. Hopefully they resolve the issue soon.

That's what I want to know lol. Is that bug still on the current latest build? Or is it gone?

Currently, my L640 is on 14295, which has the bug. Build 14316 I guess also has the bug, and therefore, they decided not to release. I can say not having cellular data is pretty annoying lol.

Just got a whatsapp update look to it

Is this related to that SMS synchronization bug after a reset/build install ?

No hurry. Make it ready and release with new hw in 2018.

Reboot reboot reboot! Posted via the Windows Central App for Android! (Nexus 5x)

What happens to the old phones which wont receive the official W10M update, will they at least be able to receive the insider preview builds?

They will self destruct ;-) I guess they could 'possibly' stay on insider but the further along the previews get, the more you will probably struggle.

Most of them are stuck on TH2_release, and probably won't be pushed to RS1. Hopefully I'm wrong, of course, but that seems to be the case.

If it doesn't also fix the band sync api bug, then they can keep it until they're done.

I've not had an issue with band connection / sync

Yes. My band hasn't updated for over a week.

Nice to see they're holding off for "showstoppers". That was the main reason I opted out.

While I am glad they held it back, it unnerves me a little that the OS has that kind of impact on cellular stacks without touching the firmware. I thought that was why AT&T was cool with MS pushing updates directly without carrier intervention. Hmm...

They say the bug is about cell data. It could be they made changes to optimize the code sendign/retrieving data and broke that code. It does not necessarily mean the broke the radio stack or broke firmware.

This is good, I hope they're able to fix and release this week. My T-Mobile flashed Lumia 640 LTE got stuck in a boot loop when I tried to use LTE data.

Yes! Me too!!! My unlocked L640XL LTE also got a error when try to switch the cell data sim. Hope they can fix this bug soon!

What about 10586.218 update? When it will be available ?

Has the recent build fixed the bug where it takes days to sync and restore messages and contacts after a hard reset!!??

Hope it's realeased soon. Current build is causing 950XL to blackscreen when unlocking. Camera lens refocuses about 50times a second causing the phone to rattle and the lens hits the glass casing.

Thanks God they are fixing this bug!!!! IT'S TERRIBLE!!! It's scary!!! It's monstrous! All phone crashes when this bug occurs. Sometimes the smartphone restart, somethings it frozen in the cell data settings screen and I can't do nothing. This bug occurs when you try to switch the data sim.

The video flicking is a pain 640

Yeah so many issues with 14295 build! Flickering videos, the moment you adjust Vol or press on screen. Then the fracking phone resets on a regular basis. Notifications crash my phone. I can't disable the glance screen, as option has bee. Taken out. Can't use lock pad to protect my phone as after a few resets, ends up becoming locked with an error that says to try a reset. Reset doesn't work, only hard reset. The 164 build before was working way better. My phone is a Lumia 640 LTE.

I have the Lumia 640 on build 14295 and do not have any of the problems you have runs very nice only problem I had was with Cortana on canada language but switched to us and works fine now

It tries to download the English (Canada) speech pack but always ends in an error. Until the last build Cortana disappeared completely. It'seems going to be nice to have her back.

They're just slowing down and entrenching

Hope they fix some the following are issues i face on my lumia 640 xl running windows 10 mobile build 14295. 1. Some of my apps installed on sd card are not opening. Getting freeze at the welcome screen. I had to move those apps to internal storage to make them work. I never faced this issue with build 10586.164
2. Viewing video in landscape mode flickers the screen when we try to change the volume or seek the video backwards and forwards.
3. There is stuttering when i try to scroll up and down in webpages inside microsoft edge. This is very much annoying. Have been facing this issue since build 10586.63. Did a hard reset after updating to latest build but that didnt solve the issue.

hope they'll they fix Bluetooth crashing after 1mim

I stop to trus Microsoft, everything is buggy, delayed or they change strategy 10 times. They talk a lot, but we sit back with nothing and if we are lucky, we get bugs.

Comments are such a drain these days... You all sound like brats! The production released version of W10M doesn't have any critical bugs, so if you don't want to TEST PREVIEW BUILDS THAT ARE ALWAYS GOING TO HAVE BUGS then sod off back there! You guys aren't true "Insiders" you're consumers who think you can just skip ahead six months by pressing a button on your phone! Redstone is over 3 months from being released and yet you still want MS to wipe your ass for you! Bunch on whining idiots. Thanks Microsoft for not releasing a build with a critical bug, I look forward to receiving the build when it's ready.

Good comment. Posted from Windows Central for XL

Amen to that. This whining about software that is still in production and not meant to be used on your daily driver, especially when you have the option to be on a more stable build, is insane.

I imagine it's due this whining the older phones aren't getting progressed along as it would mean more and more bugs.

I had major issues with the latest fast ring Redstone build on my 640 - missing contacts, constant app crashes, the works. But I wasn't angry, I knew it was a beta version, so I didn't whine, I didn't complain, I didn't ask who gave the order, I just let it go and rolled back to the stable build. This is the business that we've chosen, and that's the price of doing business.

Exactly what I'm doing now: After having noticed the bug, I'm rolling back my phone to the production build. That's the risk of testing developer builds, as stated in multiple messages and statements by MS. I'm now reporting my findings via the Insider Feedback so that they can take care of the problem.

Old bug for 625, or it have been fixed?

Better that the issue is resolved before releasing this build. I can just imagine the torrent of abuse that would have appeared here if it had been released with the bug still present.

When release my Lumia 520 built

People don't understand what "testing" is

i am using lumia 535 and i just upgraded to build 10.0.14295.1000 and got an issue at camera flash setting. i can't access flash setting manually and in video recording its unable to turn on flash light.plz fix it soon. Thanks!

hope the issue is resolved soon and we get the update. by the way did the 14295 update ; was pretty smooth no issues with installation; although didnot notice anything in terms of performance and experience

I had a similar issue on each Redstone build, even on the latest 14364.
But there are some interesting points:
- when i use my italian SIM the phone (Lumia 925) works perfectly, it really never freezes at all when turning on/off SIM data.
- putting in my german SIM, i always have this issue, so it is something related to the carrier, maybe some wrong data exchanged between the phone and the network. I cannot understand why my italian SIM works perfectly.
- immediately after a reboot/reset, when i turn on Aero Mode just before the phone connect to the carrier, and then off, i have no more issue with SIM data (even with the german SIM), until i restart the phone.
- never had a problem with TH2, so it might be a bug in Redstone - i know there are still bugs with dual SIM phones, so the SIM data might be related to this, and happens only with some mono-SIM devices... I will post some news if i find something new out.