D4, MX vs ATV Alive, and The Witcher 2 are January's Games with Gold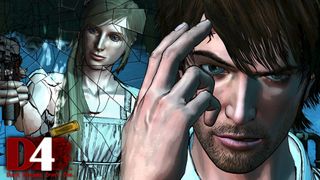 Microsoft has announced the first Games with Gold for 2015 for the Xbox One and Xbox 360. Xbox One owners can grab D4: Dark Dreams Don't Die, while Xbox 360 gamers will be offered MX vs. ATV Alive for the first half of January, with The Witcher 2: Assassin of Kings is the free game for the second half of the month.
In D4, you play as a detective named David Young. After his wife is murdered, Young develops the ability to travel through time, while at the same time losing his memory of the past. In the game you can use David's new ability to find out the truth of his wife's death and try to prevent it. D4 on the Xbox One normally retails for $14.99, but will be free for Gold members from January 1-31.
On the Xbox 360, MX vs. ATV Alive offers you a variety of racing options from track to motocross. You can race dirt bikes, four-wheel ATVs, and more, going up against A.I. racers or your friends online. The Witcher 2: Assassin of Kings is an action RPG that sees you once again take up the role of Geralt of Rivia, fighting your way through a world at war. Your choices determine what direction the story travels as you try to find one of your missing companions. MX vs. ATV Alive normally retails for $19.99, while The Witcher 2 can usually be purchased for $29.99.
Source: Xbox Wire (opens in new tab)
Yep, it's Xbox One's most underappreciated exclusive games, and one of my favorite Kinect games ever.

How much Kinect features does it use? Can it be played while sitting down? The free space in my room isn't always Kinect game friendly and this game seems interesting

You can play the entire thing with Kinect, and you can play it entirely while sitting down on your couch a mere 5 feet from the Kinect, with your elbow propped on your leg or an armrest for most of the game (navigation), coupled with some more action-oriented movements that use both arms during action sequences. It works extremely well for those peopel who take the 2 minutes to master it.

Awesome. Wondering if i can afford a xbox one. Microsoft, will you give me one free xbox? Hahahaa..

Thanks god I haven't bought D4 yet. I was expecting this to happen. The same with Super Time Force. Let's say I just have a gift to recognice which games are going to be free and which are going to be discounted. The only time I missed was when they started the program with Max and Halo: Spartan Assault.

And this is just one example of many reasons why Games with Gold is a terrible idea. I know a lot of people are guilty of doing this--passing over games they otherwise would've bought just because they have a hunch the games will become free eventually. Heck, I did the same thing with Max: The Curse of Brotherhood (although not with Super Time Force, D4, or Kalimba, all of which I bought on launch day). Especially, Microsoft should not make them a Games with Gold title so soon. Super Time Force and D4 both came to Games with Gold a mere 3.5 months after they launched. That's too soon.

They have to do it to compete with playstation's free games deal

Lets be honest these are both shit free games.

Really? D4 had actually gotten a bit of praise for being an interesting game that uses Kinect well (controller still works) and Witcher 2 is incredible. MX game I can't say, never played it. Supposed to be a good series though.

Don't be ridiculous Halfblackcanadian, we're entitled to GTA V for X1 AND AC: Unity, and the 360 better get at least 15 games for free.

The Witcher 2, sh**?? What madness plagues the internet these days.

It might be great, but this month really only works out for people with a 360. Having an Xbox one doesn't seem to be worth it for the free games. A $45 value vs a $15 value doesn't seem quite balanced.

Comments like these make me want to smash things. D4 is one of the best exclusive Xbox games. You should be sending Microsoft flowers for giving you the opportunity to play it as a Games with Gold title.

When is The Crew going to be free? It's a shit game so I won't buy it. I've got FH2 with Storm Island add on and that's I think worth buying.

Almost bought D4 when it was on sale. Free is good. I wouldn't be particularly mad if I had purchased it though, as long as its good. Plus, it's been out a little while (Super Time Force was a quick turnaround if I recall)
This is episodic right? I'll be more likely to buy further episodes of this is really good (just "good" and I'll wait for sales)

Both Super Time Force and now D4 went Games with Gold just 3.5 months after they debuted. That's way too soon, in my opinion. Should be a minimum of 12 months. I expected D4 Season 1, which I bought the second it launched, to eventually be a Games with Gold title, but I didn't think they'd do it until the month that Season 2 launched.

I bought D4 when it was discounted, haven't played it yet though.

awesome start good job Microsoft:)

Offerings are a little lackluster for Xbox one. Those who don't upgrade to the new console are getting better offers it seems. I suppose it's expected as the One is new and doesn't have the deep history to pull from like the 360 does, but still.

D4 is not a lackluster offering. It's great, as have been many other X1 Games with Gold titles, particularly Super Time Force, Max: The Curse of Brotherhood, and Guacamelee: STCE.

D4 sounds sort of similar of shadow of memories.

Looking forward to trying it out after reading more about it.
Wasn't games w/ gold originally two games per month? Did they change that with the One and I just missed it? That's why the program has been "lackluster" for me anyway.

Two for 360, one for X1. Getting two on X1 is a bonus, but was implied s the library grew it would become two as well.

Dammit, I paid $9 bucks too much for D4! Swerrrrrryyyyyy!

Happy to get games for free.. Just hope Microsoft starts giving more valued games for Xbox one in future. D4 should be great though.

There's only one thing that needs to be said about D4: Nothing beats the BOSTON CLAM CHOWDER!

I recently bought a xbox360 just out of curiosity for a console. Games with gold has offered amazing free games in the past lile Battlefield 3, assassins creed., Halo 3 etc.
I hope Microsoft offers such popular games again for free nxt month.
Btw, why cant they put up old last gen games on throw away prices for xbox 360. Its quite old now.
Windows Central Newsletter
Thank you for signing up to Windows Central. You will receive a verification email shortly.
There was a problem. Please refresh the page and try again.