Dell is happy that Microsoft is launching Windows 10 in time for back-to-school PC sales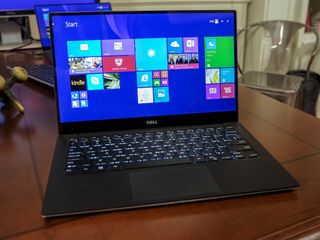 Microsoft will officially begin rolling out Windows 10 on July 29, and many computer makers, including Dell, have already started taking pre-orders on some of their PCs with Windows 10 pre-installed. In a new interview with Dell reps, it claims that, while there are certain challenges with Microsoft's faster launch schedule for Windows 10, it is happy overall that it will be released in time for the company to offer the OS in its PC for back-to-school sales.
Normally, big Windows launches have happened in the fall, or in the case of Windows Vista, as late as January. In speaking to Paul Thurrott for his site Thurrott.com, Dell's Marissa Tarleton stated:
Another Dell rep, Peter Fontana, also revealed that Microsoft had originally planned to release Windows 10 in the fall as well, but decided to move that date up to July 29. While that created some challenges, he stated that Microsoft's early talks with Dell and other PC makers about their plans for the OS made it easier to accommodate the company:
This collaboration with Microsoft also allowed Dell to launch PCs ahead of time that worked with some of Windows 10's more advanced features. This included better audio and camera hardware that will allow many of Dell's products to work better with Cortana and the Windows Hello sign-in feature.
Another change from the norm is that this time, Microsoft is handling all the software upgrades from Windows 7 and 8.1 themselves. The upgrade from Vista to 7 was handled by PC makers while upgrades from Windows 7 to 8 were a collaboration between PC companies and Microsoft. While Microsoft is handling the Windows 10 upgrade process, Fontana says Dell is still heavily involved in software customer service:
Source: Thurrott.com
seems like people, NOT from India care alot

Why people ask sales questions again? Are you idiot? Do u know what is worldwide release? The world wide release date is July 29 2015 so in India you'll get it on that day ( morning in USA and night here I.e. In India to be more specific more specific) itself if you are insider.

It was a joke! Can't you see that guy isn't from India?

You've gone full retard. Never go full retard.

When in India? Stop it. That thing is old

Tera Baap royega jab, saala jab dekho tab india ka joke karta hai you asshole

Does Peter Fontana, use Cortana?

Or did Bush just squish his mush on such Kush instead of push it's lush to blush?

I think when Cortana farts it's called a Fontana.

I hope my Dell Venue 8 will learn how to recover from sleep mode when 10 is released. C'mon Dell?!

Mine had problems for a while, but after I cleaned it the tablet and reinstalled windows, I haven't had issues since.

Sooner they get the XPS 15 out the better.

Dell should be happy with anything Microsoft is doing.. Remember that $1 billion?

There is a lot of positive buzz where I work. Quite a few fruit phoners are planning an upgrade to W10 and later to WP10 when it is launched. This just might work!

This WILL work. Its now almost completely based on how people want it to be..... And if still people don't like it then they are fool. They should have given the feedback to MS in the last 10months insider program. Or wait for the updates.

Dell isn't going to support Windows 10 for venue 11 5130 tablet. My tablet is only one year old.

Hopefully it wont be much of an issue because your drivers all should still work. Its not like they can stop you from upgrading. I'm planning on upgrading my Venue 8 Pro, WiFi dropouts and all. I even have Optiplex 745s that technically aren't supported by anything newer than XP running Windows 8.1. I and just lost a little optimization because some drivers for a few basics not directly related to the end user aren't available.

Almost time to get the popcorn and watch hoe things work out. If they can pull it off smoothly it will be interesting. I'm still wondering just hoe committed the hardware partners are. History has shown they are very fickle and often find a way to botch things up.

I'm calling it now. Windows 10 will not really feel or be ready until October. Dell says they pushed the launch date up but at what cost? You just don't cut three months off a development cycle without some big mistakes. First impressions are going to suck and the internet will be filled with "wait till October". Memes will be created out of this fiasco.

I bought a brand new Dell laptop with same CPU than the XPS 13 high end version (Intel Core i7 5500U) + discrete graphics from AMD (AMD Radeon R7 M270, very similar than Nvidia GeForce 640M or 730M) so I can play games at low/mid settings depending on the game. I have an issue, my laptop does not have a touchscreen, so I want to purchase a Dell touchscreen monitor (21" with 10 touch points) - no digitizer. I really want to update to Windows 10 due to better graphics (DirectX12) but I am a bit concerned about the tablet mode, which it was buggy when I tried Windows 10 preview. Does tablet mode in Windows 10 is fixed now? Can I use full screen start menu + split windows + full size modern app?

Full screen start and snapping works great on my Surface 3 with the most resent build.

I resent every build of Windows 10

full size modern app --> NO. Still have an ever present, even larger than Win7, taskbar. Sure you can hide it with desktop setting as always, but it's cumbersome to bring up again in time of need. This is my biggest pet peeve of tablet mode in 10. Also, Microsoft Edge has persistent UI elements (address bar / tab strip, title bar).

But no phone in the for BTS.

Bring on a new 13" xps with skylake pls

So dell fucks Microsoft for a few sales.

I'm looking for a new computer for school, and wondering if a tablet will work out because of WIndows 10. $500 is my budget. Any recommendations?

Can get surface 3 if you want a tablet, 500 is a small amount for a quality ultrabook but you can get a very good ultrabook at 700 usd that is Asus ux305 which will be good for school, maybe try upcoming amazon sale or some other refurbished/open box sale.

Thanks! I'll note those down and keep an eye out for sales.

Get a non ultrabook laptop with a core i5 . Choose from hp, dell or lenovo. Take one wiyh an inbuilt graphics card. Though these arr heavy, they will let you run academic programmes like java compilers, matlab, cad et al. If you are joining a non technical course buy a surface 3 with a pen (save on the type cover n buy a bluetooth keyboard for 30$) If you are joining an artistic course where youve got to use adobe illustrator, photoshop, premiere....then increase your budget and get a surface pro 3 with i5 processor

Speaking of the hello program, is there any news on new 1080p webcams or better that will work with it yet? I have the Logitech c920 currently but am wondering.....

Announce a new Venue 8 Pro already Dell!
Windows Central Newsletter
Thank you for signing up to Windows Central. You will receive a verification email shortly.
There was a problem. Please refresh the page and try again.