Dell Venue Pro to be available in UK tomorrow...No, seriously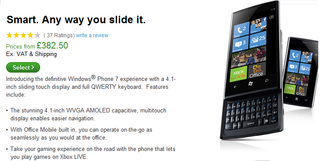 After what seems like countless delays, UK customers will finally be able to order them starting tomorrow, March 1. Pricing will be £382.50 for just the device, not including VAT and shipping. Between the long, dragged out release and the history of performance issues, demand will hopefully still be strong. 4.1-inch screen and vertical slide-out QWERTY keyboard make it crowd favorite.
Order it here at Dell (opens in new tab).
Source: Dell (opens in new tab); Via: TheNextWeb
Windows Central Newsletter
Get the best of Windows Central in your inbox, every day!
can we use the dvp on att yet?

lovely phone, but the took too long!! I am now happy with my Omnia 7!

"Smart. Anyway you slide it"Shouldn't it be:"Dell. Delayed as Usual"

Dear Dell:Tell me again why I should buy your product instead of HTC or Samsung ... or LG ... or Nokia.

Dear Dell,How sad. I just got an email from you, selling me "The Gadgets I Want" ...Featured in the photo was a monitor, a printer, and a Nokia E71 or E72 (hard to tell).No Streak or Aero or Venue ... but instead an OBSOLETE NOK?Yikes