Dell's incredible XPS 13 is now available in India for ₹70,990
Unveiled at CES in January, Dell's near bezel-less XPS 13 has made its way to India, with prices starting at ₹70,990 ($1,110).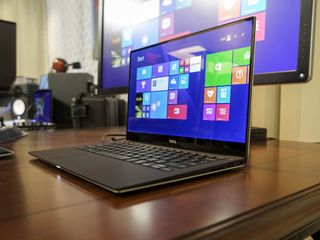 The XPS 13 features a 13.3-inch Infinity Display with a resolution of 3200 x 1800, encased in the form factor of a conventional 11-inch notebook. You can configure up to a 256GB SSD, Intel's fifth-generation 3.0GHz Core i7 processors and up to 8GB DDR3L RAM clocked at 1600MHz, which will set you back ₹128,990 ($2,020). As of now, the high-end variant is the only one listed online, and it is likely that the lower-end configurations will be limited to offline channels. If that changes, we'll let you know.
In the meantime, be sure to check out our extensive coverage of the notebook. See how it stacks up against the MacBook Pro, view our hands-on post from CES, and find out what Richard and Dan have to say about it.
Dell also mentioned that the recently announced XPS 15 will be heading to India sometime later this year, although a specific launch date was not revealed. In addition to the XPS 13, the manufacturer launched the new Alienware 15 and Alienware 17 in India, the country, offering fourth-generation Intel Core i7 CPUs and discrete NVIDIA video cards in the GeForce 900M series.
The Alienware 15 is listed (opens in new tab) on Dell's website for ₹1,27,990 ($2,004), which gets you a 15.6-inch full-HD display, Core i7 4710HQ CPU, 8GB DDR3L RAM at 1600MHz, 1TB mechanical drive and NVIDIA GTX 970M with 3GB GDDR5 video memory. A similarly-configured Alienware 17 (opens in new tab) is listed for ₹1,39,990 ($2,190).
How many of you are looking to buy the XPS 13? Will you be holding out (like me) for the XPS 15 instead? Let us know in the comments.
Buy the XPS 13 from Dell India (opens in new tab)
I bought one yesterday.LOL .

Serious question - can an average Indian person afford this sort of expense? What kind of job do you have to be in to afford all these tech gadgets if so many people in your country live in absolute poverty?

U can't conclude everyone on that..

Lol!? There are different classes of society here too. Not everyone is poor. The average Indian probably couldn't spend ₹70k in one go, but there are easy finance schemes available. To afford this laptop, one would have to be in a government job, or be well placed in some big company.

Serious answer - This "Poverty" is term defined by rich people. Most of the people in any country don't need hi tech gadgets like this. Go to a homeless man and ask him "hey, have you heard about this Intel corr i7 blah blah" and he will be like "wat?". Homeless people need food and shelter. They are poor because they don't have enogh to live through another day. They are not poor because they can't afford a Dell XPS13. There are many people in this planet who don't even heard the term "tech gadgets", but they are living a happy life because they have food, shelter and family. Those people should'nt be addressed as poor just because they don't have a iphone. So in case you are asking Indian people not to buy Dell XPS 13 because there are many "poor" people in India, please don't buy any tech gadgets until your goverment have dealt with all homeless and jobless people in your country. TL;DR Almost every reader here is rich people. They CAN afford hi tech and pricey gadgets and they don't think about about poor people in his/her country while shopping for another gadget. Sorry, for my bad English.

Contrary to popular belief, different people of different society in India have different purchasing power. For those who cannot pay this amount at once can opt for an EMI scheme in which they pay this amount + a little interest rate over a span of a certain amount of month for which the EMI scheme was taken. Buying anything become very easy this way.

The thing is that there are so many ppl in the country, so if 20% can afford that alone is more than the total population of most European countries

I don't think an ' average' American/ European can buy it either, without given offers..

I like that you guys finally converted ₹ to $. I know some will says BinGoogle, but... Appreciate your extra typing :)

Yes..seriously .. It makes a lot difference

BinGoogle.... Good word. I'll keep it in Mind :P

Will wait for W10 + XPS15!

LoL Yeah ! Maybe because of the opportunities it has in terms of sales in almost every sector.

I think he's riffing on the "When in India" comments that always inevitably sprout up.

Turn a blind (rodn)eye to the extra USD 500 that it costs for 'being in India'

We don't have the SP3 and the Band yet.....

Or any of they Microsoft music and video services.

Coz we Indians don't believe in paying for music, videos or softwares.

I'm indian and I pay for apps

I'm Indian and I have bought apps and games and even Xbox music!

U can buy both at amazon.in but for hefty prices

Except Bing Rewards, a usable Cortana, HTC One M8, Xbox Music, Microsoft Band....

Bing rewards afaik US only. Cortana is still best in US, HTC one M8 (I assume you mean the WP Version) is US only and Band is US only, too. On the other hand, Xbox Music/Video and SP3 are available in most countries.

Band is available also in the UK.

Will it support all features of windows 10 like windows helllo??

No, not hello because it does not have the required hardware (fingerprint sensors or RealSense camera).

Pls somebody answer the question

Somewhere, a Windows Central commenter's dream just came true.

Wen in Indonesia? I hope this sorcery work for my country as well

On that price i can buy a 2nd hand maruti 800 .lol

Or you can buy a brand new Tata Nano 4 door car, from what I heard.

I will wait for the 6th gen core processors !!!

It's great that Apple devices have become a measuring standard. And $2,020 is cheap.

Expensive! Not for everyone!but looks great! Am happy with my hp g6 for now

Wish they had launched an i3 version of this ultrabook in here....

I'm in! Will book my Xps13 at once.

What an incredible price .... No is going to buy it at that price

When I see such posts, I wish I could graduate from my Lenovo B560

I am confused now.. Which one is better.. SP3 or XPS 13.. I am looking to buy one of these soon..

Is HP spectre x360 available in India?

I have one for a while now and it's a beauty. I am very happy with it. If only it could cook, too.

I will also wait for XPS15 Harish, using a 14inch laptop now, so will be good to get a 15.6incher in the same size and weight less than 2kg. Anyway there is no laptop with good screen, keyboard and build quality in 60-70k range, so its better to spend more and go for the best.

70k seriously? I can buy high end laptop at that price like DELL 7547 with touch

These days I'm getting a feeling India is only for the elite class & poor class, but not for middle class. I'm saying this because I see them living well but not middle class. God damn.
Windows Central Newsletter
Thank you for signing up to Windows Central. You will receive a verification email shortly.
There was a problem. Please refresh the page and try again.