Design an Xbox One controller for a shot at $1,000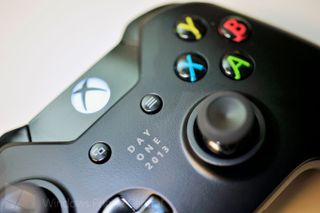 Microsoft has not been shorthanded when it comes to giving out prizes based around their latest gaming console, the Xbox One. Previously, the company offered up a chance to design a new Xbox One Gamerpic and have 100 winners spotlighted in the community (along with a free Xbox One controller). If that contest isn't your style, you can check out Microsoft's latest contest to design a custom controller.
The latest contest from the Redmond based company is offering up $1,000 in prizes to the grand prize winner along with five Xbox One Wireless Controllers and "a shot of Xbox making a limited-run production of your design". The "People's Choice Prize" (AKA: The design with the most community votes) will receive $750, while nine other winners will receive $500 each. There is even a $150 gift certificate and Sensu digital artists brush with stylus available to a designer with the "best use of Microsoft's FreshPaint app".
Microsoft has spent a lot of time trying to become the design company they never were during their early days and this time they are reaching out to the community. The Xbox 360 had a collection of some interesting controllers (including the all Chrome design that no one can forget), but now it is time to get your own design manufactured and brag to your friends just how much more awesome you are!
Okay designers, get out and there and start designing – you have until December 31 to enter!
Community voting begins January 13, 2014, so be sure to check back then.
Click here for more details and to view the contest (opens in new tab).
Source: Microsoft (opens in new tab)
Game on! I want in on this.

Canada EXCLUDING QUEBEC again..., grrrr...

I can't remember the last time Quebec wasn't excluded. Either companies hate the French or there is some kind of pain in the ass laws to deal with.

It's the latter: http://contests.about.com/od/sweepstakes101/f/VoidinQuebec.htm

I WANT THE WHITE CONTROLLER!

Same here but, not willing to spend the $300+ they are asking for them on ebay...

Woah cool! Thx microsoft for forgetting about the rest of the world... again... bing!

Lol, most countries have their own MS, get on them, not MS USA. I don't complain when Sky only offers contests in the UK only.

Does Sky operate globally? Microsoft does.

A pink-unicorn-toting-an-assault-rifle design will no doubt win.

The Eddie Van Halen frankenstrat red with white and black stripes running every which way. Would be a cool looking controller.

They will probably get s few of those submissions, because I was thinking exactly that too! :D

They should've made a controller that looks like that controller for iPhone. The Xbox One controller will extend to accommodate windows phones!

Excluding Russia again D;

No doubt it will be something with zombies. People are stupid for everything zombie these days. I would like to see a controller with a vacuum deposited Titanium layer. That would be sweet. I believe it turns this sweet metallic blue. Unless I'm thinking of another metal, I'll have to check on that.

If I could come up with a design it would pretty much have the same design but there would be buttons under the controller. This actually would conform to the hands as oppose the hands conforming to the controller. When holding a controller three fingers are under the controller but are useless that's a total of six fingers that could be doing something and increasing your speed, skill and reaction time. If I had the time I would draw one but I hope someone takes my idea and makes it into a reality.
Windows Central Newsletter
Thank you for signing up to Windows Central. You will receive a verification email shortly.
There was a problem. Please refresh the page and try again.