Destiny 2: Beyond Light guide: List of new Exotic weapons and how to get them
The Fallen won't know what hit 'em.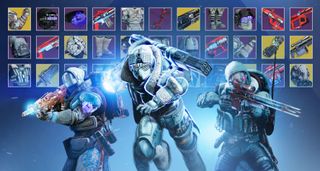 (Image credit: Bungie)
Destiny 2's latest expansion Beyond Light has officially arrived, and with it comes a number of brand new Exotic weapons that players can earn and use as they enjoy one of the best Xbox One shooters around. Here's an overview of each of the new Exotic weapons, as well as an explanation about how to get them.
Wield the Darkness
Welcome to Europa, Guardian...

In Beyond Light, players will encounter a dark Fallen faction, travel to new locations, and go beyond the Light to wield the power of the Darkness.
No Time to Explain
The No Time to Explain pulse rifle returns rounds to the magazine whenever you land precision hits or hits against enemies who are affected by Stasis. Stacking this effect repeatedly will spawn a portal in front of you that shoots bullets from an alternate timeline, increasing your DPS.
How to get it
This Exotic is exclusively available to people who purchase the Beyond Light + Season bundle, which includes the Season Pass for the Season of the Hunt, and will be given once the Beyond Light campaign is finished. However, all Beyond Light owners will be able to acquire the weapon after the Season of the Hunt ends, though Bungie hasn't announced how yet.
Cloudstrike
The Cloudstrike sniper rifle causes lightning bolts to spawn on an enemy when you land precision hits, boosting damage. Additionally, rapidly landing precision hits will cause a full lightning storm to appear, damaging both the enemy you're shooting and the enemies around them as well.
How to get it
The Cloudstrike randomly drops from Empire Hunts, which are special missions that involve hunting down Eramis' officers. Empire Hunts completed at higher difficulties have a higher chance of dropping you the weapon.
The Lament
The Lament sword features a special block that allows you to rev the chainsaw part of the blade. Once it's fully revved up, you can unleash the blade's full power. This attack shreds through shielded enemies, which means it will be a stellar option against Barrier Champions during Nightfalls. Attacking while fully-revved will also heal you, which is helpful since using swords against strong enemies can be quite dangerous due to how close to them you have to be.
How to get it
The Lament sword quest is available from Banshee-44 in the Tower. The first step will involve finding three dead Exos on Europa. Then, you'll need to find a giant Exo hidden in an Exo facility. Afterwards, you'll need to kill 100 Vex with a sword, as well as 20 special Vex enemies like Minotaurs or Hydras. Following this, you'll be sent to finish the "Reclaiming Europa," "Empire's Fall," and "The Dark Priestess" missions. You will then have to a quick Exo Challenge mission that involves some platforming.
The next step takes you back to kill more Vex; specifically, 60 of them with finishers. After, you'll have to find pieces of The Lament blade in The Glassway Strike. After taking them to Banshee-44 in the Tower, you'll then need to find an abandoned bunker in the Eventide Ruins on Europa. Once this is done, all that's left is to do a mission called "Reforging the Past." Talking to Banshee-44 after doing so will finally net you The Lament.
Salvation's Grip
The Salvation's Grip grenade launcher is a Stasis-focused weapon. Each grenade you shoot will create Stasis crystals at and around the point of impact, freezing targets. You can also charge the grenades up to increase the number of crystals created and the radius of the freezing.
How to get it
The Salvation's Grip is earned by completing a special quest for the Drifter that becomes available after you beat the Beyond Light campaign. The first step of the quest is to defeat 10 Fallen Captains and Servitors on Europa. Once that's done, the next step is to go talk to Variks and embark on an Empire Hunt mission. After finishing it, the next step is to do some grinding by killing enemies with your Stasis abilities. Following this, you'll need to clear the Concealed Void Lost Sector and meet up with an associate of The Spider and the Drifter. Afterwards, you need to talk to Drifter and embark on a special "Stealing Stasis" mission to steal the grenade launcher. Finally, speak to the Drifter once again and you'll recieve the Salvation's Grip.
Duality
The Duality Solar shotgun is unique in that it fires pellets when hip-fired, but fires slugs when you aim down the sights. This makes the weapon versatile since you can change the type of shot you're putting down range depending on the situation. Additionally, the weapon's On Black Wings perk makes it so that kills with pellets give you a boost to precision damage and reload speed, which you can stack repetitively by landing slug precision hits.
How to get it
You get the Duality immediately if you purchased the Season Pass for Season of the Hunt, which is the season that launched with Beyond Light. If you don't want the Season Pass, you'll still get the Duality when you reach Rank 35 on the free-to-play version.
Eyes of Tomorrow
Finally, there's the Eyes of Tomorrow, which is exclusive to the Deep Stone Crypt raid. This rocket launcher can target and track multiple targets at the same time. Getting four or more kills with one volley will increase the damage of the next volley exponentially.
How to get it
The Eyes of Tomorrow is a random drop from Deep Stone Crypt raid encounter completions. It's possible the chances of it dropping increase after each encounter you finish and don't get it, but we're not sure just yet.
Your thoughts
What do you think of the new Exotic weapons in Beyond Light? Which one sounds the most fun to use to you? Let us know in the comments.
Destiny 2: Beyond Light is available now on Xbox Series X, Xbox Series S, Xbox One consoles, PlayStation 4 and 5, and Windows 10 PCs. It costs $40.
Wield the Darkness
Welcome to Europa, Guardian...

In Beyond Light, players will encounter a dark Fallen faction, travel to new locations, and go beyond the Light to wield the power of the Darkness.
Xbox Series X/S
Main
What is the Xbox Series X release date?
How much does Xbox Series X cost?
Why you can't preorder Xbox Series X yet
Get the Windows Central Newsletter
All the latest news, reviews, and guides for Windows and Xbox diehards.
Brendan Lowry is a Windows Central writer and Oakland University graduate with a burning passion for video games, of which he's been an avid fan since childhood. You'll find him doing reviews, editorials, and general coverage on everything Xbox and PC. Follow him on Twitter.