Dishonored digital Xbox 360 owners can get the Xbox One Definitive Edition for just $20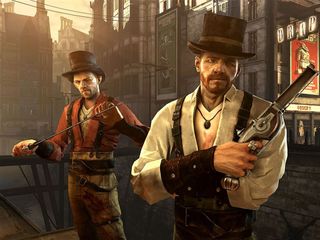 If you own a digital version of the great steampunk shooter Dishonored for Xbox 360, and you also own an Xbox One console, you will be able to buy the upcoming Dishonored: Definitive Edition for just $19.99, or half its normal price of $39.99.
The offer, which also extends to the PlayStation 3 and 4 versions of the games, was first spotted by users on Reddit and later confirmed by Eurogamer. The digital Xbox 360 version of Dishonored was previously made available for free in August 2014 for two weeks on Microsoft's Games with Gold service, so people who got that game during that time period will still be able to take advantage of the Dishonored: Definitive Edition price cut for the Xbox One.
Microsoft is already taking digital pre-orders for Dishonored: Definitive Edition on the Xbox One before it is released on August 25. The game, from developer Arkane and publisher Bethesda Softworks, will contain all of the content of the Xbox 360 version, plus all of its post-release DLC packs, along with a graphical upgrade.
Windows Central Newsletter
Get the best of Windows Central in your inbox, every day!
That's pretty sweet, especially as it was in the GWG a while ago.

Cool deal...loved this game. I remember I had to play through thrice before I could 100% all cheevos. Was fun and hectic.

Oh man that's true! I totally have a digital copy then. XD

That's a hard deal to come by

Oh well if that's the case, I'll probably snap this up.

And those of us that bought hard copies are getting what?

A lesson to go digital. :D

A hard lesson to always buy the GWG game. Even if you already own a hard copy, you can buy it, and just not download it.

Dude, everyone got it for free in Games with Gold - August 2014

Glad I got this when it went GWG now even if I didn't play it. Play through on X1 seems worth it

What about physical copies.....

There would be no way for them to prove that you actually owned the game... You could've just rented it or borrowed it from a friend.

Did you get your free digital copy in August 2014 with Games With Gold?

Why didn't you download the free GWG version and trade the disc in?

Because I already had an XBox One so I wasn't paying attention to 360 GWG, sucks that I am stuck out in the cold now, I also bet they won't enable backwards compatibility for Dishonored now we have a legit XBox One version, so I am doubly screwed!

It's on the same webpage though? I don't own an XB1, but I've "bought" all the GWG deals for when I do...

I don't know if I ever picked this up on the 360 GWG... Is there a way to check that doesn't involve going through the 360?

Go to buy it on your xbox one or at xbox.com when logged into your account and you'll see the full price crossed out with the cheaper alternative if you own the 360 version.

Go to Xbox.com and check your purchase history. Games for gold will show up in the

Sweet! Started playing it on 360 but never finished cause I just ended up with too many One games. Glad I can grab it for so cheap!

Too bad I wasn't paying attention to the 360s GWG back when this was in on it. Still, got this game and all of its DLC for under $15 on Steam almost 2 years ago, so I can't say I'm really missing out or anything. $20 isn't a bad price for those who claimed it on 360 but haven't palyed the game.

Nice! Already showing as $20/preorder. Reserving now.

Loved this game back in the day! and "kyledroge29" Dude just get a cheap xbox live gold code. There are plenty of places that give huge discounts on xbox live gold codes. for example it took me all of 4 seconds to find this place xbox live gold codes one and done! Boom Roasted!

<p>Sweet i already preordered it. But you may also get a discount from </p>
xboxcodefree.com