Disney Checkout Challenge tests your grocery scanning skills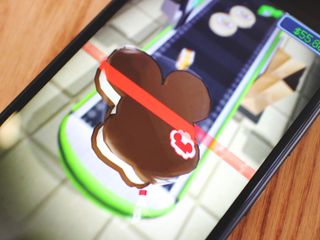 Disney Checkout Challenge is a game that tests how fast you can checkout grocery items. It's a fast-paced game where you will climb from "Checker-in-Training" to "Checkout Chairman" based on your barcode scanning skills. The game will also allow you to compete for the highest scores.
Priced at $0.99, here are some of the objected for the Windows Phone 8 game:
Complete objectives to "level up" and unlock unique groceries with greater value!
Scan quickly to activate "Frenzy" and use tapping to scan items lightning fast!
Sign the high score list with your signature – for that extra personal touch!
Look out for unique Disney items featuring your favorite characters!
While you're scanning barcodes, be on the lookout for special Disney characters as well.
Download the game and let us know what you think of this deceptively simple supermarket challenge.
Thanks, Hicham, for the tip!
Windows Central Newsletter
Get the best of Windows Central in your inbox, every day!
Chuong's passion for gadgets began with the humble PDA. Since then, he has covered a range of consumer and enterprise devices, raning from smartphones to tablets, laptops to desktops and everything in between for publications like Pocketnow, Digital Trends, Wareable, Paste Magazine, and TechRadar in the past before joining the awesome team at Windows Central. Based in the San Francisco Bay Area, when not working, he likes exploring the diverse and eclectic food scene, taking short jaunts to wine country, soaking in the sun along California's coast, consuming news, and finding new hiking trails.
Yay Disney for not ignoring WP! WPC App for Android- Lenovo IdeaTab A3000

Yeah, they don't ignore us, unlike some other companies.

That's what we call fair play. ;-) WPC App for Android- Lenovo IdeaTab A3000

Train the youth for that future summer job

Ever watched employee of the month before

Forget the youth. Train the fully-grown morons who stand at the self-checkout, staring at it with their mouth open, looking like the thing just asked them to prove the Reimann hypothesis before they can scan their next item. If pointing some stripes at a shiny light is beyond your mental capacity, the store has graciously provided a number of staffed queues specifically to assist you...

Nice comment. Had a good laugh

Hahaha hit it right on the head

This feels like the treatment that sega gave to the wii(games specifically built for to bore us)

McDonalds should make one too on how to take peoples orders and also train their cashing skills.

And train them to give you napkins!

mcdonalds toy registers actually exist. which is really sad.

I hope Cartoon Network do the same thing and make Windows Phone Games and Apps!

Another week, another game from Disney. They continue to flood the store with new games while leaving their existing games to rot. They will keep iOS and Android updated and constantly add new content on those platforms but Windows sees nothing. Nemo's Reef, Star Wars: Assault Team, Frozen Freefall and Tiny Death Star are just a few examples of their games that are on multiple platforms but rarely see updates on Windows while the other OS's see weekly changes. I would think that if they have the time to crank out these new games every week, they would have the time to update their existing games. I would love to see WPCentral or any other such site, do a story about these big name companies that release cross platform apps but rarely update on Windows. Maybe this would get the devs attention and also warn users about companies that do this.

Really good point dude and.i think the answer is that the focus right now is quantity not quality

Crazy market is better, and free!

This looks like an entertaining addition for Kids Corner :p.

i like all FINDING THINGS games.... :) i will surely download it

Ugm, what does this game actually do? I can only play it in a grocery store?

Yeah have the same question lol. Is it actually a game or will the security follows me everywhere?

hey developer of movie maker 8.1 ....chill bro ..you dont have to provide us with a update every 12hrs

If only Cartoon Network and Nickelodeon made their apps for WP...