Dodonpachi Maximum jumps spaceship to iOS this week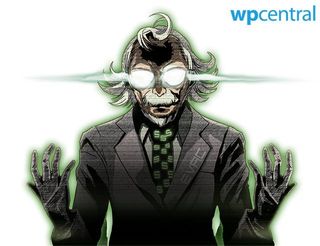 Platform exclusivity isn't what it used to be these days. Several Windows Phone-exclusive Xbox games have moved to iOS in the past, including Kinectimals, Tentacles, Rocket Riot, Max and the Magic Marker, and more. Microsoft has even published Halo Waypoint and Xbox Live companion apps for Apple's competing platform. We can now add WP7's sole Japanese-developed exclusive to that list as well. Dodonpachi Maximum from CAVE hits iOS on October 26.
Dodonpachi Maximum is a vertically-scrolling bullet hell shoot-em-up based on two previous shmups, Dodonpachi: Blissful Death and Dodonpachi Resurrection, both of which are already available on iOS. Presented as a computer-generated simulation, the game utilizes a unique dot matrix appearance for the enemy ships along with simple vector-based backgrounds. It also features tons and ton of bullets to dodge and get killed by. Many hardcore gamers cite it as their favorite WP7 game. Check out our review of the Windows Phone version and interview with the developer if you haven't already.
iPad screen
The iOS version boasts the following features:
New Easy Mode with a brand new story! Uncover the mystery behind super-hacker 1 Minute Rae as she breaks into the coveted weapons technology firm EVAC Inc.
Multiple control options! Trigger Maximum's massive laser bomb with a double-tap!
Multiple unlockable ships! Kick the tires and light the fires with EVAC CO.'s latest technological marvel: the MX-07 marauding cat robot (Uoratou). You can also unlock more ships as you get better at the game!
Character voices, phone vibration when you get hit + much more
New arranged soundtrack by fan-favorite Wasi303!
I've bolded the elements that aren't currently included in the Windows Phone version. Of course, CAVE has already announced a forthcoming free update to our version that will add the new Easy Mode. Check out an exclusive image of the new character, 1 Minute Rae (prounced 'Ray' and should really be spelled 'Rei') at right. No word yet whether the update will also add the new cat ship Uoratou, but we can hope! Me, I'm crossing my fingers that Achievements will still be unlockable in Easy Mode, but in most of CAVE's Xbox 360 titles, Achievements are locked to specific difficulty levels and game types. Speaking of 'cheevos, no, the update will not introduce new ones.
From a gaming standpoint, Windows Phone 7 doesn't have a ton of selling points beyond Xbox Live Achievements and a few quality exclusive games. Keep in mind that CAVE is the publisher of Maximum across all platforms, so this isn't like Microsoft bringing Kinectimals to iPhone last year. Anyay, the sting of losing a precious exclusive is somewhat alleviated by the iOS version's price: $11.99 compared to $4.99 on Windows Phone. However, the game will launch on sale for $6.99 from 10/26-10/29 before the price shoots up. It's a 'universal app,' meaning the graphics are optimized for both iPhone and iPad screen resolutions. It requires iOS 5.1 and runs slower on iPhone 4.
If you're still interested in Dodonpachi Maximum for good ol' WP7, get it here at the Windows Phone Store.
Windows Central Newsletter
Get the best of Windows Central in in your inbox, every day!
Paul Acevedo is the Games Editor at Windows Central. A lifelong gamer, he has written about videogames for over 15 years and reviewed over 350 games for our site. Follow him on Twitter @PaulRAcevedo. Don't hate. Appreciate!
Actually a couple of weeks ago I noticed Tentacles on the iOS store on my iPad. Microsoft isn't playing favourite.

Yeah, we didn't do an article on that but I do mention Tentacles in this article.

I don't care about exclusives as much as having the big games on WP8.

I play this game at least once a day
LOVE IT..

I have mixed feelings about this. The live enabled games needs some exclusivity and more of a selection. here is hoping wp8 changes this. That being said there are games on my ios and android devices that I wish were on wp.

Still, no xbl achievements.

They can have all the games they want but I bought my WP7 for the cheevos with the games. Long live WP!

The outrageously high price for ios version put a smile on my face. Thanks Paul!

Rae spelled as Rei instead? I know it's a Japanese developer, but Carly RAE Jepsen called, maybe

The proper romanization of the Japanese name is definitely Rei. I assume they just liked the way Rae looks better.

Not a big fan of exclusivity in any form.

I agree, I don't believe any platform should have exclusives; Windows Phone is still the only Mobile platform you can obtain a gamer score. Like you don't complain if a computer game isn't exclusive to Xbox, PlayStation or whatever its the same thing; developers make games to make money and we just choose the platform we want to play it on =)

Xbox 360 isn't an underdog console and doesn't need any real help competiting against the other platforms. Also, people do complain about the 360 lacking compelling exclusives, which sometimes leads gamers to choose the PS3 over it, as the PS3 does have more AAA exclusives.

I find this news sad and disappointing, but not because the game lost exclusivity.
What makes me disappointed is that price tag of $11.99 on iOS. This clearly means that the game will not likely be deal of the week on windows phone anytime soon and will not get a lower price tag then the current 4.99 :-(
Windows Central Newsletter
Thank you for signing up to Windows Central. You will receive a verification email shortly.
There was a problem. Please refresh the page and try again.