DOOM multiplayer open beta starts April 15, three post-release DLC packs planned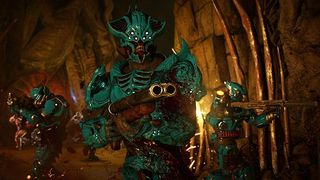 If you didn't get a code to play in the recent closed beta test for DOOM, don't fret. id Software and Bethesda Softworks will hold an open multiplayer beta for the upcoming first person shooter reboot from April 15-17 on the PC, Xbox One and PlayStation 4 platforms.
The open beta test will have the same content as the closed beta, with players getting access to several of DOOM's weapons in two game modes (Team Deathmatch and Warpath) on the Heatwave and Infernal maps.
In addition, Bethesda has revealed some of the post-release update and DLC plans for DOOM. Some of them revolve around SnapMap, the simple level editor that will be included in the game:
In addition, three DLC packs for the game are planned, with the first due this summer for $14.99. It will include:
Three new maps
One new weapon
One new playable demon
One new armor set
One new piece of equipment
New hack modules and taunts
New customization colors and patterns
All three DLC packs will be available for $39.99 via the DOOM Season Pass. The full verison of the game is due May 13.
See at Amazon (opens in new tab)
DLC is a modern game killer that screws the match making of a game. Maps should be free. Charge for bling. I was into this but now fear for the longterm of the game.

Man, that is some REALLY expensive DLC, especially for only 3 maps. I worry the game will have a smallish user base after 6 months, with DLC splitting people up in lobbies and making the matchmaking slower. This happened in Halo 4, and it sucked.

Once a Doom fan, always a Doom fan. This game looks like its gonna be torturous.
Windows Central Newsletter
Get the best of Windows Central in in your inbox, every day!
Thank you for signing up to Windows Central. You will receive a verification email shortly.
There was a problem. Please refresh the page and try again.