Dough Spectrum 4K HDMI 2.1 Monitor review: A beautiful companion for Xbox Series X & PS5
A truly exceptional offering powered by next-gen necessities.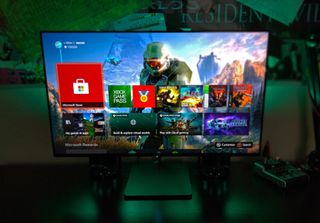 (Image credit: Miles Dompier | Windows Central)
When the Xbox Series X|S released in November 2020, these next-gen consoles brought a host of exciting new features and hardware capabilities. One of the most noteworthy advancements was the introduction of HDMI 2.1, which allows native 4K gaming at 120 frames per second with High Dynamic Range (HDR). Unfortunately, there just haven't been many options for modestly sized displays that support the latest version of HDMI.
There are unquestionably a host of impressive products in the TV sector that support HDMI 2.1, but generally speaking, these monstrous screens range from 55 inches to 70 inches. For players like myself who primarily game at a desk, a display of that size would surely melt our retinas. There was a period of time when finding a monitor under 50 inches that sported all the latest tech innovations seemed borderline impossible. Then a curious crowd-designed project appeared that promised to fill this market demographic.
The Dough Spectrum 4K is a 27-inch IPS monitor that promises "more power" with "no compromise." I've been closely following the product and its marketing mantra since its reveal back in 2020. As one of the first companies to promote a 4K monitor with HDMI 2.1 support, many questioning eyes have been trained on Dough, Formerly Eve, to see whether they can deliver on their promises. After spending nearly a month testing the Dough Spectrum 4K in various conditions, I can confidently say this gorgeous display is hands-down one of the best options available for gaming on Xbox Series X or PS5.
Dough Spectrum 4K Monitor
Bottom line: The Dough Spectrum 4K is an exceptional monitor packed with impressive features specifically catered to next-gen gaming hardware. A magnificent companion for your Xbox Series X or PS5.
For
Bright, beautiful IPS panel
Sleek, premium aesthetic
Impressive array of input types
Loads of gaming-centric customization options
Against
Mediocre HDR/Global Dimming
Slow input transition
Dough Spectrum 4K Monitor: Price and availability
With a great deal of input from the community and its backers, the Dough Spectrum 4K offers customers a few pricing options. As it stands, you can purchase the 27-inch Eve Spectrum 4K matte monitor starting at $799 through the company's official website. It's worth noting that this introductory price point does not include a stand, which can be purchased separately for $99.
Dough Spectrum 4K Monitor: What you'll like
This product's genuinely premium build quality and remarkably sleek aesthetic were immediately apparent upon unboxing the Dough Spectrum 4K Monitor. While a fairly trivial accommodation in the grand scheme of things, even the packaging of this device oozed with care and attention to small details. After removing the monitor from its luxurious housing, I quickly noticed the impressive weight of the Eve Spectrum 4K. It didn't feel cumbersome by any means, but from the slim optional stand to the respectably thin casing, everything about this monitor felt solid and sturdy.
Swipe to scroll horizontally
| Category | Dough Spectrum 4k matte monitor |
| --- | --- |
| Monitor size | 27 inches (diagonal) |
| Panel type | Nano IPS Oxide TFT LCD |
| Backlight type | Bottom edge-lit white LED with KSF nano-particle layer |
| Aspect ratio | 16:9 |
| Native resolution | 3840x2160 4K Ultra HD |
| Pixel density | 163ppi |
| HDR | HDR10 VESA HDR600 |
| Color depth | 10-bit |
| Response time | 1ms |
| Frequency range | 48Hz-144Hz |
| Adaptive sync | NVIDIA G-SYNC & AMD FreeSync Premium Pro |
| Ports | HDMI 2.1 x 2, DisplayPort 1.4 x 1, USB Type-C x 1, USB Type-A x 2, 3.5mm audio jack x 1, USB Type-B x 1 |
As an enormous proponent of minimalistic hardware design, I couldn't help but marvel at this monitor's form factor. The 27-inch panel truly pops thanks to a minimal bezel along the edge of the screen. There's no unnecessary logo or branding on the front of the display either, which helps keep the presentation stunningly focused. The adjustable track of the stand glides effortlessly up and down while somehow keeping its positioning firmly locked in place. Every element of the Dough Spectrum 4K is meticulously crafted to leave the smallest footprint possible, and I absolutely loved the way this monitor seamlessly melded into my workspace.
While elegant presentation is certainly a desirable trait of any decent gaming monitor, overall picture quality is ultimately what's most important. In the case of the Dough Spectrum 4K, this stunning IPS Oxide LCD display delivers gorgeous colors and critical gaming-centric video features. With native 4K resolution, HDR600, 10-bit color depth, and frame rates up to 120 FPS on my Xbox Series X, this monitor transformed my console gaming experience. Titles like Grounded, which host an array of vivid environments, exploded with exquisite detail and competitive multiplayer titles like Halo Infinite felt smoother than ever before thanks to HDMI 2.1 support.
Specifically engineered to provide the ultimate display for gaming, the Dough Spectrum 4K also offers a spectacular selection of customization options to help players get the most out of their games. In addition to NVIDIA G-SYNC as well as AMD FreeSync Premium Pro support and an overdrive mode offering 1ms response time, the Dough Spectrum 4K also hosts a staggering assortment of onboard options for users. From an integrated FPS counter to the ability to change the RGB color of the front LED light, this display was fundamentally built with core gamers in mind.
It's also worth commending the sheer number of input options available with this monitor. With two HDMI 2.1 inputs, one DisplayPort 1.4, one USB-C, two USB-A, and more, the Dough Spectrum 4K is versatile enough to serve as a standalone display for a console/PC workstation such as my own. Combined with my current LG 27-inch UK850, I can comfortably connect four gaming consoles and run a dual-display setup from my PC. However, even in my tests with only the Dough Spectrum 4K monitor, I was able to connect my Xbox Series X, PS5, PC, and even my Surface Duo 2 simultaneously. In most situations, you simply won't have to worry about swapping cables or allocating inputs.
Dough Spectrum 4K Monitor: What you won't like
On paper, the Dough Spectrum 4K has essentially everything a person could want from a modern gaming monitor. Unfortunately, one particular feature left me seriously underwhelmed. The display's HDR and the forced global dimming associated with it is easily the most glaring flaw in an otherwise extraordinary package.
From a technical standpoint, the Dough Spectrum 4K monitor supports HDR 600. In theory, this should offer heightened contrast between extreme darks and extreme lights. When it comes to brighter sequences, like taking a daytime stroll in Grand Theft Auto V, the display does a solid job providing an expected HDR experience. Unfortunately, the global dimming required to use HDR for this monitor thoroughly washes out any darker scenes.
As someone who often plays horror titles and grittier RPGs like Dark Souls, this was impossible to overlook. The vertical glow of the global dimming locations jarringly activates with any sign of color or light. When playing Fatal Frame: Maiden of Black Water, even subtitles caused severe reactions that introduced a distinct white glow to otherwise completely dark moments. After speaking to a representative from Dough regarding this issue, it sounds like the team is investigating the possibility of allowing users to disable global dimming in a future firmware update, but for now, I've just opted to turn HDR off.
My only other worthwhile criticism comes from a noticeable delay when switching inputs. Using the monitor's back controls to swap from HDMI 1 to HDMI 2 or the DisplayPort often took upwards of five seconds for the display to register the input change. This slow transition certainly isn't a deal-breaker in the grand scheme of things, but if it will be acting as your primary display, it's worth mentioning. It's also exceptionally noticeable on Xbox Series X when switching from SDR to HDR as a game boots up.
Dough Spectrum 4K Monitor: Competition
As it stands, there aren't many options for monitors with HDMI 2.1 support, especially if you're looking for something that will fit on the average desk. However, there are a few options worth considering if you're specifically in the market for a display designed to take advantage of the full capabilities of the Xbox Series X or PS5.
First up is the Acer Nitro XV282K. This 28-inch ISP display hosts many of the same features as the Eve Spectrum 4K, including two HDMI 2.1 inputs and 4K gaming with HDR at 120 FPS, but without the global dimming issues associated with Spectrum's HDR. The Acer Nitro may only support HDR400, which means less impressive overall contrast, but considering I've entirely turned HDR off on my display, this is an option to consider if HDR is a must-have. If you can swallow the $1,200 price tag.
Another solid contender, if real estate isn't as much of an issue, is the AORUS FV43U monitor. At 43 inches, this display is quite large and essentially resembles a TV. However, with a respectable amount of bang for your buck regarding overall feature set and size, this $1,000 HDMI 2.1 monitor is unquestionably a great value.
Dough Spectrum 4K Monitor: Should you buy it?
You should buy this if ...
You want a modestly sized HDMI 2.1 monitor
You want to take advantage of your Xbox Series X or PS5
You're a fan of sleek, minimalistic design
You shouldn't buy this if ...
HDR is an essential feature for you
You want a larger display for your Xbox Series X
You need to quickly and constantly change inputs
The Dough Spectrum 4K 27-inch monitor was clearly designed with next-gen consoles and PC gaming in mind. If you're someone like myself who's desperately been awaiting a range of mid-sized displays that take advantage of the advancements provided by HDMI 2.1, this is unquestionably one of the best options on the market right now. Like many similar displays currently available, the price tag is relatively high, but its value is confidently demonstrated in my experience with the Dough Spectrum 4K.
Overall, the Dough Spectrum 4K is a gorgeous, well-designed monitor that delivers on almost every possible front. Gaming on my Xbox Series X has never looked or felt better. The slim form factor, premium build quality, and bright, beautiful IPS panel provide a product that looks stunning whether it's turned off or on. The Dough Spectrum 4K is a worthwhile addition to any office workspace, especially if you want a display that handles incredibly well with both PC and current-gen console gaming.
The Dough Spectrum 4K is a stunningly well-crafted HDMI 2.1 monitor that anyone playing on Xbox Series X, PS5, or PC will undoubtedly appreciate. I certainly have my complaints when it comes to the HDR capabilities of this monitor, but even with High Dynamic Range disabled, the colors are vibrant and dense. At this price point, in this size, there isn't a better option available.
Get the Windows Central Newsletter
All the latest news, reviews, and guides for Windows and Xbox diehards.
Miles Dompier is a Freelance Video Producer for Windows Central, focusing on video content for Windows Central Gaming. In addition to writing or producing news, reviews, and gaming guides, Miles delivers fun, community-focused videos for the Windows Central Gaming YouTube channel. Miles also hosts Xbox Chaturdays every Saturday, which serves as the Windows Central Gaming weekly podcast.