List of Forza Horizon 4 known bugs and launch issues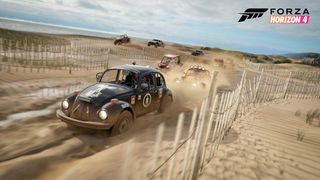 Microsoft's next major entry to its hit racing franchise, Forza Horizon 4, is soon expected to launch on Xbox One and Windows 10. While the game doesn't formally launch until October 2, those who preorder the "Ultimate Edition" gain early access on September 28. And as with most games at launch, there's an extensive list of bugs and issues you may encounter.
Forza Horizon 4 developer, Playground Games, has now outlined all known issues upon release. We'll be updating this changelog and bug tracker beyond launch, as new problems come and go.
Related: Forza Horizon 4 Xbox One review: Simply breathtaking
Forza Horizon 4 general issues
These are some general issues facing Forza Horizon 4 at launch, spanning various areas.
When setting a custom keyboard profile, changing one of a certain group of keybinds causes all of the actions in the group to become unbound.
Players will experience a hang or crash upon suspending and resuming the game on Windows 10. Make sure you have not disabled Forza Horizon 4 as a background app.
Players may experience some audio hitches throughout the title. These are extremely brief periods of silence and are more likely to occur on the Xbox One.
In the event our servers cannot be reached or are down, players may receive a message stating 'You need to play in unranked first to unlock ranked play'. This message should read that the servers are unavailable.
Players may experience the error message 'Incompatible Tune' when trying to access downloadable tunes before all the details have been populated.
Changing MSAA from 2x to 4x will result in improper tree LOD rendering/popping until you restart the game on Windows 10.
When you initially try to sync your designs and tunes, you may see the sync bar stay at 0% for a few minutes. Please be patient as we have to import all of your designs/tunes per title and it may take a bit for the first sync to complete.
Players should use the NVIDIA Game Ready Driver 399.24. Driver versions previous to this had known instability. NVIDIA GTX 780 & GTX 780 TI may experience issues with driver 411.63. Please roll back to driver 399.24 to fix this issue.
Players should not use AMD drivers before 18.8.2 (released 27th August 2018). The previous drivers will cause high memory usage and instability.
Forza Horizon 4 gameplay issues
A small list of Forza Horizon 4 gameplay issues are also present.
Players may experience their active/partially completed Championship progress reset upon relaunch after an exit. Please make sure you connect your console to the internet and download the most recent content update.
Players will not be able to unlock the 'Antiques Restorer' achievement if using in-game credits for faster restorations.
Players may experience a corruption in tree textures that will look like purple trees. This may also occur when fast traveling and swapping seasons at the same time.
Players who initiate a Championship series may receive a prompt on the second event asking if they want to quit their current Championship to proceed. Players may finish the Championship and receive a reward event though this prompt appears.
Players may experience a loss of engine audio after an engine swap if they are playing on a disc version of the game and have not received any updates.
Forza Horizon 4 technical issues
Some players may experience technical issues in Forza Horizon 4, especially on Windows 10.
Players may experience multiple performance issues when trying to play while installing.
Players may experience a failure to launch when Region and Language settings are changed after install.
Players may experience a lack of gear changing audio in replay mode.
Switching MSAA settings without restarting will result in black corruption on the environment.
Players may experience stalls and large FPS drops during the Initial Drive (mostly on transitions from cutscenes to active gameplay. This will only affect machines where the players have insufficient RAM for their quality settings.
Forza Horizon 4 will not boot if you are using any of the following virus checkers. Trend Micro Maximum Security, Comodo Antivirus, Sophos, Emisoft Anti-Malware.
When setting your audio to 24bit 44100Hz, players may experience a static or crackle sound. This does not happen on any other setting.
Players may experience audio hitches due to frame skipping or hangs.
Players may experience a game crash when disconnecting their audio device while booting up the game.
Forza Horizon 4 wheel issues
Some players may experience issues with third-party wheel accessories.
Fanatac - Handbrake - ClubSupport Handbrake v1.5 does not function correctly.
Fanatac CSL - Playing without a handbrake device will auto engage the E-break in game. This issue will be fixed with our Day One content Update.
Fanatac ClubSport V2 - Wheel FFB is not initialized when wheel is in GIP mode.
Fanatec ClubSport 2.5 (DrV310, FwV 446) wheel settings do not save on game restart.
The current PC System does not support same action under two different buttons.
Mad Catz Pro - FFB and vibration are lost after Alt+Tabbing or minimizing.
Hit the comments below to let us know what bugs and other issues you encounter in Forza Horizon 4, providing as much information as possible. Playground Games encourages you to email bug reports and support requests via its official site.
In the meantime, the game is available for preorder starting at $59.99, with an October 2 release, and September 28 early access period.
Get the Windows Central Newsletter
All the latest news, reviews, and guides for Windows and Xbox diehards.
Matt Brown was formerly a Windows Central's Senior Editor, Xbox & PC, at Future. Following over seven years of professional consumer technology and gaming coverage, he's focused on the world of Microsoft's gaming efforts. You can follow him on Twitter @mattjbrown.