Limited Edition Forza Motorsport 6 Xbox One races onto the scene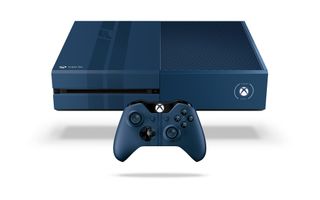 Forza fans, prepare to be stoked. Microsoft has unveiled a Forza 6 special edition Xbox One, featuring a custom design, controller, and much more.
The special edition Forza 6 Xbox One will be the 1TB model, and features a custom blue hue. Other flourishes include a set of dark blue matte racing striped running down the left side of the console, with a 10-year anniversary Forza badge on the right side. Microsoft didn't stop there however: the console features custom sound effects for ejecting a disk and turning it on and off, mimicking the start and stop of an engine.
The controller is also a custom job, featuring the same blue color as the console, along with racing stripes, a titanium-inspired finish on the shoulder buttons, and rubber on the back that mimics the feel of a steering wheel.
Of course, the console will come with a download code for Forza 6 and a 10th anniversary car pack if you decide to pick it up. As far as availability is concerned, the special edition console will land alongside Forza 6 on September 15 in the U.S. and September 18 in Europe, with select retailers taking preorders in the meantime.
Pre-order Forza 6 Limited Edition Xbox One from the Microsoft Store ($399.99) (opens in new tab)
Source: Xbox (YouTube)
Windows Central Newsletter
Get the best of Windows Central in your inbox, every day!
Dan Thorp-Lancaster is the former Editor-in-Chief of Windows Central. He began working with Windows Central, Android Central, and iMore as a news writer in 2014 and is obsessed with tech of all sorts. You can follow Dan on Twitter @DthorpL and Instagram @heyitsdtl.
I like this, subtle and matches the theme of the game since around forza 3 where its more about low key features, like how modern cars are shown, just the small details.

How many different editions are there now❓

1 per really major launch at this point. Not really a bad thing. I'm guessing market research shows it helps people pull the trigger on a purchase.

Weeellllll, why doesn't MS give us some special edition Lumia's in the future❓
.......
Ferrari, Prada, games, Harley, Ford, Chevy, Army, Navy, Air force, Marines, Brest cancer awareness, Surface edition, music artist editions... So on..

How many of the special editions came with a Kinect? Zero. You suck, Phil Spencer.

You suck, person expecting the Kinect to be forced into a non-Kinect game's bundle, driving up the price, limiting sales.

Offering two versions of every bundle--one with Kinect and one without--is not forcing anything on anyone. It's doing the opposite of that: it's actually giving them a legitimate choice instead of incentivising them toward the non-Kinect version.

Guess retailers if they wanted to could bundle it own their own

Sorry, but I've lost faith in Phil Spencer. He is definitely better than Don Mattrick was, so he looks like he's a great Xbox head, but his business decisions have been middling, at best, and his disregard of Kinect has been insulting not only to early adopters of Xbox One, but also to Microsoft itself. He's too wishy-washy; he's got no backbone.

But hasn't the XB1 been competing much better with the other platforms since he's taken over? Not all decisions are popular with everyone but if they're seen to be linked with increased sales then they'll prove to be popular with the MS board.

It is competing a little bit better--not much--and that's merely because his predecessor was about as incompetent as they can get (although, at least the guy had balls). Completely failing to capitalize on the one peripheral--on that Microsoft has invested billions of dollars in, by the way--that distinguishes you from your competitors lacks foresight. There is nothing wrong with giving gamers a choice, but giving gamers a choice actually requires giving them a choice. For the past year, Microsoft has been incentivizing consumers to not buy Kinect.

That's what I'm talking about....a system with sound effects

Call of Duty console also had sound effects

Can you turn the sound effects off? Or even change them?

I have the Halo 4 360, also with custom sound effects, and they are the worst thing ever. This is probably better, as I have no idea what sound the 360 is making. Thankfully it makes the noise when you press the button, and not when done through the menu.

Beauty.. But I'm waiting to see an halo5 edition..

I like the look, but I hate these bundles. I want a disc copy, not digital. There's also the issue that I want a Halo 5 console, but I want the Limited Edition of the game. Getting a digital copy would be a lame waste.

If price is the same, just get the disc version, sell the code and keep the hardware.

1. The disc is cheaper.
2. You say that like there is a real market for people to buy a game for full-price from a stranger, rather than getting it from the Xbox store, not having to leave the house, and not risking a sketchy seller.

At launch the prices are the same ($60). It's only after time that the disc prices drop. There is a big market for buying unused digital codes (check out ebay). If you were to sell a digital code near launch, you would likely get very much near full value for it, actually. I've even had codes sell for more than they are actually worth in the Xbox Store (why, I don't know, but people have bought them from me).

Didn't they drop LE/day one from the retail sku? Most of what ive seen is just the preorder bonus cars(retailer dependant)

What's wrong with digital?

Those sound effects are kinda tacky imo

I would like this... Bit with a Kinect :/

I'd like a Kinect, but with good software. The world isn't perfect.

It does have good software. Kinect has seen some of the greatest fitness, dance, music, party, and rail shooter games ever made, actually.

If they were great, I would have replaced it when it broke. Instead, I got it fixed and now it sits in the closet, and nobody misses it. I will redeploy it when Cortana launches however, to give it another chance.

They are great. You probably haven't even played some of the greatest Kinect games like Fantasia, D4, Child of Eden, Fruit Ninja Kinect 2, Xbox Fitness, etc. If you have played them and truly gave them a fair shot but didn't like them, that's fine, but that doesn't mean great games don't exist for it just because you don't like them.

That console and controller look sweet!

That's just gorgeous. Blue is the best!

Glad they're selling the controller separately, will buy that for sure.

Sounds tempting but repair sucks in Canada. The last 2 times I sent a 360 in for service they advanced exchanged them with a unit with same symptoms. I'd hate for them to exchange it for a regular edition 1tb unit

Man, if it came with matching Kinect I would've bought it. This is quite the beautiful color.

I like it.. But I just bought the new 1TB Xbox One @Best Buy when they had the $175 off when you trade a 360. So I traded one of the 4 360's I had and got a second Xbox One!

Must resist spending money but that blue matte though.

Can I get the controller by itself?

I saw a video on YouTube and yes the controller will be available by itself as well.

I would opt for a Halo themed console myself (if I didnt already have a XOne), but I really do think that is amazing looking. Nice job!

The blue one is kinda sexy though. I likes.

I just wish they'd introduce a family plan that would make digital downloads work across multiple Xboxes, at least in the same home.

This is already possible, no? You just sign in with the main gamer tag.