14 games from the PlayStation Showcase coming to Xbox and PC
These upcoming games shown at the PlayStation Showcase are coming to Xbox and PC as well.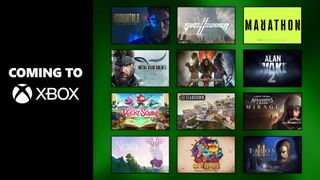 (Image credit: @Xbox on Twitter)
On May 24, 2023, Sony unleashed its first PlayStation Showcase in quite a while. The event offered a look at a range of awesome-looking PlayStation titles, as well as PSVR2 virtual reality offerings, but also a range of multiplatform games. Many of the titles at the PlayStation Showcase were not only slated for PC, but also Xbox, making it one of the more multi-platform heavy shows for Sony in recent memory.
We suspect many of the games listed will end up on best PC games and best Xbox games lists once they finally drop. If you didn't get a chance to catch the show, we've listed out all the games that are currently confirmed to be heading to Xbox and PC.
1. Immortals of Aveum — Xbox Series X|S & Windows PC
In Immortals of Aveum, you'll get to experience an action-packed single-player first-person magic shooter. It is a first-person shooter game that follows Jak, a battlemage who joins an elite order of battlemages to save a planet on the verge of abyss. The game features around 25 spells-including offensive and defensive magics of the red, blue, and green varieties. Additionally, the game features a talent tree with over 80 nodes.
2. Ghostrunner 2 — Xbox Series X|S & Windows PC
Ghostrunner 2 is a first-person cyberpunk action game series set in a dystopian future. The game's story takes place one year after the events of the first game. The people of Dharma Tower are rebuilding, and there is hope for the future. However, with the Keymaster dead, a power vacuum develops with deadlier enemies looking to conquer Dharma tower. Ghostrunner 2 builds upon the original, but with more features. With enhanced gameplay mechanics, more levels and epic boss fights, Ghostrunner 2 promises to be a thrilling adventure.
3. The Talos Principle 2 — Xbox Series X|S & Windows PC
The Talos Principle 2 greatly expands on the beloved original with more mind-bending puzzles to solve, new puzzle mechanics, a richer storyline, more secrets to uncover, and the biggest, weirdest world Croteam has ever built.
4. Neva — Xbox Series X|S & Windows PC
Introducing Neva, from the creators of GRIS. Coming to PC, PlayStation 5, Xbox Series S|X, and Nintendo Switch in 2024. Experience the moving tale of a young woman and her lifelong bond with a magnificent wolf as they embark on a thrilling adventure through a dying world.
5. Cat Quest: Pirates of the Purribean — Xbox Series X|S, Xbox One, & Windows PC
In Cat Quest: Pirates of the Purribean you play as a purrivateer in a freely explorable 2.5D open-world swarming with Pi-rats. You can sail the seas in your ship for treasures galore! But prepare for peril, as the Pirate King aims to hunt you down...
6. The Plucky Squire — Xbox Series X|S & Windows PC
In this imaginative action adventure game, lovable hero Jot can leap seamlessly from the 2D pages of a book into a 3D world. You can see this in action for yourself in the new trailer, which focuses on the many different ways to play the game: from 3D platforming to top-down dungeon crawling.
7. Teardown — Xbox Series X|S (already on PC)
Prepare the perfect heist in this simulated and fully destructible voxel world. Tear down walls with vehicles or explosives to create shortcuts. Stack objects to reach higher. Use the environment to your advantage in the most creative way you can think of.
8. Metal Gear Solid Δ: Snake Eater — Xbox Series X|S & PC
Metal Gear Solid 3: Snake Eater is getting a modern remake. Konami announced the new remake at today's PlayStation Showcase. While the game doesn't have a release date yet, a Metal Gear Solid remaster collection is coming this fall.
9. Alan Wake 2 — Xbox Series X|S & Windows PC
Alan Wake 2 releases on October 17, 2023! The long awaited sequel to the award-winning cinematic action-thriller and Remedy Entertainment's take on survival horror. A string of ritualistic murders and a supernatural darkness begin to corrupt the locals of the quirky, idyllic small town of Bright Falls. Can Agent Saga Anderson and Alan Wake break free from the desolate horror story they're trapped in and be the heroes they need to be?
10. Assassin's Creed Mirage — Xbox Series X|S, Xbox One, & PC
In Assassin's Creed Mirage, you play as Basim, a street thief who has nightmarish visions and is seeking answers and justice. After an act of deadly retribution, Basim flees Baghdad and joins an ancient organization called The Hidden Ones. As he learns their mysterious rituals and powerful tenets, he will hone his unique abilities, discover his true nature, and come to understand a new Creed – one that will change his fate in ways he never could have imagined. The game will release on 12th October.
11. Street Fighter 6 — Xbox Series X|S & Windows PC
Street Fighter 6 is an upcoming fighting game developed and published by Capcom. It is the seventh main entry in the Street Fighter franchise and is releasing on June 2, 2023 on all platforms. The game features an explorable city where players can meet some of the actual Street Fighter characters. The first foursome of downloadable fighters have been revealed for the game.
12. Dragon's Dogma 2 — Xbox Series X|S & Windows PC
Dragon's Dogma 2 is a single player, narrative driven action-RPG that challenges players to choose their own experience. Players can customize the appearance of their Arisen, their vocation, their party, and how to approach different situations. On their journey, players will be joined by pawns, mysterious otherworldly beings, in an adventure so unique they will feel as if accompanied by other players while on their own adventure. All of these elements are elevated further by the latest in graphics, artificial intelligence (AI) and physics technology to create a truly immersive fantasy world.
13. Marathon — Xbox Series X|S & Windows PC
Marathon is a first-person shooter video game developed and published by Bungie, and released in December 1994 for the Apple Macintosh. Bungie is reviving their old IP in the form of an increasingly popular PvP extraction shooter. Become a runner. Compete for survival, riches, and renown in a world of evolving, persistent zones, where any run can lead to greatness. Marathon is currently in development for Xbox Series S|X, PC, and PS5 with full cross play and cross save.
14. Destiny 2: The Final Shape — Xbox Series X|S, Xbox One, & Windows PC
In the upcoming expansion of Destiny 2, The Final Shape, players will experience the final content pack for The Light and Darkness Saga where all events up until then will come to a head. The exact meaning of The Final Shape is not yet known, but some speculate that it may be the final form of The Darkness, which has been hunting the Traveler for years. It may also be related to the Vex, a race that manipulates time. Nathan Fillion is back to voice Cayde-6 in this expansion.
Releasing on PC only
All the above games are launching on Xbox as well as PC, but there's also a range of titles from the event hitting PC only.
Fairgames$
Fairgame$ is a service title that looks similar to games like Payday, where teams of three hack, heist, and haul loot while competing against enemy teams of thieves. The trailer above was simply CGI, so we don't have a good idea of exactly how it will look or play, but the game is slated for PC and PS5 day-one launch and will likely have cross-play too.
Helldivers 2
Though the previous Helldivers was isometric, Helldivers 2 has ditched the fixed camera perspective and gone fully third-person, giving the underrated action game a modern twist. Helldivers 2 seems to build on absolutely everything from the original, in what looks to be a co-operative shooter fans of Destiny might appreciate.
Phantom Blade
Phantom Blade Zero is another upcoming third-person action game, slated for PC and PS5. The trailer was among the best at the showcase, revealing rapid-paced ninja-slicing action in a dark setting.
Some other games appearing at the showcase slated for PC include the following:
Sword of the Sea
Towers of Aghasba
Granblue Fantasy: Relink
ULTROS
Concord
Xbox and PC refused to be left out of the PlayStation Showcase
What a good looking group 😎 pic.twitter.com/eDZo8vTXtBMay 24, 2023
Right after the event, Xbox unleashed an uncharacteristically snide tweet to highlight just how multi-platform heavy Sony's showcase was. Xbox has been on the backfoot in recent weeks, after a devastating blow to its Activision-Blizzard acquisition deal from UK regulators, atop the low-rating for one of its tentpole exclusives, Redfall. Xbox fans have been looking to the Xbox Showcase + Starfield Direct, slated for early June, to restore faith in the idea that the Xbox platform is the right place to be investing in. It's perhaps a little lucky for Xbox that Sony's Showcase hasn't been particularly well received in some parts of the internet.
All eyes will be on Microsoft to deliver now, and time will tell if they can.
Get the Windows Central Newsletter
All the latest news, reviews, and guides for Windows and Xbox diehards.