Go fast and save $75 on the Thrustmaster T-LCM racing pedals in this crazy deal
Step on the gas with this speedy discount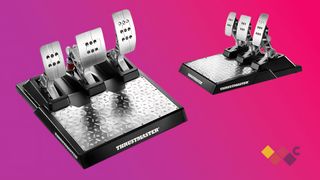 (Image credit: Jennifer Young - Windows Central)
Are you an Xbox or PC gamer currently enjoying Forza Motorsport? Do you want to fully immerse yourself in the racing sim and rev up your racing experience? There's a whole world of accessories for racing games if you're willing to jump down the rabbit hole, but it makes gaming an even more expensive past time.

Well, not so much if you can find the best deals, and boy, have we found a great one on the Thrustmaster T-LCM racing pedals. These incredibly high-quality pedals are already discounted to $204.99 at Dell, but you can get even more cash off with a discount code SIM25, taking them to $153.74. That's 33% off the MSRP, a sizeable saving.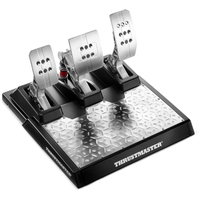 Thrustmaster T-LCM racing pedals | was $229.99 now $153.74 (-33%) at Dell
We reviewed these durable and highly precise pedals at a solid 4.5 out of 5 stars and awarded the Windows Central Recommended badge at launch, so to bag them at $153.74 is an absolute steal. You'll need to use discount code SIM25 at checkout to get this price and go quick as we don't know how long this deal will last.

👍Price Check: $224.99 at Amazon
Image 1 of 2
Enter code SIM25 at the checkout on the already discounted price of $204.99
A further discount of $51.25 will be deducted taking these pedal to a steal of $153.74
Ben Wilson, our racing accessory aficionado here at Windows Central, did a full comprehensive review of the Thrustmaster T-LCM racing pedals, and summized that while dedicated pedals may seem excessive to some, they are a fantastic companion for one of the best Xbox steering wheels and a must-buy for any racing game enthusiast.
The Thrustmaster T-LCM racing pedals are a surefire gateway to an enhanced racing experience if you enjoy the Forza franchise and want to take your racing sims to the next level.

These pedals offer a sturdy metal construction for durability, with a weight of around 5.2kg, making them feel quite substantial and realistic. The metal is used in the pedal arms, heads, heel plate, and interchangeable springs. The unit's front is weighted, ensuring stability, and it has five grip points for use on the floor. While they can be mounted on a proper cockpit if you want to go all the way with your racing setup.
The T-LCM pedals allow you to tailor the resistance of the brake pedal, and you can choose from different included springs and washers. Mix and match these components to find the perfect feel for your gaming style.
The brake pedal is the stand out, equipped with a load cell rated for up to 100kg, offering a realistic sim-racing experience when calibrated correctly. You can set the ideal pressure point to ignore before the game responds, ensuring a precise and customized experience in your racing games.
Both the gas and clutch pedals use 16-bit hall-effect sensors and fixed springs and the metal plate ensures grip, even on carpet, especially during sudden braking.
You can easily calibrate the pedals using the Thrustmaster software, allowing you to set dead zones and customize the sensitivity to your liking. Experiment and fine-tune your settings until you're happy. The T-LCM Thrustmaster pedals are designed for personalization, making them an excellent choice for newcomers to the world of racing games. Don't miss this amazing discount for either yourself or a gift for the racing fan in your life, it won't last long!
Get the Windows Central Newsletter
All the latest news, reviews, and guides for Windows and Xbox diehards.
Jen is a News Writer for Windows Central, focused on all things gaming and Microsoft. Anything slaying monsters with magical weapons will get a thumbs up such as Dark Souls, Dragon Age, Diablo, and Monster Hunter. When not playing games, she'll be watching a horror or trash reality TV show, she hasn't decided which of those categories the Kardashians fit into. You can follow Jen on Twitter @Jenbox360 for more Diablo fangirling and general moaning about British weather.