Diablo 4 servers are down worldwide
Code 300202 is the real Prime Evil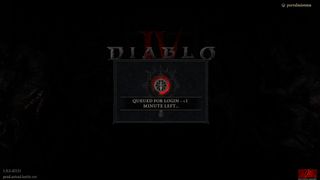 (Image credit: Windows Central)
What you need to know
The Diablo 4 servers have been down for over an hour already, players are reporting endless queue times on social media.
Some are receiving error code 300202 or error code 300008.
Some players experienced their characters showing as deleted on the home screen before being kicked from the game.
---
UPDATE JUNE 8 (19:15 ET)
It looks like after over 2.5 hours of outages, the servers are slowly coming back online. However, some players are reporting losing 30 minutes of game progress. We hope no epic loot got lost in the Diablopocalypse!
UPDATE JUNE 8 (18:28 ET)
Blizzard has updated their Customer Service Twitter with "We've reduced login rates in order to alleviate pressure on the servers. Players will see extended login queues while the work is ongoing."

Players are currently reporting queues of over 1000 minutes.
---
It's finally happened, Diablo 4 has gone down. Despite a pretty smooth launch both in Early Access and full release on June 6, earlier I was booted out of my game and back to the main menu. To find my character gone! Deleted!
I'm not the only one, thousands of players took to social media to cry out about losing all of their characters. Don't worry though, we'll sure it will be fixed shortly.

Meanwhile, we are all waiting together in the endless queue. Some are receiving queue times of 1 minute only to be booted out and given an error message, some are quoting times of 60 minutes and up.
What does error code 300202 mean?
After waiting in the queue, you may see the message 'There was a problem logging in' (Code 300202). Don't worry, other players are getting the same error message and it seems linked to the server issues.
What does error code 300008 mean?
Again error 300008 is an error message related to timing out from the server queue, and related to the current widespread issues. Check our known Diablo 4 bugs list if you've experienced any other issues with Diablo 4.
It looks like the problem is worldwide, as those watching Twitch for their loot drops are just watching streams of the login error.

Some initially on the Diablo 4 support forums stated it was only European servers affected, and only the Blizzard EU account acknowledged the issue at first, stating they were investigating it. However, from a cursory glance across Twitch and Twitter it looked like the issue was more widespread.
Since posting, Diablo 4 staff Adam Fletcher and Rod Fergusson have both retweeted the error messages and acknowledged the issue, confirming that the Diablo 4 team are hard at work behind the scenes trying to fix whatever has made the servers crash, and Blizzard Customer Service in America have also put out an announcement.
Diablo 4 is already the fastest-selling Blizzard game of all time, outperforming its predecessor Diablo 3, so it's no surprise the servers are under pressure. What is a surprise however is that it's taken this long, as the initial launch day and early access period were relatively smooth and free of issue.
We'll update as the situation unfolds, but so far the queues are only getting longer, the above player reporting a 400 minute wait. Perhaps it's time to go download and play Diablo 3?
Diablo 4 is available on Xbox Series X|S, Xbox One, and Windows PC... if you can log in.
Get the Windows Central Newsletter
All the latest news, reviews, and guides for Windows and Xbox diehards.
Jen is a News Writer for Windows Central, focused on all things gaming and Microsoft. Anything slaying monsters with magical weapons will get a thumbs up such as Dark Souls, Dragon Age, Diablo, and Monster Hunter. When not playing games, she'll be watching a horror or trash reality TV show, she hasn't decided which of those categories the Kardashians fit into. You can follow Jen on Twitter @Jenbox360 for more Diablo fangirling and general moaning about British weather.