Diablo 4 'Season of Blood' is now LIVE and available on Steam, here's everything new (Update)
Blood, hellfire and UI improvements are coming.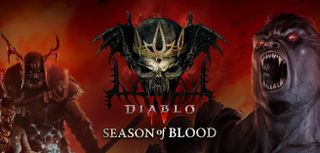 (Image credit: Blizzard)
What you need to know
Diablo 4's second season, the Season of Blood starts October 17, 2023 at 7 PM UK BST, 1 PM ET and the developers recently held two livestreams last night to discuss the huge changes coming to the game.
We can look forward to Vampiric powers, and new endgame content like bosses, Blood Harvest event, and Uber Unique farming.
There will be major changes to building XP, itemization, dungeon layouts, and most things fans have asked for since launch.
The reception to the stream from the Diablo community has been overwhelmingly positive.
UPDATE: Blizzard has delayed the launch of season 2 by "a few hours." We'll update you with the launch window when we have it!
UPDATE: Just after 3:00 p,m, EST the Season of Blood and Steam launch went live, though crossplay between PC and Console is currently disabled.
---
Update (October 17, 2023): Precisely 2 hours and 10 minutes after the intended launch, Diablo 4 Season of Blood is now available to play, and Diablo IV is now officially on the Steam store to purchase (with a 25% discount no less). Due to a technical problem, crossplay is not currently available between PC and console but the team is working to resolve this.

Go forth and hunt vampires!
Update (October 17, 2023): Blizzard has delayed the launch of Season of Blood by "a few hours" to remedy some "complications." We'll update this article with the proper start time when we get it!
We've encountered some complications and will be delaying Season of Blood's start time a few hours to remedy these issues.We'll share updates as soon as we have them. We appreciate your patience.October 17, 2023
---
Though Diablo 4 only launched in June, we're already on the cusp of its second season of content. Season of Blood kicks off October 17 and some are touting it as the game's last chance to appease the fanbase. While the game enjoyed a stellar launch period, and incredible base game, it's undeniable that the introduction of seasonal content has put the brakes on Diablo 4's trajectory within the fandom.

Blizzard appears to be taking things seriously, and held the first of two livestreams earlier in October 2023 to address all the changes being introduced into the game in time for its second season launch. Changes they hope will bring back the players and satiate our loot-lusting desires. With new powers, endgame bosses, dungeon shake-ups, and the ability to farm Uber Uniques for the first time, will these changes be enough to redeem Diablo 4?
Diablo 4 Season of Blood goes live October 17, 2023 at 1PM ET, 7PM BST UK. This is also when the game goes live on Steam for the first time.
A change is gonna come
Our Top Xbox Recommendations
So, what changes are coming along with Diablo 4 Season of Blood? We already had a sneak preview at Gamescom but following last night's developer livestream, we have more details. The panel, made up of Joseph Piepiora (Associate Game Director), Antonio Watson (Associate Game Designer), Joe Shely (Game Director) and Community Lead Adam Fletcher did a deep dive into all the juicy details.
A bloodthirsty new foe and story
As promised, each season brings new tidbits of lore and story to the Diablo universe, and the Season of Blood will introduce a new enemy.

Before humans inhabited Sanctuary, it was populated by the firstborn children of angels and demons (you can read more about this in my bumper lore guide). These were The Ancients. Rathma is an Ancient, the first Nephalem for those who have played the game (Diablo 4 seems hell-bent on not using this phrase.)

A new character, Lord Zir is an ancient vampire. Recent events in Sanctuary have reawakened him and his blood lust. His cult of vampiric minions has been abducting innocents from all over Sanctuary to use in their dark rituals.

During the progress of this new story, the player will contract a vampiric curse but not be under the control of Lord Zir, allowing them to use these powers against him and his minions. We'll be aided by a band of vampire hunters, led by Erys who is voiced by Gemma Chan.We'll revisit familiar places from the campaign that have been taken over by Lord Zur's cult, and these environments will change to reflect this. In addition, we're getting a new dungeon to look forward to in the form of Lord Zur's lair.

You'll acquire vampiric powers by defeating Blood Seekers and minions of Lord Zir to acquire 'potent blood'. This in turn allows you to unlock and upgrade your vampiric powers.
Pact Armor and vampiric powers
Vampiric powers need strong armor and weapons to wield effectively, which is where Pact Armor comes in. There are three pacts: Ferocity, Divinity, and Eternity and you'll need to match your new powers to the proper armor to unleash hell on Lord Zur's cult following.

Pacts are attached to chest armor, pants, gloves, boots, and helms. If you don't have the right Pacts equipped on your gear, standalone Pacts and Cleansing Acids can be used to customize your armor to your requirements. These will drop as crafting items from Blood Seekers, and other seasonal events.

There are 22 Vampiric Powers, ranging from Minor to Major in terms of the cost of Pacts you will need to have equipped to use them.
Blood Harvest Seasonal Event
Behaving in a similar way to Helltides, the Blood Harvest is a Seasonal only event that will spawn in the Dry Steppes, Hawezar, and Scosglen regions of Sanctuary and reap the best rewards for players looking to upgrade their vampiric powers and hunt down Pact Armor.

While their appearance may be similar to the Helltides, Blood Harvests will appear for the player from level 1 and there will always be one active on the map at any one time. Farming these areas will give you Blood Lures, Vampyric Keys and other crafting materials and currencies that will stay with you permanently and not leave your inventory at the end of the harvest. As you complete events within the Blood Harvest, you can earn Hunters Acclaim, a progress board available in town from which you can claim more rewards.
New endgame bosses and unique items
Endgame has had a bunch of new content added with the Season of Blood, and Diablo 2 fans in particular will be happy to see the return of Duriel. A new batch of Uber difficulty endgame bossess await us, along with items that drop uniquely from them on defeat. These bosses will be available on both the Seasonal Realm and the Eternal Realm from World Tier 3 and above.

Not all are chance encounters, and you'll need to meet certain requirements before facing these fearsome new foes.
Grigoire the Galvanic Saint - You must gather enough Living Steel from the Tortured Offering in Helltide. In addition to Unique items that can only drop from Grigoire, you also have a chance to receive the Demonbinder Mount Armor Cosmetic.
Echo of Varshan - Defeat Grotesque Debtors during Whispers of the Dead for a chance to receive parts of Varshan's body. The Tree of Whispers collections—gained from turning in Grim Favors—guarantee a part of Varshan's body. Once you have enough parts, you can summon Varshan. The Flesh-Weld Rod Trophy has a chance to drop from this boss in addition to Unique items that can only drop from Varshan.
The Beast in the Ice - Gather Distilled Fear while completing Tier 30 or higher Nightmare Dungeons. After you have enough, visit the Occultist and craft the Glacial Fissure Nightmare Sigil, activate it, and then you can fight The Beast in the Ice. The Skull Torch and Fell Steed Mount Trophies can potentially drop from this boss, in addition to Unique items exclusive to it.
Dark Master - Defeat a World Boss on World Tier IV or complete a Legion Event. From these activities, you'll acquire Exquisite Blood. Once you have enough, you can summon the Dark Master. The Diadem of the Ancient Helm Cosmetic can potentially drop from this boss, in addition to Unique items exclusive to it.
Echo of Duriel - Defeat both Grigoire, The Galvanic Saint, and Varshan in World Tier IV to collect Mucus-Slick Eggs and Shards of Agony. Once you have enough, you can summon the Lord of Pain, Duriel! Out of this group of Bosses, Duriel is the only one who has a chance to drop Uber Unique items. The smoldering Brimstone Mount can also potentially drop from this boss.
Quality of Life improvements
New season excitement aside, the developers weren't just there to talk about the Season of Blood, but they addressed a whole slew of improvements coming to the game as a direct result of community feedback since launch. Strap in...
Gems will no longer drop. That's right, no more cursing our inventories as they fill up with gems! Players will automatically receive Gem Shard materials, which can be used to craft the gems you need.
Only Ancestral items will drop in World Tier 4.
Crafting items will drop in place of low item-power gear in World Tiers 3 and 4.
Enchantment costs have been significantly reduced.
Scrolls of Escape will now be consumed when a Hardcore player disconnects unexpectedly during combat, teleporting them to a safe location.
Incenses will grant a bonus to Experience and will persist after death.
Experience bonuses are now multiplicative with the World Tier bonus. The time it takes to get to level 100 is now 40% faster than in Season 1.
Skip campaign will now unlock 10 waypoints, 2 in each zone.
Renown rewards now persist between new seasons and new characters.
Overworld monsters no longer trail the players level in World Tiers 3 and 4 after levels 55 and 75, respectively.
Two additional character slots have been added.
Changes specifically to Towns and Vendors were detailed as follows:
The Occultist will now appear at the Tree of Whispers waypoint.
Stashes can now be found in all small towns that have a waypoint.
Additional stashes have been added to capital cities near important vendors.
Purveyors of Curiosities are now closer to the waypoints in Kyovashad, Zarbinzet, Ked Bardu and Gea-Kul.
Much needed improvements have been made to the mounts:
Responsiveness has been improved, your mount is less likely to get stuck or slow down unexpectedly. They will also automatically jump over traversals.
Base movement speed has increased by 14% so you can move around town much faster. Achieving full speed using keyboard and mouse has also been improved.
Speed boost from Spur duration has been increased by 50$. Spur also now breaks through barricades.
Dismount cooldowns have been reduced, manual is now 5 seconds, forced is now 15 seconds, and combat skill use now has a 3-second cooldown. All cooldowns have been reduced by at least 50%.
Nightmare dungeons and sigils are also getting an overhaul.
Sigils now teleport directly to the dungeon, this will remove a whole extra load screen!
Monster density increased in dungeon events, and NPCs will no longer get one shot in later world tiers.
Traps readability has been improved.
Crowd control has been significantly been reduced on the player character (it was a common complaint in higher world tiers that players could end up in endless CC locks).
Paragon Glyph experience has been increased.
Backstabbing attacks from monsters now cause you to become Vulnerable, Vulnerable damage taken is increased by X% depending on dungeon tier.
Monster Critical Resist, monster attacks reduce the damage of your Critical Strikes for 3 seconds by x% stacking up to Y% depending on dungeon tier.
Death Pulse is now prevented on monsters that have on-death explosions. They also no longer spawn on top of each other.
Lighting Storm will only start when players are in combat. While in the bubble you are granted 35% movement speed for 5 seconds, it will only start when you have a direct path to the bubble.
Drifting Shade duration has decreased to 3 seconds from 5 seconds. Respawn time increased by 2 seconds.
Objectives have been completely removed from a handful of dungeons, you now just have to find the boss. When objectives do appear, they will be on a critical path through the dungeon.
Layouts have been redesigned for many of the dungeons to limit backtracking and also to prevent some dungeons from feeling too linear.
My personal favorite part of the update, is the changes to World Event times. Finally, as a working parent, I'll be able to actually engage with some of these activities. Previously World Boss spawns for UK players were at ludicrous times of the day so if you have a job and/or children you rarely had a chance to participate.
World Boss spawns will now be every 3.5 hours, a marked decrease from the previous 6 hours. The warning timer has also increased from 30 minutes to 60 minutes.
A message is broadcast to all players when the World Boss is 15 minutes away from spawning.
Legion events time between events now reduced to 25 minutes from 30 minutes. Warning timer increased from 5 to 10 minutes.
Fixed issues where all of the above events wouldn't display at the edge of the players minimap if a Whisper was active for the event.
Endgame activities have also received some improvements to make them more rewarding:
Nightmare Sigils from Whisper Caches will now always be within 5 levels of the highest level Nightmare Dungeon the player has completed.
Gold reward from Whisper Caches have been significantly increased.
Experience from the Whisper events and Helltides have been increased substantially.
Whisper caches will now adhere to the item slot of the cache. If you open a boots cache, you will get boots.
Helltide chests now have an icon on the map to indicate their type. It will be much easier to see where rings, weapons etc. are found, depending on what you are looking for.
User Experience (UE) and User Interface (UI) changes
When I criticised the speed in which Season 1 launched, one of my main points of contention was the UI, especially around inventory management. I wasn't the only one grumbling about this, and Blizzard are listening, with a whole section of the developer stream dedicated to the UI/UX changes being implemented with the Season of Blood.
Favorite and Junk markers now available to use in your stash and inventory. Favorited items cannot be sold or salvaged.
Aspect arrangement significantly improved, with extracted aspects now able to be grouped by Legendary Power when sorted.
Sorting of normal affixes on items has been improved to be more consistent.
Dungeon map tooltips associated with active Whispers will now display the Aspect name and Description earned when completing that dungeon.
Stash can now be searched and filtered to find your items more quickly.
Streamer mode will be implemented; you can hide identifying information such as character name or Battle.net tag.
Combat text is now hidable.
Auto-run has been added and can be bound to a key or button to move in the direction currently faced continuously.
Minimap has been zoomed out further to capture a wider area.
So what do we think?
I'm a self-confessed Diablo fanatic, but even I had to quit Season 1 of Diablo 4 due to the monotony and burnout. The things I loved about the game were overshadowed by the glaring issues with the delivery of Season of the Malignant. However, after taking a break, I'm ready to return for Season 2. The stream last night was amazing in both detail and delivery, and I was impressed by the improvements they announced. It was clear to me that the developers have not just listened to the community, but they've played the game themselves to identify and fix the problems.

I'm not expecting Season 2 to be flawless, but I'm confident that Diablo 4 is heading in the right direction. The developers will keep learning and improving to give us the best experience possible. After all, Diablo 2 and 3 were not perfect in their first year either, and it's easy to forget their flaws after years of updates. Diablo 4 will get there eventually, and I'm happy to stick along for the ride.

Season 2 will also bring new life to Diablo 4 with its release on Steam. Expect a deeper dive into Unique item changes, resistances, and more. I'm excited to sink my teeth, into Season of Blood on October 17.
Get the Windows Central Newsletter
All the latest news, reviews, and guides for Windows and Xbox diehards.
Jen is a News Writer for Windows Central, focused on all things gaming and Microsoft. Anything slaying monsters with magical weapons will get a thumbs up such as Dark Souls, Dragon Age, Diablo, and Monster Hunter. When not playing games, she'll be watching a horror or trash reality TV show, she hasn't decided which of those categories the Kardashians fit into. You can follow Jen on Twitter @Jenbox360 for more Diablo fangirling and general moaning about British weather.