With Diablo 4 season 2, Blizzard wants your blood. No, your actual real life blood
Win a custom PC infused with real blood, yes really.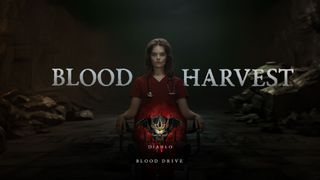 (Image credit: Blizzard Entertainment)
What you need to know
Diablo 4 launched its second season, the Season of Blood, on October 17 with a new Battle Pass and Seasonal Rewards.
Blizzard has introduced a unique promotion in which players in the United States are encouraged to donate blood to mirror the Blood Harvest ritual in the game.
Both donors and non-donors can unlock in-game rewards such as weapon cosmetics, an armor set and a mount, and players can also enter a sweepstake to win a custom gaming PC infused with real human blood.
The campaign runs from October 20 to November 20, with all in-game rewards being distributed on November 22.
The second season of Diablo 4 titled Season of Blood, is being marketed in an unusual and very literal sense — by asking for a sacrifice of your real-life blood for in-game rewards. No this isn't taking predatory microtransactions to the next level; it's actually for a very good cause.

Fans in the United States are being offered the opportunity to participate in a real-life Blood Harvest ritual. In this gruesome homage to the new season's story, players are encouraged to donate blood to save lives, mirroring the dark and sinister Blood Harvest rituals performed by Lord Zir, the malevolent antagonist of this season.

IRL Blood Harvest
In Season of Blood, players face off against foes known as Blood Seekers, who conduct Blood Harvest rituals to procure blood for their master. Lord Zir. Players must navigate treacherous areas, liberate prisoners, defeat powerful mini-bosses, and eliminate enemy encampments. However, in the real world, Diablo is giving die-hard fans a chance to turn 666 quarts of their own donated blood (equivalent to approximately 1,332 separate donations at 1 pint per donation) into exclusive in-game rewards, all while contributing to a noble cause.
Once the goal of 666 quarts of donated blood is reached, Diablo fans, regardless of whether they donated or not, will have the chance to enter a sweepstakes to win a custom-built gaming PC infused with real human blood in its liquid cooling system, so you can take the phrase 'fueled the blood of my enemies' very literally.
As the blood donation campaign progresses towards its 666-quart target, various in-game rewards, including weapon cosmetics, an armor set, and a unique mount, will be unlocked for all Diablo 4 players, regardless of their blood donation status, upon reaching specific milestones.

Tier 1: At 33% participation, all players will receive weapon cosmetics, including:
Dagger: Bloodpetal Anlace
Axe: Bloodpetal Sever
Necro off-hand: Bloodpetal Heart
Sword: Bloodpetal Blade
Druid Staff: Bloodpetal Bludgeon
Tier 2: At 66% participation, all players will receive the Tier 1 rewards, plus The Loch Raeth Maor Barbarian armor set.

Tier 3: At 100% participation, all players will receive the Tier 1 and Tier 2 rewards, along with the Vermilion Eye Piebald mount, and the opportunity to enter the sweepstakes for the custom real human blood-infused PC.
Image 1 of 2
The Loch Raeth Maor Barbarian armor set
Vermilion Eye Piebald mount
Real-blood infused PC
This grand and macabre prize will be awarded to one lucky winner as part of the Blood Harvest campaign's sweepstakes, which opens upon reaching the 666 quarts blood donation milestone and remains open for 72 hours.

The custom PC prize includes:
NVIDIA GeForce RTX 4090
Intel Core i9 CPU
64GB of DDR5 RAM
3 TB SSD Storage
Quantum Vector GPU Waterblock
Upon reaching 100% of the donation goal, whether on or before the campaign's end date on November 20, all tier rewards will be added to players' in-game collections on November 22.
Every player can reap the benefits of those willing to contribute to the Blood Harvest campaign, as the ultimate goal is to collect 666 quarts of blood, with milestone rewards for all. Talk about sharing the love.

You can read more about the Blood Harvest campaign here.
A bloody good promotion
I've been a huge fan of the Diablo 4 marketing campaign and its wild and outlandish methods from the start, from painting a cathedral ceiling to giving codes with KFC Double Downs and everything in between; this campaign is definitely designed to make an impact and is a great way to blend gaming with real-life philanthropy.

If I were in the US, I'd love to lend a hand (or should that be a vein) in the real-life Blood Harvest to reap both virtual rewards and the satisfaction of contributing to a worthy cause. Unfortunately, I'll just have to cheer on any friends across the pond who are willing to make this sacrifice. I'm enjoying the Season of Blood and the commitment to the theme, and I have already grabbed my Premium Battle Pass completely free through Microsoft Rewards. Keep bleeding the way for this fantastic campaign!

Get the Windows Central Newsletter
All the latest news, reviews, and guides for Windows and Xbox diehards.
Jen is a News Writer for Windows Central, focused on all things gaming and Microsoft. Anything slaying monsters with magical weapons will get a thumbs up such as Dark Souls, Dragon Age, Diablo, and Monster Hunter. When not playing games, she'll be watching a horror or trash reality TV show, she hasn't decided which of those categories the Kardashians fit into. You can follow Jen on Twitter @Jenbox360 for more Diablo fangirling and general moaning about British weather.