Flash deal: Razer's Limited Edition Xbox controller and charging stand receive a 60% discount for a limited time only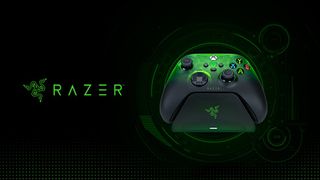 (Image credit: Razer)
When the Razer Wireless Controller and Quick Charging stand was released last October, I quickly pointed out that this Limited Edition controller looked great but was definitely for gamers with money to burn at $200. Today, however, I'm pleased to have found it at an incredible discount, $80, at GameStop. That's more than half off the price. You'll have to put your zip code in to see if it's available near you for pick-up or delivery, but I can't see stocks lasting long at this insane discount.

For $80, you are getting both the Razer Xbox Wireless Controller and the Razer Quick Charging stand, making this great value as the stands alone are $39.99, and coupled with a standard Xbox controller at $59.99, you would normally be looking at $100 for a standard, non-custom designed bundle.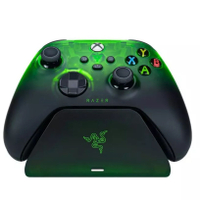 Not many third-party brands can use the Xbox wireless technology, so you're hard-pressed to find unique designs for wireless controllers outside of the console's own range, but Razer is one of the few allowed to put its stamp on the official Xbox wireless controller. Fans of Razer's green and black signature colors will want to add this snazzy controller to their collection.


We've reviewed the Razer Quick Charging stand previously, and it came out favorably in our tests despite its luxury price tag compared to other charging accessories. Your controller clicks satisfyingly into place with the magnetic strip, and a light indicates when your controller is charging and ready to be used again.

The USB type-A to type-C cable lets you plug the stand directly into your Xbox for handy charging that takes less than 3 hours to reach full capacity. The controller itself is of the high quality we've come to expect from Xbox's own flagship offerings, with the triggers, bumpers, and back-case featuring a texture grip finish.

If you're looking for a new, wired, or wireless controller, we have a guide to the best choices for Xbox on the market right now (spoiler: the Xbox controller is king).

All in all, though. this is the ultimate combo for Razer and Xbox fans alike and an opportunity to grab a limited edition piece of gaming gear at a savvy price.
Xbox controller deals: Amazon | Razer | Dell | Best Buy | Walmart
Get the Windows Central Newsletter
All the latest news, reviews, and guides for Windows and Xbox diehards.
Jen is a News Writer for Windows Central, focused on all things gaming and Microsoft. Anything slaying monsters with magical weapons will get a thumbs up such as Dark Souls, Dragon Age, Diablo, and Monster Hunter. When not playing games, she'll be watching a horror or trash reality TV show, she hasn't decided which of those categories the Kardashians fit into. You can follow Jen on Twitter @Jenbox360 for more Diablo fangirling and general moaning about British weather.