We asked Xbox fans to pitch their dream game: Here's what you said
You had a lot to say, from a Halo MMO to Recore 2.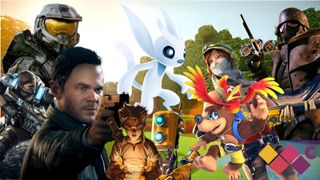 (Image credit: Windows Central)
What is your dream Xbox game based on a Microsoft-owned intellectual property (IP)? Microsoft has been on a buying spree in recent years, acquiring some of the biggest names in gaming, such as Bethesda and Obsidian, alongside recently trying to acquire Activision Blizzard. However, we have yet to see whether that will come to fruition.

Even without ABK, Xbox does have a vast and diverse portfolio of IPs. The possibilities for new and exciting Xbox games are endless. But what if you had the power to decide what game to make based on a Microsoft-owned IP? What studio would you choose to develop it? And what genre and features would you want it to have?
That's the question we asked our followers on Twitter, and we got some fantastic and creative responses. Here are some of the most popular and interesting requests:
Halo MMO, spooky horror, or a return to Bungie?
Halo is the flagship franchise of Xbox, featuring the legendary Master Chief and his epic battles against the alien Covenant. The series was initially created by Bungie, which was acquired by Microsoft in 2000. However, they split from Microsoft in 2007 and fulfilled their remaining obligations to the series with Halo: Reach in 2010.
Since then, the Halo series has been handled by 343 Industries, a studio created by Microsoft to take over the franchise. While 343 Industries has done a commendable job with the series, delivering games like Halo 4, Halo 5: Guardians, and Halo Infinite, some fans still miss the original vision and style of Bungie; not only that, but the studio has come under fire of late with repeated controversies.
While Phil Spencer has stayed firm, stating that 343 will always be the heart and soul of Halo, a Halo game by Bungie would be a dream come true for many fans, who would love to see the return of the studio that started it all. With Bungie's reputation for delivering stellar shooters, such as Destiny and Destiny 2, a Halo game by them would be a blast.
Mike Ybarra, lead at Blizzard Entertainment, suggested a Halo MMO and our imaginations are running wild with the possibilities. Imagine a post-war era setting, following the events of Halo 5: Guardians, in an open world spanning multiple planets and locations for players to travel between Earth, Reach Sanghelios, and beyond.
A Halo MMO would allow players to customize their characters and choose from different factions and classes. Will you be a human Spartan, an Elite warrior, or a Flood form? A Halo MMO would be an unusual direction for the franchise and effectively mimic what has been done already with Destiny. Still, it could honor the legacy of the games in its own way and create new possibilities for its future.
Halo was unsurprisingly one of the most popular suggestions for a genre-breaking diversion, another excellent suggestion being a survival horror based around The Flood. It seems many of you want to see Halo return to telling its darker tales.
---
Conker's imaginary remake
Out of left field came a few suggestions for a Conker remake. Initially created by Rare, Conker is a red squirrel with a bad attitude. He is known for his foul-mouthed, sarcastic, and often drunk personality and his involvement in various absurd and violent situations.

The first game featuring Conker was Conker's Pocket Tales, released in 1999 for the Game Boy Color. This was a family-friendly platformer that followed Conker's quest to rescue his girlfriend Berri from an evil acorn named, imaginatively, Evil Acorn.

The following Conker game (Bad Fur Day) is the one most Xbox fans are clamoring for a return to, making him the most notorious. In this iteration of Conker's story, he took a downturn to a mature rating. The game was praised for its humor and hilarious voice acting but perhaps a little crude and offensive for Rare today. Xbox made a toned-down version of the game in Live & Reloaded, but it's been a while, and Xbox fans certainly could do with injecting hubris into the current repertoire.
A Banjo-Kazooie game by Playtonic Games
Banjo-Kazooie is one of the most beloved platformers of all time, featuring a bear and a bird duo who go on whimsical adventures across colorful worlds. The original games were developed by Rare, now owned by Microsoft, but the series has been dormant since 2008's Banjo-Kazooie: Nuts & Bolts.
Many fans have been clamoring for a revival of the franchise, and who better to do it than Playtonic Games? This studio comprises former Rare employees who worked on the Banjo-Kazooie games and other classics like Donkey Kong Country and Conker's Bad Fur Day. They have already proven their talent and passion for the genre with their games, Yooka-Laylee and the follow-up Impossible Lair.
When Banjo and Kazooie joined Super Smash Bros, fans hoped this meant a remake was in the works, but we are still waiting for these adorable animals to return to our consoles.
---
Salivating for Xbox sequels
Three titles that always get mentioned in debates about Microsoft's original IP with untapped potential are Quantum Break, Recore, and Ryse.
Quantum Break was a game concept way ahead of its time, combining third-person shooter action, time manipulation powers, and a live-action TV show that panned out differently for each player, depending on their choices. It achieved cult status amongst Xbox fans, even most recently causing an outcry when it was temporarily removed from Game Pass.
If Xbox were to create a sequel, we're in no doubt that it would be much better received now, in an age where streaming services and interactive storytelling, ala Netflix's Black Mirror Bandersnatch, are the norm. Quantum Break also left several unanswered questions and unfinished stories, such as the origins of Lance Reddick's character Martin Hatch. While we'd never get a sequel with the great actor himself, we'd love to know more about his character.

Recore had its issues when launched, with technical problems and repetitive combat, but at its heart, it had a great concept and characters that would work well in a sequel, improving and learning from its predecessor's mistakes.

Ryse is another title cast to the wind after not meeting Microsoft's expectations. Still, its unique blend of historical fiction and action could appeal to a broader audience and offer something completely different from Xbox's current lineup.
---
A Fallout game by Obsidian Entertainment
Fallout is one of the most iconic RPGs of all time, set in a post-apocalyptic world where humanity struggles to survive in the aftermath of a nuclear war. The series was initially created by Interplay Entertainment, then acquired by Bethesda Softworks, which Microsoft now owns.
However, one of the series's most critically acclaimed and fan-favorite entries is Fallout: New Vegas, which Obsidian Entertainment developed. This studio was founded by former Interplay employees who worked on the original Fallout games, and they brought their expertise and vision to create a rich and immersive game that expanded on the lore and gameplay of the Fallout universe.
Whether it was a Fallout New Vegas 2 or simply having Obsidian working on Fallout 5, many readers were vocal with this suggestion. With Obsidian's reputation for delivering deep and engaging RPGs, such as The Outer Worlds, Pillars of Eternity, and most recently providing hits like Pentiment and Grounded, it's clear they've proved their worth as part of the Xbox Game Studios umbrella and a Fallout title would be a surefire hit from them. Unfortunately, we're sure they have their hands full with Avowed, and this one may be too big a dream.
---
Coalition to make a Deathrow sequel
Twitter user MasterPungeon, suggested a sequel to Deathrow, a game originally published by Ubisoft as an Xbox exclusive in 2002 and based on an extreme sport called Blitz.

Coalition is obviously well known for their work on the Gears of War franchise, for which we also had several interesting suggestions, but they could turn their hand to a competitive and futuristic sports game for the platform with violence and spectacle on a similar scale. They've already shown creativity and innovation with spin-off Gears titles like Gears Tactics and Gears Pop, and perhaps they have the potential to reinvent an old game like Deathrow for a new generation of Xbox gamers.
Xbox controller deals: Amazon | Razer | Dell | Best Buy | Walmart
---
An Xbox all-stars Kart racing game, made with Sega?
Sega All-Stars Racing was never able to compete with the success of Mario Kart, but it was a decent game with lots of beloved characters. Xbox has partnered with Sega before, so perhaps we could get an Xbox All-Stars Racing title? It would be a great way to add more family-friendly titles to the Xbox library, and this could be an opportunity to officially cement new characters like 808 from Hi-Fi Rush into the Xbox family roster.

How cool would it be to see 808 zooming past Ori, spirit flames are shooting out of his tailpipe? Or MasterChief facing off against Fallout's Vault Boy in a post-apocalyptic showdown? Or Banjo and Kazooie driving their jiggy-powered vehicles from Nuts & Bolts against a Sea of Thieves pirate ship on wheels?

Various Xbox worlds, such as a musical Hi-Fi Rush map, a dark Gears of War locust tunnel, or a colorful Ori and the Blind Forest forest could inspire the tracks. The power-ups could be based on different Xbox games, such as Halo's plasma grenades, Fallout's Nuka cola, or Minecraft's Ender Pearls that let you teleport across the track. The potential is limitless, and so is the merchandising opportunity.
Honorable mentions
There were too many ideas here for us to mention all of them, and it's fantastic to see the span of IP Microsoft currently already has under their umbrella, regardless of if the ABK deal goes through or not.
There are many more possibilities for new and exciting Xbox games based on Microsoft-owned IPs, such as a Perfect Dark game by The Initiative, a Doom game by id Software, etc. Yes, Scalebound was mentioned multiple times, but you guys need to give up on that fantasy.
You can check out the full tweet here and both the in-thread and quoted responses, but what is your dream Xbox game based on a Microsoft-owned IP? Let us know in the comments or on Twitter @WinC_Gaming.
Get the Windows Central Newsletter
All the latest news, reviews, and guides for Windows and Xbox diehards.
Jen is a News Writer for Windows Central, focused on all things gaming and Microsoft. Anything slaying monsters with magical weapons will get a thumbs up such as Dark Souls, Dragon Age, Diablo, and Monster Hunter. When not playing games, she'll be watching a horror or trash reality TV show, she hasn't decided which of those categories the Kardashians fit into. You can follow Jen on Twitter @Jenbox360 for more Diablo fangirling and general moaning about British weather.