Gerbil Physics up for sale again in this week's Windows Phone Red Stripe Deals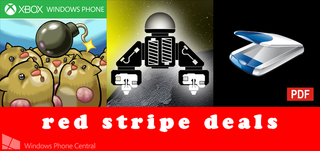 With no new Xbox game release yesterday, it's up to the Xbox Red Stripe Deal of the Week to keep players busy. Luckily it's a good one, though it did go on sale for the same price back in April. I speak of Gerbil Physics, the cutest physics game in creation, from indie developer Pencel Games. Gamers who missed it the first time around have another chance to blow up gerbils on the cheap, which I believe is something we can all get behind.
Following on Gerbil Physics' heels are the regular Red Stripe Deals. LunarX from InProcessout is a unique indie sci-fi game on sale for $1.49. For the same price, HD Scanner from Code Nomads lets you make high resolution document scans with your phone's camera.
Gerbil Physics (Windows Phone 7 or 8)
Regular price: $2.99 Sale price: $.99 Download size: 18 MB Store Link
If you're going to buy a physics puzzle game, it might as well have lots of cuddly gerbils. In this quirky title, the nefarious Toad King has captured a kingdom of gerbils in tiny spheres and blocks. To free them, you'll use bombs and other tools to knock each level's rodent population down beneath the goal line and into freedom. The art style and voices are just super endearing, and the Achievements are reasonably easy, too. Check out our review for more details.
LunarX (Windows Phone 7 or 8)
Regular price: $2.99 Sale price: $1.49 Download size: 18 MB Store Link
The classic arcade game Lunar Lander wasn't all that great, if you ask me. But it still continues to inspire new games like 6th Planet and LunarX. This one is based around the wacky premise of hidden space ships blasting out of Mayan temples in order to escape the end of the world. The player's ship malfunctions and crashes to the moon.
From there, you'll pilot a tiny and fragile ship around a assortment of 40+ lunar levels. The goal in each level is to reach the landing pad without running crashing or running out of fuel. Some levels also hold ship parts to find. These can then be used in the surprisingly deep ship editor.
LunarX isn't much of a looker, but the creative game design largely makes up for it. The developer also publishes a free, ad-supported version and a simplified but still free Kids version.
HD Scanner (Windows Phone 7 or 8)
Regular price: $2.99 Sale price: $1.49 Download size: 1 MB Store Link
Awesome and affordable though they are, not everybody owns a flatbed scanner. Even if you do have one, sometimes you might need to scan something while you're away from the home or office. That's where apps like HD Scanner come in.
According to the developer, this is the only Windows Phone scanning app that can produce true high resolution images. It packs great uploading options, with the ability to email images or send them to SkyDrive, Dropbox, and Google Docs directly from the app. It can even export images as multi-page PDFs. Not too shabby!
Paul Acevedo is the Games Editor at Windows Central. A lifelong gamer, he has written about videogames for over 15 years and reviewed over 350 games for our site. Follow him on Twitter @PaulRAcevedo. Don't hate. Appreciate!
Still gutted that cocktail flow was not reduced in the uk store.

Picked-up gerbils and scanner...scanning gerbils just sounds wrong...

Techiedude

I got its 200G last year. If was fun, with no real replay value.

Got Gerbil Physics for free with my first reward from Bing rewards. :D

A 1GB Ram app, wow great.

All,
What is the diff between HD Scanner and just taking a picture of a document with your camera?
thanks

damn...my Jamaican behind saw "Red Stripe Deals" and I immediatey said "Hooray beer!!"...but then I read the article and needless to say I was SUPER disappointed there wasn't a discount for Red Stripe and/or Red Stripe Lite. Booo!

A good scanning app must have Evernote integration. In fact, I don't think any WP app does.

Excellent price for Gerbil Physics; I think that's what I paid ages ago. Physics games are so overdone, but this one is a lot of fun, even on repeat playthroughs.

LunarX is a fun one, great red stripe deal!
Windows Central Newsletter
Get the best of Windows Central in in your inbox, every day!
Thank you for signing up to Windows Central. You will receive a verification email shortly.
There was a problem. Please refresh the page and try again.