Here is how to get trackpad gesture support for Windows 10 on a MacBook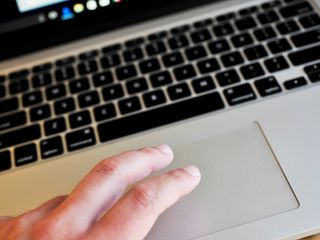 This morning, Apple updated their Boot Camp app to version 6.0 bringing support for Windows 10 in an official capacity. Granted, users could already use the previous version to install Windows 10 as we demonstrated in our how-to using a MacBook Pro (2015).
One issue many users have complained about though is Apple does not support or enable any gesture support in Windows. We recently outlined some of these gestures in our comprehensive article '9 touchpad gestures every Windows 10 user should know' for those with a Precision touchpad.
However, there is a way to get it back using a free, third-party app called Trackpad++. Indeed, not only does this app bring gesture support but it also adds many fine-grained controls to make that trackpad even better. Some of the features include:
2-, 3- and 4-finger gestures, such as pinch-to-zoom, back / forward, middle mouse button emulation, new Windows 8 gestures and much more
Dramatically improved 2-finger scrolling experience: Mac® OS X Mavericks-similar (accelerated / natural) scrolling model implemented
Improved pointer ballistics (i.e. how the pointer speed depends on the finger speed; comes with 6 built-in optimal presets)
Mac OS X-like 3-finger dragging, and classic '2-fingers with click' dragging, option to increase the pointer speed when dragging
User-customizable option to ignore the accidental trackpad input when typing, and many more useful tweaks / enhancements I recently installed this app this morning and so far, it is excellent. Here is how to get it working.
It should be noted that you need two apps to make this happen: Power Plan Assistant and the Trackpad++ software and drivers. The reason for this has to with needing a signed driver for 64-bit systems due to Microsoft's digital signature enforcement policy. The Power Plan Assistant evidently lets you install the Trackpad++ driver to override the one from Boot Camp. You still get a warning about installing it, but it should be overridden.
What is Power Plan Assistant? It is another free app the lets you toggle between balanced, battery saver and performance modes along with some shortcuts to some quick actions like logging off. I am not a huge fan of the app if only because I think it is a bit redundant and dated looking. Having said that, I do not see any deal breakers either. It does offer a snazzy battery percentage in the Task Bar, which many will like too.
Enable gesture support in Windows 10 on a Mac
1. Download both apps
Power Plan Assistant and Trackpad++ thru the project's website (FileCluster hosts the apps). Forgive the terribly dated GeoCities-esque web design. Power Plan was last updated on July 30, 2015, and Trackpad++ was updated today, August 13, 2015, so they are very recent. There are no ads or spyware in the apps.
2. Double-click to install Trackpad++
You will get a warning and this is expected
3. Click More Info near the bottom
4. Check I understand the risk and want to run this app and then click Run anyway
5. Continue through the installation process
6. Override the Microsoft's digital signature enforcement policy by hitting OK
7. Let the drivers install
8. Agree Boot Camp modifications
9. Reboot computer back into Windows
10. Double-click to install Trackpad++ and get the following warning
11. Click More Info near the bottom
12. Click Run anyway
13. Begin installation by hitting Next
14. Hit Finish
15. Hit Yes to install the driver
16. Select Install this driver software anyway on warning screen
17. Hit OK when completed
Trackpad++ should now be installed and running in the notification area in the lower-right corner. Double-clicking it opens the configuration window.
Here is where you can see all of the settings. There are many, so take your time to configure to your liking. If you are a PC user, here is what I recommend for some basics.
Recommended Settings (for PC users)
Disable Invert scroll direction to make the Mac feel like a PC
Enable Turbo Mode
Right-click in Bottom Right Corner
Enable Edge Gestures (two-finger swipe brings up Action Center)
Three-finger Swipe Up = Task View Toggle
Three-finger Tap = Start Menu Toggle
Three-finger Swipe Down = Minimize App Toggle
Swipe Back/Forward Navigation
Invert Swipe Direction
Accelerate Scroll
You can, of course, configure all the gestures for the rest of three and four finger gestures, of which there are plenty.
One downside to this setup is the Trackpad++ Control Module needs to be updated weekly. As noted by the developer:
Overall, if you are considering using Windows 10 on a Mac or picking up a Mac to run Windows 10, you will want to consider seriously using Trackpad++. The app is free, although you can make a donation to the developer to help support the project, which I recommend. Using the app all but completes the Windows-on-a-Mac experience and is worth giving a shot.
For more basic info on Windows 10, including some tips and our vast array of how-to articles, make sure you head to our main Windows 10 help page or jump into our forums!
Windows 10 help, tips, and tricks
Thanks, Thomas Nigro, and Nic, for the tip!
Windows Central Newsletter
Get the best of Windows Central in in your inbox, every day!
Daniel Rubino is the Editor-in-chief of Windows Central, head reviewer, podcast co-host, and analyst. He has been covering Microsoft since 2007 when this site was called WMExperts (and later Windows Phone Central). His interests include Windows, laptops, next-gen computing, and for some reason, watches. Before all this tech stuff, he worked on a Ph.D. in linguistics, watched people sleep (for medical purposes!), and ran the projectors at movie theaters because it was fun.
Or buy a laptop designed to run Windows.

Or don't. Unless you really recommend OS X users buy a second laptop, which seems like one of the dumbest ideas I have ever heard here. If you are looking for a premium laptop, I see nothing wrong with picking up a MacBook Pro or any MacBook except for cost considerations. I'm using this 15-inch Pro regularly and like it a lot, mostly due to battery life and the quality build of the hardware.

"I see nothing wrong with picking up a MacBook Pro or any MacBook except for cost considerations." No touchscreen support, no versatility of 2-in-1 designs, and, to be fair, those "cost considerations" are pretty considerable.

Well, cost considerations and the fact that they run OS X. I don't see the point in buying one. High end Windows laptops aren't really that far behind in terms of technology, if at all. But well. Also, I've never seen anyone with a Windows laptop have a need to run OS X or their programs.

Pretty common in a lot of creative fields, particularly music and video production, design, and scientific research to "need" OSX. Other people just value simplicity and stability over saving a few bucks. In any case, a Mac makes an excellent Windows machine, though touchscreen and 2-in-1 designs would be nice!

Actually the opposite is true for Scientific research as far as I've seen. Several of the applications I've come across that are still being used haven't been updated since XP was still being updated. In fact, I'm having to run them in a virtual machine because I don't feel like dual-booting XP just for that one application. Also, where I work they've purchased nothing but Macs. The problem is, all of the resource intensive applications need windows to work, and only mundane things we don't really need are done via OSX. They refuse to dual-boot, so those resource intensive applications are run in a virtual machine (where performance is hindered). No matter how much Apple wants to convince everyone of the opposite, Windows is still essential for most professional settings. (For the record, Apple still has a leg up in the Audio world, but Windows is catching up)

You need to be happy and smile Rubino, I will pray for you, I will pray so god can give you the peace and love you need in your heart. not that iced thing you are having in your chest, I am sure you keep freezing it everyday so it gets colder. Don't get lost in the shadows, better find the light and happiness. Look at the guyde, it's next next click click error, more info, run it click click. so I guess this person just thought, why would a person want to buy a mac with osx and do all this to run Windows on it? it's people choice, true. but this person is not wrong either, you either. At least 3 uses that decided to break the rules and use bootcamp will be happy to know the tip... long tip tutorial. at least their problem about not having Windows 10 gestures on a mac have a fix, unlike your mood and dark heart. But I hope you have a fix too Rubino.

I know right. This guy has some serious attitudes.

When somebody don't agree with you, would that means he has attitude already? He didn't even say any words that many people used here. Rubino just made the conversation more alive and not boring by disagreeing with you and explaining his side.

Gosh, when did people here stop being adult about things. Daniel did not write this piece for people that do not have Macbook Pros. It is written for Macbook Pro owners that want the best of both worlds. And no, simply saying "buy a better computer" is not a good response. It is juvenile and immature. Can you imagine if everyone did that here? If any article is written about any Lumia or Microsoft phones here, the response would always be, "buy a better phone". Dumb. Oh by the way, for someone like me that own a Macbook pro, this tutorial is invaluable. Thanks Daniel for writing it, This article has been bookmarked.

Thanks! Glad you liked it. Kind of neat having all of these gestures, makes using a MacBook even better.

My main complaint about Boot Camp has always been trackpad support, it was never as good as in OSX. Gonna try this over the weekend, I really like Win10, makes OSX Yosemite feel slow and heavy.

"I see nothing wrong with picking up a MacBook Pro or any MacBook ..." This is part of a bigger problem.

You're right. PC makers need to continue to step up their game. Dell and HP are making strides, and of course, the Surface series. Hard to find a 15-inch though as good as a MacBook Pro. I'm looking forward to the new thin bezzeld Dell XPS 15 later this year.

HP Omen 15, Asus Zenbook pro, Asus ROG, Lenovo Y50-70, Dell XPS 15 and there's a couple more.

Well, my thing with this is emulation, basically people are buying a Mac which has an OS and ecosystem which is considered to be good, but they have to resort to emulation (I take it's how Boot Camp works, I'm sorry but I don't know that much about it, it could be virtualization) to use programs from the most used OS out there, which is Windows. And that's what I'm saying. Apple laptops are said to have great builds and to be top notch hardware. But the purchase of a MacBook comes together with the OS, the tech support, etc. I fundamentally see as a flaw of the whole package that any user wants or needs to resort to booting into a version of Windows to use software or games. Does anyone actually buy a MacBook for their build quality and specs, and then outright puts Windows in it as a main OS? I somehow don't think so. Then why do people do this? Isn't like settling for the lesser OS? What I'm saying is: if you want Windows, use Windows. And this rules out the point of buying a non-Windows computer. Just that.

It's not emulation, Boot Camp installs Windows (or Linux) so that it runs directly on the hardware, like OSX does. When you turn the computer on, you cna hold the Alt button to select what OS to boot. I have a Macbook, and like it for the whole package, however, I'm not above putting Win10 in it, it's really good and right now I feel it's the better experience.

i agree there are a lot of windows users buy macbook for its hardware quality and design that they can't find in other windows based products which tend to emulate the design of apple, which i think only seem to make apple's design originality more desirable. apple should be more supportive for crossing OS than making drivers that intentionally limit certain capablities. there is no reason to block onboard iris graphics and touchpad gestures for bootcamp.

I hope you guys you love your PCs that made by Apple Inc. :D

don't have MacBook , but good to improve knowledge . Thank you

Great write up but it's worth emphasizing that these apps need to be updated weekly in order to continue working properly.

True, will mention that as well. Thanks.

If I remember correctly, the donation removes that "limitation"

I don't see that written anywhere but will try to find out. Could be worth it if true.

Now why would the drivers not be signed by microsoft. I smell something fishy...

Security issue with 64-bit systems. Been there for a long time and not new. Developers can PAY to get them signed, but it is expensive for free software that is rather niche.

Yeah this is the main thing holding me back from getting a macbook pro and installing windows 10 on it.

I use it without installing "Power Assistant", only Trackpad++.

Interesting. I may try to remove Power Assitant. Then again, I like some of the shortcuts too.

I don't think that will work on a 64 bit system. It will on a 32 bit system, though.

That's okay because Minecraft: Windows 10 Edition now works on 32-bit systems too. So, all is well.

I have a friend who has a MacBook with dual boot Windows and OS X. At first I thought it's stupid. But then I realized he has some things that needs to be done in Mac and he needs things to be done on Windows. He can have them both in one device with very good hardware than buying 2 devices (MacBook and Laptop).

This is one reason why I'm debating getting a macbook pro as well.

Am I reading this correctly? Mac book users have complained about a function in Windows they couldn't use? Wtf. :D

Well, if you are going to use Windows you would at least want some gestures. Simple scrolling and clicking misses a lot of neat shortcuts to be more productive ;)

I was having this installed for a a couple of weeks on Windows 10 but uninstalled now. You need to warn people though about the Test Mode watermark that will appear on the bottom left once TrackPad is installed. The reason is it uses unsigned drivers so the device has to be put in to Test Mode as part of the installation.

Daniel, will this allow for mac hot corners as well? Thanks

So in the past I actually donated to this developer, and installed both apps on a macbook pro I don't own anymore, but that powerplan app really spooked me, especially because I was using my macbook for work purposes. I have a Dell Inspiron 13 running windows 10 and while i like it, the track pad leaves a lot to be desired, which is one of the main reasons I loved the macbook. I'm debating brining this back for a 13 inch macbook pro, but the lack of trackpad gestures have held me back. That said, anyone have similar concerns about powerplan or have any details about this developer? (I know Daniel said there was no spyware/adware in it) but I tend to be very picky/cautious about installing any 3rd party apps such as this.

Yeah me too. The donation part was kinda dogdy since it was actually advertised as a free app but you kinda have to 'donate' to unlock certain functions. And honestly with the weekly update being a must, I am becoming suspicious of this app even more. I'd rather just use a bluetooth mouse. Also uninstalling the Power plan app was hard because there's no executable for it and you can't do it from the Control Panels program uninstall (I forgot the name of it)

Thanks for posting this Daniel. Another well written article. I will try it with my IMAC and super pad and see how it works. Posted via the Windows Central App for Android

i am on the late 2014 MBP, what kind of battery life should i expect on windows vs the 10 hours i get on OSX ?

Boy this seems SO sketchy, untrusted/unknown publisher with a system level app that MUST check in every week to its command and control servers? How good are these features anyway, I don't mind my trackpad in Boot Camp the way it is...

Great tips, great drivers, thanks a ton)) BTW they started to offer the Microsoft signed trackpad++ driver. Currently only to donors, though. With signed drivers the security concerns should be gone.

I like thsi tip cause I'm using macOS on my MacBook Pro at home for Msuic, Videos, watching TV shows I've bought on iTunes and so on. On my Wndows 10 partition I've installed MS Office for PC, the Creative Cloud and more stuff like that. I take my MacBook to work and when I'm done working I have all my private stuff after a simple reboot that takes just a few seconds. But I can't access my private stuff when I'm at work, so I can focus on what I'm doing. But on Windows I've missed gestures.
Windows Central Newsletter
Thank you for signing up to Windows Central. You will receive a verification email shortly.
There was a problem. Please refresh the page and try again.