How to put Windows 10 on a MacBook Pro (late-2016)
By Daniel Rubino last updated
There's no denying that Apple makes great hardware, and the MacBook Pro is no exception. Especially when it's running Windows 10.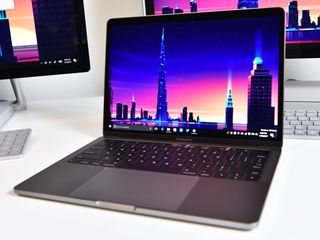 Apple finally refreshed their MacBook Pro lineup in late 2016 with refreshed designs, a new Touch Bar and many controversial decisions when it comes to ports. Despite most reviews being ho-hum about the new hardware many users are still tied to the Apple ecosystem and feel obliged to continue with their hardware.
Nonetheless, if you do have a new MacBook Pro, you can still try the zesty new world of Windows 10 for free and little effort. Today, I'll show you how to do that and give you some tips on what to expect!
Update 29 January 2017: With new MacBooks comes a new guide. With Touch Bars and giant trackpads, there's now more to configure for an optimal Windows 10 experience.
Why Windows?
Apple knows the allure of Windows and PCs, which is why they build Boot Camp right into the OS. Boot Camp lets macOS users create a partition and install Windows directly on a dual-boot system. Seeing as that Apple hardware is just a refined (and pricey) PC, any modern Intel-powered MacBook from the past decade can run Windows.
One of the main reasons Mac users want to use Windows is for the superior gaming experience. Additionally, there are still many Windows-only desktop apps that some users may want or need to run. Finally, there is just the allure. Windows 10 is making many headlines these days and what better way to nab some Apple fans than with a (virtually) free new operating system?
Apple makes the process of installing Windows 10 very comfortable. In this video, I'll show you how in about 45 minutes, you can load Microsoft's latest OS on any new MacBook Pro.
In this case, we are using a 13-inch late-2016 MacBook Pro with 512 GB of storage, Touch Bar, and Intel Iris Graphics 550 for the article. In the video posted below, we're using a mid-2015 MacBook Pro 15-inch with Intel HD graphics. Nonetheless, the same principles apply.
Installing Windows 10 on a new MacBook Pro is very easy. You need two things to get started: a USB drive with at least 4 GB of space and the Windows 10 ISO.
Of course, you should also back up macOS just in case.
How to get the Windows 10 ISO
Plug your USB drive into your MacBook.
In macOS, open Safari or your preferred web browser.
Go to Microsoft's website to download the Windows 10 ISO

(opens in new tab)
Select your desired version of Windows 10.Most users should choose Windows 10 or Windows 10 Single Language ISOs.Note: The KN and N versions just have reduced (non-baked in) media capabilities due to legal challenges in South Korea and the European Commission from a ruling in 2004. They are best to skip.)
Click Confirm.
Select your desired language.
Click Confirm.
Click on 64-bit download.
Save the ISO onto your USB drive. It is a large file (around 4GB), so the download may take a while depending on the speed of your internet connection.
How to set up Boot Camp and install Windows 10 on a Mac
Before continuing with the next steps, save anything you're working on, complete a backup of your Mac, and quit all running apps. Leave your ISO-carrying USB drive plugged in.
Open the Boot Camp Assistant app. You'll find it in the Utilities folder in Applications.
Click Continue. Boot Camp Assistant will automatically locate the ISO file on your USB drive.
Click and drag on the partition slider to adjust how much space will be allocated to the Windows partition.By default, 49GB will be set aside. You can leave the majority to macOS if that is your primary OS, or give most of it to Windows 10 — it's up to you, but you cannot resize the Windows 10 partition at a later point without deleting the entire Windows 10 install and starting over.
Click Install to start the process of partitioning the drive and installing Windows 10.You computer will restart automatically and without warning. You may see a black screen for several seconds as the partitioning process takes place. After the partitions are set, the Windows 10 installation will begin. The display drivers will not yet be scaling Widows 10, so everything will be tiny (we'll fix this later in this guide).
Select your language, number formats, and keyboard if prompted.
Click Next.
Click Install Now.
Enter your product key to activate Windows 10. If you do not have a product key, select "Skip" instead.
Select the Windows 10 version you want to install. Most users will be fine with Home instead of Pro.
Click Next.
Accept the license terms
Click Next.
Select the partition labeled Drive 0 Partition X: BOOTCAMP and that its size matches the size you set earlier with the Boot Camp Assistant. Do not select any other partition, as you could overwrite your macOS installation.
Double check that you've selected the right partition.
Seriously. Drive 0 Partition X: BOOTCAMP. Nothing else.
Click Format. The Windows 10 Installer will reformat the partition.
Click Next to begin installing Windows 10.
Follow the on-screen prompts to install Windows 10. It will take several minutes to copy the Windows 10 files off the USB drive and install the OS.
The computer will reboot after finishing installation and prompt you to again enter your activation key.If you do not have an activation key, you can instead click "Do this later". You do not need to Activate Windows 10 to install it, but you can activate later.
How to set up Windows 10 on a Mac
Set up your Windows 10 Account. You will have to enter a username, password, and password hint.Windows 10 will then set up the account and install some additional files, which will take several more minutes.
On first boot, the Boot Camp Installer will open in Windows 10. Click Next.
Accept the license terms.
Click Install. This will install various drivers and bits of software to ensure compatibility with the MacBook Pro's hardware, including the display, trackpad, and Wi-Fi.
After the installation is finished, click Finish.The new Boot Camp app will be in the Windows 10 taskbar. With this app you can reboot back into macOS and change some settings for the keyboard and trackpad.
How to update Windows 10 on a Mac
Although you are downloading the latest version of Windows 10, you want to do an immediate update. Doing so will get you the most recent security updates and the necessary Intel Iris Pro graphics drivers for the computer. This update fixes any graphics stuttering you may have noticed.
Click on the Start menu.
Click on Settings. It is the gear icon in the left column.
Click on Update & Security.
Click on Windows Update.
Click on Check for updates. Windows will automatically search for, download, and install any available updates. You will likely have to restart your computer when prompted to complete the installation.
How to update Windows apps on a Mac
In Windows 10 many of the core apps like Groove Music, MSN News, Weather, and more are Windows Store apps. These are updated through the Windows Store.
Click on the Start menu.
Click on the Store button.
Click on the user icon in the top right corner.
Click on Downloads and updates
Click on Check for updates. The Store app will automatically download and install any available updates.Note: The Store app itself may receive an update, and it will automatically close itself to install the update. If this happens, simply reopen the Store app and it will continue to install the remaining updates.
How to reverse trackpad and mouse scrolling on Windows 10 on a MacBook
If you use macOS, you are likely accustomed to the way the trackpad scrolls. Apple calls it "natural" scrolling, where dragging two fingers up on the trackpad scrolls the content up on the display. This is the opposite from most PCs (and mouse scroll wheels), which typically use "inverted" scrolling (drag down, scroll up). You can fix that on the MacBook by using a registry modification (directions originally found on waded.org)
Click on the Search bar on the left side of the task bar.
Type Regedit.
Press Enter.
Answer Yes to the security prompt.
In Regedit expand the folders on the left through HKEY_LOCAL_MACHINE \ SYSTEM \ CurrentControlSet \ Enum \HID.
Under HID, you'll see some folders that start with VID. Expand each VID folder to Device Parameters. (Note: only one VID folder has it, so you have to try them all.)
Click each Device Parameters until you find the one that contains FlipFlopWheel in the right pane.
Double-click FlipFlopWheel.
Change the value from 0 to 1.
Click OK.
Repeat steps 5-8 for FlipFlopHScroll.
Close Regedit.
Restart Windows. Logging off and back on does not enable this entry.
Alternatively, you can download the free app flipflop-windows-wheel from GitHub that automates this task. Just download the file, run it and hit 'Flip.' Once again you need to reboot (not log off) to make the settings work.
Use Trackpad++ for a real Windows trackpad
Although you can reverse the scrolling by using the methods above, you won't get Microsoft's trackpad gestures like 3- and 4-finger taps. That's unfortunate, as those gestures by default are used to call up Cortana and the Action Center respectively.
Luckily, there is a free third-party app called Trackpad++ that lets you add those gestures and more through a very easy user interface. Trackpad++ has been updated to support the late-2016 MacBook Pro, giving users the following abilities:
2, 3 and 4-finger gestures, such as pinch-to-zoom, back / forward, middle mouse button, new Windows 10 gestures, and more
3-finger drag with unique option to increase the pointer speed when dragging (classic '2-fingers with click' drag also available)
User-customizable option to ignore accidental input when typing, and many more useful tweaks/enhancements
Improved 2-finger scrolling experience: accelerated / natural scrolling model is implemented, and 3 optimal presets provided
Improved pointer ballistics (i.e. how the pointer speed depends on the finger speed, comes with 6 built-in optimal presets)
Trackpad++ Control Module for adjusting the trackpad settings. All possible settings put together conveniently, see screenshot
Full, native support of the Microsoft Windows 7 (32-bit / 64-bit), Windows 8 / 8.1 (32-bit / 64-bit), and Windows 10 (64-bit)
As a hardcore Windows 10 user, I think Trackpad++ does a solid job of approximating native Precision Touch gestures and the feel of a native Windows 10 machine. It's not perfect, and sometimes there are quirks, but overall it's a fine experience.
You can read more and download Trackpad++ from their website. If you're already a Windows user, I highly recommend using it (and donating to the project if you rely on it).
So How Is It?
Overall, Windows 10 runs fantastic on the MacBook Pro (late-2016). Battery life is great, performance is outstanding, and there is nothing that doesn't work. Even the trackpad experience is quite solid. Heck, even Cortana and the voice-activated Hey Cortana work as well.
How to enable 'Hey Cortana' in Windows 10
From my experience, if you wanted, you could make this a primary Windows 10 machine, albeit a very expensive one.
However, if you are already a Mac user and are curious about Windows 10, I see no reason to not download the Windows 10 ISO and give this a shot. As a warning, older Apple hardware may have more complications, but newer devices should be A-Okay.
Stay tuned for my full experience write-up of using Windows 10 on the MacBook Pro including some more tricks.
More Info!
If you are an Apple and Mac user make sure you check out our sister site iMore for all of their Windows 10 info. It is the best spot to ease your way into the Microsoft world if you mainly use macOS.
Windows 10 on Mac: Help and discussion forum
For more basic info on Windows 10, including some tips and our vast array of how-to articles, make sure you head to our main Windows 10 help page or jump into our forums!
Windows 10 help, tips, and tricks
Daniel Rubino is the Executive Editor of Windows Central, head reviewer, podcast co-host, and analyst. He has been covering Microsoft here since 2007, back when this site was called WMExperts (and later Windows Phone Central). His interests include Windows, Microsoft Surface, laptops, next-gen computing, and arguing with people on the internet.
I will try this if I feel like leaving Yosemite.

Can you bitlocker the windows 10 c drive?

yes. mine actually displayed a flag that I have not applied bit licker, l folloewed the prompts and it its thing.

Get Macbook pro and install W10, or wait for Dell XPS15?

Tough one. MacBook gets better battery life, by a lot IMO. Also, the build quality is higher with the Mac. However, you don't get 4K (if that's your thing) or a touchscreen (also, if that's your thing). In using both and if money was no object (Mac is pricier by a few hundred) then I'd go MacBook Pro. I'll probably write more on this next week, you know, to tick off some people here, lol.

Dan, keep in mind that on Windows (from a Mac) you get about half the battery life due to poor drivers from Apple. So the XPS will be a superior experience in that regard.

If this is the case I definitely have not witnessed it. Quite the opposite, in fact. All the drivers e.g. Iris Pro came from WU and Intel. I have been getting phenomenal battery life.

Not with a Macbook that has discreet graphics like mine as switchable graphics does not work in bootcamp. I have the top spec 15" with nvidia gaphics. It'll use the Nvidia graphics all the time. If you somehow manage to find a fix for this, please let us know.

the discreet graphics is one reason I didn't opt to buy that model as you are correct, it has driver issues. can't help there, sorry.

Does the 3 finger gestures work under bootcamp? I don't see that option in the picture above. My MacBook Air 2012 had horrible battery under Windows 8.1. Might give it a try on Windows 10.

Unfortunately no. Any gestures does not work on the trackpad in bootcamp.

Install Trackpad++ for a wide range of 2+ finger gestures, like three finger side swipe to change desktops, four finger up swipe to open Task View (both very much mimicing OSX features) and three finger tap to open start menu. Also try SharpKeys for ctrl/cmd key swap and if you're on Bootcamp take a look at rEFInd for easy (and skinnable) boot select on startup.

I've been running W8 and W10 on my early 2011 MacBook Pro and I love the combination. Though battery life is really not as good as under OSX, the hardware runs much hotter too. These three tools add a lot to the combination:
1. Trackpad++
3+ finger gestures like 3f side swipe to switch desktops and 4f up swipe for task view (both mimicing OSX) but also 3f tap to open start, etc. 2. Sharpkeys
Swap left CTRL and CMD keys so most keyboard combinations are physically the same under both OS installs. 3. rEFInd
Easy and skinnable OS selector menu on bootup.

So you're saying buy a more expensive MacBook to run Windows 10 instead of a proper Windows PC?

No, I'm saying it's your money, use it as you wish. However, if you like Apple hardware and the MacBook Pro for 2015, feel free to run Windows 10 on it and use it. It's a fine machine. Whether or not it is worth dropping $2k on it is a personal decision. Clearly, not everyone can afford such hardware, which is what makes the PC market nice. At least for $2k you are getting a very powerful laptop and two operating systems. For some, that's a big deal (I'm thinking of developers, video editors, or IT).

You are probably right on build quality, but I have to say my sp3 is high up there in build quality. plus I can not imagine myself not having touch anymore and win10 have made using touch, keyborad, trackpad and mouse at the same time a very pleasant experience and don't forget the pen, I write with it naturally now using onenote like you will not believe. I have to say that meft is using win10 to make a strong case for 2 in 1 devices with good build quality like sp3

My rMBP 15" is the best Windows machine I have ever owned. Not sure why I need a PC when I can have the best of both world on one machine.

Wait. All of the buttons along the top have dropped working with Windows 10, including keyboard backlight which is annoying. Even fn+delete doesn't delete anymore, just backspaces. Waiting patiently for Apple to update their drivers... :/

As I show in the video, my brightness and volume keys work just fine.

You need to re-install Bootcamp. The keys tend to stop working when a new Windows 10 build is released..

Get into osx,reinstall/redownload bootcamp drivers to a usb drive. Switch back to WIndows and find the folder with the bootcamp drivers. Install the drivers manually.

Maybe wait for surface pro 4?

I would say get the Dell XPS15. Been running win10 TP on my Dec 2013 MBP. Run like a dream but without touch screen in (2013, and now 2015) annoys the hack out of me. Would have gotten the Surface Pro 3 if it had been released early.

I've been using Windows almost exclusively on my Macbook Pro 13 for a year now. I only switch to OSX when I need the battery life (about 10 hours vs 4 in Windows). Recently upgraded to Windows 10 from 8.1, but found that the keyboard controls for volume and brightness don't work anymore. Anyone have a solution to this?

Wow such battery life difference because of the OS? Interesting

Unfortunately, Apple does not provides access to the non-powerful GPU (Intel HD 4000+). Therefore, it's like driving your car with 4x4 on all the time, even in situations not required.

Yeah, I avoided the AMD GPU version of this laptop because I heard the drivers aren't there (not sure), so just went with straight Iris Pro, which works great. Gaming on this thing is blast and even Xbox stream works well.

Are you able to switch between discrete and non-discrete GPUs?

Dunno. Just use whatever is there by default. Performance is great, no stutters. Halo: Spartan Strike with Xbox controller is fantastic. This is by far one of the fastest PC laptops I have used.

The Macbook Pro 13 only has integrated graphics, so graphics switching is not an issue (Iris 5100). It was a big reason why I went with the Macbook at the time, because Windows OEMs that made 13-inch notebooks back in May 2014 were still stuck on Intel HD 4400...

Yup, and the 15-inch is like that too, although there is a higher-end version with an AMD GPU. I'm using the Iris Pro for this video.

That's strange because I get all day use use with my surface pro 3......8.5-9 hours. I work 11 hours a day. I guess I'll have to setup a camera and post it on YouTube for people to believe.

I had said this above, but should be same here. "You need to re-install Bootcamp. The keys tend to stop working when a new Windows 10 build is released.."

Same happened to me. I reset my MBP, under setting, recovery, reset... and it's all working now. It is fast, but you will have to reinstall some apps. Also, try to clean up older versions of windows if you have not done so.

People at work ask for MacBooks all of the time. Say they need it to do their work. Developers and UI designers. Little did IT know, they would just install Windows on them. The lot of them. Sigh, not good for budget when they could have better spent that money if they actually needed a PC.

Haha, that's why our it only supplies touch enabled devices from dell, hp. Macs require leader approvals which are hard to come by. Once used to touch devices ppl stop asking about Macs.

That is a really lousy strategy.. As far I'm concerned, a Dev will work in the platform that has better tool support, and in this case, because almost everyone develops in Macbook (usually with Linux too), the tools available which are not commercial, tend to be better to find for Macbook/OS X.

On the day of release I've done it on a MacBook white (early 2008)
Whahaha

more fun.... we had a few 2007 and 2009 imacs and an older mac pro (xeon based) in office that were retired as OSX ran like garbage (we needed Yosemite due to certain apps) well, the 09's were cake, BUT bootcamp only gave me a "insert windows 7" disk option. So, i proceded with a windows 7 disk, upon reboot swapped it with windows 10 (insider preview) and it runs GREAT! the 07's and mac pro needed the windows 10 iso modified in order to boot them (if not, you get a select 1 2 message on screen), but after that, they are both on 10 as well, and the mac pro runs like a beast. now for a #ninjacatmountingapple sticker ( http://i.imgur.com/1P4sX9L.gif ) to stick on them :)

Yes but my MacBook white (early 2008) runs the final builds :)

The only difference, there's no Windows key on its keyboard ;)

Yup, although the Command key acts as a Win key, so it's a superficial complaint ;)

I'd make little Windows stickers to replace the ugly Command icon

lol, will see. I doubt that'd hold up after use.

Command/CMD? The command key logo is great! It is a Swedish symbol that Apple decided to use a long, long time ago ... "was derived in part from its use in Scandinavian countries to denote places of interest" https://en.m.wikipedia.org/wiki/Command_key Disclaimer: Yes, I'm Swedish, so I am biased in liking it, lol.

Mac users use windows for superior gaming? Is alienware dead?

"Mac users use windows for superior gaming? "

Superior gaming compared to OS X, not other laptops. Gaming on a MacBook Pro is the same as gaming on any Intel PC, although the specs on the MacBook (fast SSD and Iris Pro graphics) are slightly better.

I'm actually more curious as to what the wallpaper is in these screenshots.

I'm seriously not going to post any more screenshots since this is all people ask, lol. I understand the request, but I cannot each time put in my wallpaper into an article. Just do what I and millions of others do and use Deviant Art. Thanks!

Its time you all did a story on your Top 10 Wallpaper for Windows 10 :P

That's actually quite interestibg

Where can i get that wallpaper

I'm doing this as soon as I get home!

Im convinces. This is a damn good site. All these how tos will help grow your userbase. Keep it up windows central

Thanks! We figured what better way to explain this than us as we know the OS pretty well. I'm not sure many Mac users know how easy it is to use this OS, may help Microsoft in the long run. Having said that, I do like Apple's laptops on occasion ;)

Can you help me out please??
My right click (with my MacBook white early 2008) doesn't work on windows 10... How do I fix that or what are the alternatives for right clicking???

Should be an option in Boot Camp. See the above photo in the article for it.

Nope i searched every where... Can't find it.. Do you know a second opinion?

Madness!! If you have a Retina Macbook Pro, you should set the zoom setting to 150%. You can manually change Edge to 200% if preferred.

Eh, it's user preference. I like 200%. Maybe I'm just old.

It actually looks good tbh but surface still is better

Depends. Not sure I'd compare a 15-inch laptop to a Surface; different beasts for different days. For sure, both are great, but each has their pros/cons.

One thing that they won't notice is the vertical only swipe in tablet mode

I don't like apple at all. My cousin brought one long time back and I took it from first day but after two days I gave it back to him uninterested in it anymore. But Dan you are making me raise my eyebrows here man. It kinda looks cool would love to check iy out on MacBook pro.

It's a phenomenal piece of hardware. I'm not a fan of OS X, but Windows 10 on here is fantastic.

Apple is all about their hardware everything else is just meh!

Do you think you could provide some more exact figures on the battery life? I'm trying to gauge whether upgrading from windows 8.1 has ruined my battery life and if I should do a clean install of windows 10 because ever since I installed Windows 10 Pro on my 2015 13" Macbook Pro i5, 16GB RAM, 128GB SSD the batery life has just not been very good. I originally had windows 8.1 and the battery life was alright, not as great as OSX but still good, but after upgrading to windows 10 I just feel my battery dies so quickly (i.e. if I play movies for 2-3hrs the battery is already down to 50% with battery saver on the whole time whereas on OSX it would still be in the 70-80% range and windows 8.1 would be in the 60-70% range without any battery saving settings).

I'll see what I can do over the next few days. Did a fresh install of the OS yesterday for this video, so need some time to settle in again.

The problem is apple hasn't updated their drivers to make sure the Mac keyboard keys like volume or brightness work. They're not working on my boot camp. And the bootcamp app is glitched sometimes. (this is happening on different computers.)

I show in the video it's working on my device, volume and brightness.

Would this work the same for an early 2011 13" MacBook Pro? I'm wondering for my friend who likes windows on my SP3

Yes it works;) I've done it on my MacBook white early 2008 so I'm pretty sure it also works on your MacBook!! Have fun!

So long as it has Intel hardware, then sure. Mileage may vary, but Boot Camp will walk you through the process.

The best you can do on a Mac

Oh come on... OS X is a great OS. Just not for everyone...

Would this work on a 2014 macbook air? 8GB ram, 256 GB drive.

Might give it a try this weekend and report back if I do.

I installed it on boot camp in my retina 13 inch 2015 MacBook pro.
I wish the force touch trackpad would work better on windows.
Also I've been getting horrible battery life. My battery barely drains on os x, but on windows it gets suck dry Posted via the Windows Central App for Android on my Oneplus One

But how about smooth scrolling. I installed Windows 10 on Release Day on my MB-Pro 13" Retina. Everything worked fine except the trackpad. Scrolling is awfull. It´s more like scrolling with a mouse than with a trackpad. Does anyone have a solution for that? That´s the only thing holding me back from using Windows 10 primarly.

Great Guide and very handy, man that Orange looks so sexy, can't wait for my Lumia 830 to be on my hands :D

Is it just me that I don't recognized that fonts as Segoe UI or it's just a effect of a high resolution Retina display. Did you changed it Daniel?

If I'm going to drop 2K for a Mac, I'd rather buy the new Razer Blase with QHD display.

Razr's are nice, just not their battery life. I'd like to get one some time, they do look cool. This also has a larger display (14 vs 15) if I recall. That machine also costs $400 more than a 15-inch MacBook Pro, which is not insignificant. Gaming laptops are a class of their own, but not sure I could use it for my job due to the battery life.

It's $400.00 more but you get higher resolution than retina, and I can load up game and can handle it without problem. I rather give my money Windows PC makers than the Apple.

Yep... One detrimental things I see often on gaming laptop are mostly size and battery life, well, practicality in a sense... As most people use gaming laptop to plug in to a wall charger, some are only 3-4 hours under normal usage.

Hmm... Maybe ill do it to an old family's MacBook Air... Young sis need a laptop but Yosemite is not the norm used in my country... So this might help her studies. Thanks for the comprehensive steps Dan!

I still haven't seen how to do this on the surface pro 1 yet......

How to install Windows 10? If that's your question, it's pretty easy, it's the same as installing on any other Windows machine. Windows Central has already written numerous articles on the topic.

How about Yosemite on a PC. Don't tell me its not possible. Hp Envy runs it great.

I remember the Deadmoo image days, then the JasMac distros... Such memories... I dropped Hackintosh for real macs after 10.6, it still is a fantastic OS.

I installed 10 on a Macbook 2,1. It works great for such a old laptop, pretty sad that MS OS is supported but Apple dropped support 5 versions ago...

Wrong, you can repartition later, go back to OSX and shrink it, then take the unallocated space for your windows partition

Does it require yosemite bootcamp? Should work fine with mountain lion?

I don't own a MacBook but i always loved their hardware.. I'm comtemplating getting a Surface Pro 4 or a new MacBook Pro. It's nice to know i have this option to load Win 10. Great article.

IMO if windows 10 is free for all Mac users it might not hurt WIN in the long run if they give all the "non genuine windows" users a chance for free upgrade for first 6 months.

Perfect for work and play all in one laptop.

I mean what kind of an idiotic recommendation is that to advice someone who is looking to use Windows, but want a premium Laptop to go buy an Apple?

As I said in my comment below , there isn't a single windows laptop that comes with i7 / 16gb ram and 512 SSD that costs less than MacBook Pro . Show me if you think there is one .

Plus a PCIe SSD is super nice. That Intel Iris Pro for graphics is also not easy to find on a PC. So yeah, this laptop is one of the best spec'd out PCs on the market.

I have a doubt, right now I'm using a early 2015 MacBook Pro 13, the 128GB one. Should I install Win 10 on it?? I don't know if I should because of low memory :( , and I don't like to carry my HDD around too much, PLS halp M8

It's nice to see people still wanting to use Windows on Mac. Can't resist Windows I guess.

Does the Miracast work on Windows 10 Macbook Pro?

How do you do screen capture with windows on a Mac ?

A lot of people think the MacBook pros are too expensive , but if you look closely they're not. I recently got myself a 15" rMBP with 512 SSD / 16 GB / Intel i7 processor it costs me $2800 ! First thing I did was to install windows 10 on it . Before I bought it I did a bit of research because I wanted a windows equivalent and there was none ! The closest windows laptop I could find was from HP which cost over $3000 and came with a 1080p screen. If you have the means to buy a $2000+ laptop , your best bet is to get a MacBook Pro .

Didn't you used to be able to reverse scrolling direction for PC settings on 8.1? Did they remove it?

Yeah, just checked: Go to Settings > Devices > Mouse & touchpad > Reverse scrolling direction (On/off, under "Touchpad" section). No registry edits nor programs required.

lol I mean, I did try that. There is a reason why someone made an app as the method you detailed above is hardware and driver dependent. Shorter answer: those options are not here, I checked ;)

I've experienced problems because of a lack of drivers for windows 10 from apple so farm Adobe 2015 PhotoShop doesn't work for crap, adobe said it was a problem with apple's drivers, which is quite annoying since photography and graphics is my job.

And once I've done that will I have a touchscreen? :-) We've been touching our laptop and desktop screens without any results for so long; Microsoft fixed that. (That's a broad term so please understand in context.) Regardless of how (absurdly expensively; hey, they still break!) beautiful Apple's notebooks are (I've been tempted to buy), not being able to manipulate info directly on a modern computer's screen is regressive. I know Apple will get there one day; that day is just not in this era.

Yeah, it's personal choice though. I never use my touchscreen on the Dell XPS 15 or X1 Carbon. Smaller displays and the Surface make sense, not so much with large ones.

I've had my MacBook pro since 2010 and have since installed windows 7 using boot camp multiple times. The reason is, after awhile windows starts to slow down and I end up doing a fresh install. I have to say that boot camp works really well and you get the full windows experience. I would recommend, if your MacBook is capable, get two hard drives maybe one ssd (you will have to sacrifice the optical drive) install windows on one drive and save OSX or whatever its called today, for the other drive. It's nice having both OS's on one laptop, REALLY nice, until windows starts to bog down. I gave up having windows for that reason and have been running just OSX for the past year, but a newer MacBook pro and windows 10 might not have this issue.

It doesn't, but I never had an issue with Windows running slow on a Mac. As a developer this has been the best way for me to work without needing to be buy two machines.

Upgrading win 8 to 10 has not been possible on my macbook pro 13 inch mid 2012 .. Any one having this problem and any solutions?

"has been impossible" typo error

The lock screen doesn't work with two fingers scrolling...

I need help. I dont have the boot camp thing in my notification area in Windows. I also dont have wifi. Have to use a ethernet cord.

There are a lot of people who say some Apple products are the best Windows PC around. After reading this article and knowing the Great quality of Apple products especially their laptops. I am inclined to believe they are right. If you can afford to buy an expensive Apple laptop.Great article keep giving Goodie articles like this

Great tutorial! I've been running W8 and W10 on my early 2011 MacBook Pro and I love the combination. Though battery life is really not as good as under OSX, the hardware runs much hotter too. Things can be confusing when you're using the same hardware for different operating systems. These three tools add a lot to the combination:
1. Trackpad++
3+ finger gestures like 3f side swipe to switch desktops and 4f up swipe for task view (both mimicing OSX) but also 3f tap to open start, etc. 2. Sharpkeys
Swap left CTRL and CMD keys so most keyboard combinations are physically the same under both OS installs. 3. rEFInd
Easy and skinnable OS selector menu on bootup. I have an edited minimal skin installed, looks very classy, almost like it was designed by Apple themselves. Can be hard to install though. I'm curious for other too​ls people are using to improve this combination even more. Any tips?

Hi, I have a MacBook Air late 2014 version with 4gb ram and Intel i5 and 120 gb space. Will it work on that? Also if when I uninstall, will I get the allocated space back as it was before installing windows 10?

i own a windows 8 product key and i want to know if can i follow these steps to install windows 8 on an imac and then eventually upgrade to windows 10? also, should i format the 2nd drive to Master Boot Record prior to running boot camp? or let boot camp do it? Thanks!

Decently written procedure. However, there is one thing which I'd like to ask. I read somewhere that OS X like trackpad gestures are now also a part of Windows 10 but it requires that one should have a *precision trackpad*. Unless Windows 10 identifies and accepts your trackpad as a precision trackpad, it won't enable the gestures. Now since I am using a Macbook Pro which of course comes with a precision trackpad, how to force Windows 10 to recognize my trackpad as a precision trackpad? People might come up with an opinion to install Trackpad++ but somehow I don't have a good feeling (totally personal) about that software and how they force you to install their other softwares. I think a minute tweak in regedit could do the trick but as of now I don't know which one should I change the value of or add one for that matter. Thanks, Danish Mustafa

Can I use the ISO file for as long as I want without buying a copy of Windows 10? I will be buying a Windows 10 license in the future but I will probably be waiting until January to get it.

Boot camp says it only accepts 64 bit downloads 8 and later. Which it is, but it won't work? Help?

same with me...did you find some solution? reply asap

My new 15 inch retina macbook pro gets delivered soon. I want to do this but I am big on editing videos. Will I still have my Imovie and mac apps along side the windows 10 update? Thanks.

With bootcamp you divide the diskspace into two partitions, one for OSX and one for W10. After every restart you have the option to boot into either one. You can install whatever app you want in the respective operating systems - just like on any other computer - as long as you don't run out of disk space. You can chose to allocate more disk space to OSX if you need that for many large video files, which of course means that you will have less disk space for Windows games.

I want to because I also like to play games and stream

Hello. I try to install windows 7,8.1, 10 on external ssd drive connected via usb port to my 15" MacBook Pro 2014 and cant select ssd during installation process, it just say that - "You cannot install Windows on a USB flash drive from Setup". I replace my ssd inside old pc, install 10 there, and again connected it to macBook and boot from ssd. It works fine. But i do not have anymore that old pc. Question: Is there way to install windows to external ssd without using other pc?

So after the installation I format the correct driver but when I click next it says I don't have the necessary drivers. If we format the it seems to erase everything. I've tried this on lame El Captin and even went through the trouble of reinstalling Yosemite due to hearing better results from people. But in the end when I click next the drivers are not detected :( I've had to problem with Windows 7 or 8.1 and my MacBook Air 2013 is capable of running Windows 10. I did how ever delete Windows 8.1 before installing because I never purchased the register key. Can anyone offer me some advice please. I've searched far and wide and see many people run into the issues but no one has an answer. Thanks in advance guys and girls!

I can't do step 4. Once it's finished, then it just shows a black screen and takes me back to OS X Yosemite. Please help :'(

how good is the performance of windows 10?? (from a developer point of view) actally is it good for programming ?? as i am a developer i love windows but I am getting a very good deal on a macbook and if I bought it I would like to load windows on it . If you could ans soon it would be very helpful.

Windows 10 is running perfectly snappy on my 2011 Macbook Pro, so that's probably not going to be a problem on a newer Macbook either. I'm running dual boot and I notice a lot more cooling noise when running Windows 10 than OSX though. As a default, so unrelated to running processor heavy processes.

Hey man, first of all thanks for the step-by-step guide. Can i make partitions in the boot camped Windows 10??? or there would be only single partition?

Another recycled article? Comments are a year old... Pro-tip: Save yourself a "g note" and just buy an equally specced Windows 10 laptop. These days Apple product has really become form over function.

Only way to make a mac usefful

Biggest disadvantage is that there is no touchscreen.
Windows Central Newsletter
Get the best of Windows Central in in your inbox, every day!
Thank you for signing up to Windows Central. You will receive a verification email shortly.
There was a problem. Please refresh the page and try again.