Get your public transport directions with Maps on Windows 10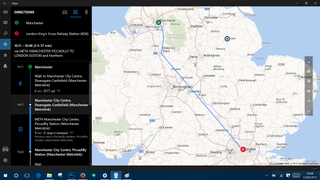 Not everyone drives and it's not always straight forward to figure out how to get where you're going on public transportation, either. With Maps in Windows 10 you needn't worry. In a matter of moments you can bring up a route detailing which lines to get and where to change.
1. Open up "Maps" on your Windows 10 PC or tablet
2. Select "Directions" from the hamburger menu
3. Change to "Public Transport"
The menu in front of you will have three icons at the top. One shaped like a car, one like a bus and one like a pedestrian. Select the one shaped like a bus.
4. Enter your start and finish points
You can either get super accurate and use your current location or just enter a local station or bus stop if you have that information to hand. But if you're in a strange place, location will probably work out better for you.
5. Select the route and time that suits you best
Maps will pull in information from a number of local public transport services to try and get you a suitable route. It'll list up a bunch of options depending on the current time of day, so it's perhaps not 100% useful for planning in advance if you want specific times.
It will however give you every step of the journey. This includes the time you'll need to spend walking to the nearest bus stop or train station. It'd be nice if we could share or print of the directions directly as you can with road navigation, but at least you get plenty of information to work with.
For more Windows 10 tips be sure to visit our dedicated help page here
Richard Devine is an Editor at Windows Central. A former Project Manager and long-term tech addict, he joined Mobile Nations in 2011 and has been found on Android Central and iMore as well as Windows Central. Currently you'll find him covering all manner of PC hardware and gaming, and you can follow him on Twitter and Instagram.
Is the data sourced from Here Transit?

No, because while HERE Transit is very good where I live, the maps app doesn't suggest any public transport routes unfortunately.

I ❤ Win10 , the cloud ☁ is going to get even bigger as time passes by. Just imagine all the other possibilities :-)

Doesn't pick up times for the Thames Clipper. But we can let that pass

Printing, sharing or at least clipboard copying would help here. Transit directions are accurate in most of Japan as long as it runs on rails; no bus info exists on Maps app. Still messing with GMaps until that gets fixed.

Yes. Why they only offer train routes? When public bus routes are available. This is a very huge drawback compared to Gmap. It also offers private bus routes in India

There is map data available in the win10 maps app for Japan?
I remember there was no offline maps with HERE... Did this change?

There are so few places supported by this that it's effectively useless to 90% of the planet.

You may wanna set something other than an iPhone for your picture if you want people to take you seriously.

I live in rural UK, way out in the country and it works perfectly for me.

You may be in the 10%. ;)

Can't wait to see this on W10 mobile maps.

Its already there and working in the latest build. :)

not available in south america

Hopefully not US exclusive?

Nope, working for me on Windows 10 Mobile in UK and I live out in the country, not in a city. Works perfectly. :)

Doesn't work in Denmark =(

I prefer here transit. it allows me to specify transport type (Bus only, include trains, etc.) and also show live arrival times for nearby stops. Windows maps in Windows 10 does not

Mobile does, there are little icons for Bus, Car, Walk, etc

I know it has icons. But all that means is that I can know what transport type is been offered. I still cannot ask the app to show bus routes only / avoid a particular type of transport, etc.

Nice! Somehow I missed the public transport button. Is it possible to send the route to my other Windows 10 devices?

Also works on Windows 10 Mobile. (Latest Build)

Has anybody tested this out for the NYC subway system and the Long Island Rail Road? How accurate is it, as compared to Google Maps or MooveIt?

So, is not available here in Brazil. And we cant install Here Transit in Windows 10 anymore. Thank you Microsoft.

The subway/bus scheduling in NYC is not to be trusted, and it frequently recommends odd shortcuts and secondary stations. Major junction points are skipped and it doesn't always give you suggestions based on what's near you, but rather always what it considers fastest, even if its more expensive or just doesn't take into account differing payment methods per transporation medium (Train, Bus,Subway, Railroad). Use HERE Maps for that instead.

I thought so. Honestly Google maps does this the best, due to of course, feedback and crowd sourcing from the higher user base numbers in NYC from both iOS and Android devices.

We have lost a lost of functions with the implementation of Win 10....but I was impressed to see this, works for me....well done MS...but we do need more...like print...share etc :-)

Does anyone know if the Maps app on Windows 10 Mobile shows bus arrival times?

maps at least in the UK suck donkey balls because no train information is available. Here Transit did it without effort, too bad can't have it on my phone anymore. If I need to carry an Androidshit with me just to be able to check timetables without a hassle, i might as well leave WP at home.

No public transport icon in sight; just pedestrian or car... Here Transit worked like treat, but unfortunately it's not available on any W10 device it seems. One step forward, two steps back!

what about cycling? add bike route and direction for bikers!

How can I get public transport directions in my mobile app??

Thank you for that detailed information, Richard. Seeing your five step plan already proofs that it is a very complicated process to use public transport with Bing Maps.
What really is missing is a quick look at the map and we can exactly see where the next public transit station is. The information is provided by here, it's just the most useful layer missing in Bing.
In a big city, there are trains going very frequently, therefore the timetable is not important at all. What is important is to find the next public transit station. Half year ago I downgraded my Lumia 640 from Windows 10 to 8.1 mostly because of the very good map functionality of here maps, and also due to the uniqueness in design, which was dropped in 10 to make it easier for users of other OSes to get along with Windows mobile.
Now I hoped that maps do display a public transit layer finally. Seems like nothing has changed and Bing maps still is in a beta stadium. I hope very much that there is an update in that regard, or you supply a separate app for people who use common ways of transportation. The data is already there, Microsoft just needs to make use of it.
Windows Central Newsletter
Thank you for signing up to Windows Central. You will receive a verification email shortly.
There was a problem. Please refresh the page and try again.