glƏƏk! now available for free with special unlock codes to celebrate 500,000 downloads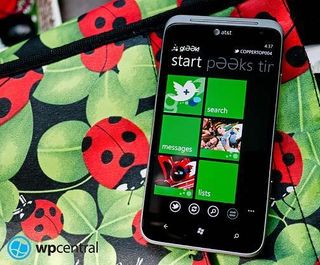 To celebrate the 500,000 download milestone being reached for all published apps, the glƏƏk! developers have decided to unleash a number of special codes that can be used to unlock the full version of their Twitter client. This move is targeting those who are unable to pay for apps, which may be due to age requirements, carrier restrictions, or other factors preventing Windows Phone owners enjoying the full experience of glƏƏk!.
The team have decided to make it easy for users to own glƏƏk! for free, using special unlock codes (hashtags) that unlock the full version leaving the users able to purchase the app in the future (much like a donation) should they choose to do so when a different circumstance occurs. Today's unlock hashtag is "#wpcentralrocks", with future codes being posted on the @gleekthis Twitter account.
How does one enter the published codes?
Go to 'Support' in the app (make sure it reads "version 1.8")
Double-tap on the main glƏƏk! logo
Enter today's "magic hashtag"
You can download glƏƏk! from the Marketplace as a trial and then use the special day codes to unlock the full version for free.
Windows Central Newsletter
Get the best of Windows Central in in your inbox, every day!
Rich Edmonds was formerly a Senior Editor of PC hardware at Windows Central, covering everything related to PC components and NAS. He's been involved in technology for more than a decade and knows a thing or two about the magic inside a PC chassis. You can follow him on Twitter at @RichEdmonds.
How does this compare to Carbon, which I've been very happy with so far?

This is way better. No comparison to be honest.

What makes it so much better?

I'm sorry but I definitely disagree. Carbon is a very good twitter app and while they both have their pluses neither could be considered "way better". In fact, a short 24 hour trial didn't convince me it was better so it got uninstalled.

Your instruction doesn't work!

Yah, the Gleek logo isn't working for me either! Would love to know how to do this :)

Apologies, we should have made it clear that this is for 1.8 only, which should be rolled out soon in your region :-)

Thanks for this Rich! It seems like the "Region Stagger" for publishing is more than usual this week. But, don't dismay folks, you'll see it everywhere in the next few hours, I'm sure. #wpcentralrocks :)

Looks like the app update to version 1.8 hasn't pushed to the marketplace (at least for me).

Hey glƏƏk! fans, this cool functionality will only work starting in v1.8, which may not be live yet in your Region. If not, it should be within a few hours.
So, make sure you update or download version 1.8 to use this, otherwise you'll feel silly. :)
glƏƏk! rocks!



i'm guessing this is the type of unlock that only unlocks the paid version within the app, it doesn't do anything on microsofts end. so if i have to redownload the app later (if i reset device/upgrade) i'm outta luck?

Thanks for adding that, indeed I re-downloaded and am still at v1.7, which explains why it doesn't work!
Thankfully waiting for v1.8, this sounds great guys, keep it up!

Yep, the double tap does not work here as well. Nokia 900.

Yeah, don't dismay glƏƏk! fans, you'll have it soon enough. We just downloaded on 2 devices in our Region...give the Marketplace a chance to go everywhere. #wpcentralrocks :)

How do you even type that? Worst app name ever

Well, we were thinking of naming the app "Hiiiiiiiiii" but it was already taken! :) BTW, a simple entry of "gleek" bring it up in the Marketplace. Easy! :)

Still on 1.7 in Ontario lol. I'll try again in a bit. #wpcentralrocks

I downloaded a trial a few days ago, it only has a 24 hr period before it locks out. If you're fast enough, you can hit the ellipses and get to support before it blacks out.

Yes, good call, and BTW, v1.8 has a 7-day trial now for everyone, and we pretty much "reset" Trials for users into infinity. Why? Because we care more about smiles than dollars. :)

Still 1.7 metro Boston MA. Really never used it before then today I went and gave it a good look over..very nice.

This is great. Nothing like the price of Free and a magical code to generate interest. I'm a fairly heavy twitter user and have recently settled on Carbon but I did try Gleek and was intrigued by its speed and unique options and was very tempted to pick it up. Unfortunately the 24 hour trial was just to short to fully test it out so I think the change to a trial of a week is much better.

I downloaded it and didn't open it for a day, the next day the trial had expired... I would like to give it a try, could the dev extend the trial period, or give free trial weekend every once in a while. It works for xbox gold.

Well we're offering BETTER than a Trial weekend of course, and if you shoot us an email via support, we'll reset you anyway. :)

I like that. Way to go guys!

I downloaded the trial a while back (still on 1.7 btw) and now mine just says that the trial expired even after several reinstalls... :/ Is there any way you could reset my trial?

I just downloaded the trial v1.8 and it immediately says I use up the 1 week trial period?! No way to go to support to send you an email too too since the app kinda shutdown when they say I used up the trial.. Any fix?

I have no patients today. The marketplace is taking to long to have the update available.

Wow, 500.000 downloads?
Kudos to the developers, because that actually are quite impressive numbers!


any insight as to how Trine's Hangman numbers compare, just curious..?

Doesn't seem to work if you've already installed the trial at a previous time. It prompts you to buy it.

Make sure you're actually downloading v1.8, and if you still have issues, they have EXCELLENT support. :)

This is my twitter client and nothing comes close. Awsome developer support too.

Free Twitter client? Awesome! Now I just need to find a use for Twitter (seriously, after 5+ years I still don't get what the fuss is about)

Using US market place and still see 1.7
What region are you guys from, (WPCentral)?

I was waiting for this to go free!
But for some reason in my marketplace (CA) it only shows 1.7.0.0 version, so I can't download the 1.8 version and the instructions don't work. Double tapping didn't do anything..
HELP?!

Just wait a little bit...we've noticed a SIGNIFICANT lag in publishing into some regions...look for it shortly and they'll update on Twitter too :)

Same here. Still hasn't rolled out to Canada yet =/

I bought the application, did not wait to upgrade to version 1.8

Was going to do this, but then I felt like I was cheating on the king of twitter apps, Carbon ;)

Maybe 1.8 exists on dev pcs only, not on marketplace yet ;)
500.000 downloads for a payment app published march, 20 ? Are you sure there is not one zero more :D ... ?

As mentioned in the article, it's "To celebrate the 500,000 download milestone being reached for all published apps". A large part of this number is the almost 400,000 downloads of ...i'm a WP7! And to celebrate our huge and supportive fans base, we're giving more away for free, like the other 98% of the 500,000 number. :)

Remember, although we have some of the highest rated and most downloaded apps in the Marketplace, the point of this article (thanks again Rich) is that there are 1000's of Windows Phone users around the world who are unable to pay for apps. This is a way to "reach out" to those users and let them have a great app, for free. IF their circumstances change and they eventually pay for it, great. If not, we still have happy users. We all win. :)

That's nice of you giving your apps for free for those that really can't pay for it.

Yoy guys are acting way too nice compared to most other devs. I purchased Gleek! before, but very glad to see this offer to other WP lovers.

1 day delay for WPCentral app, i expect the same or slower. (Then i cant be disappointed)

Gleek isn't better than carbon.

Best Twitter app out.i uninstalled all my others once I got gleek.
Packed with unique features,very fast,elegant UI.
Can't fault it really :)

Still waiting 5 hours later here in US. :)

I paid for this app why????

You paid for it to support development of great apps. Its being offered free to users unable to pay, or needing time. Call it "doing the right thing" :)

I've been checking all day and still 1.7 in the US.

I just downloaded this in the US, and its still on 1.7?? Will the code still work if this doesn't come out here for a few days??

the 1.8 its only available on Jupiter, Mars and Neptune marketplace. To the Earth its not available yet

NOW Is working!!
I have Gleek working with full support and the ver. 1.8!
NICE! Thanks Liquidda Ffodil !

It's good to have some promotional code, but before posting such info, It's always better to check the market availability first. Previously via WPCehtral, some of us got full version of NextGen Reader, and none of us faced any kind of issue. But for gleek, it's not acceptable for WPCentral, where the reputation of the site itself linked.
This type of promotion actually misslead users and harm the site and application reputation, I don't understand how the application creator became such noob, I myself like the application but this type noobish promotion is totally not acceptable from the site like WPCentral. Lots for users are wasting ther time for some kind of wrong information.

I have the version 1.8 and still it is not working when I double tap the logo in the support page.

got it working you need to sign up with your twitter account then go to support.

Nothing happen when i 2x tapes the gleek logo.fyi, current version is 1.8 (malaysia). *sorry for my english. :-)

Mines 1.8 but it's not working

Double tapping does nothing on ver 1.8 . This thing is going to get killed in the ratings with false advertising

It should be working now. Just downloaded, and gleek called me a cheapskate for using the code. Tight!

YOU MUST LOGIN YOUR TWITTER ACCOUNT FIRST!

It worked finally.
And it created an tweet:
I'm a "cheapskate" but love glƏƏk! so I got it for FREE! #wpcentralrocks @gleekthis ☻

So I did it. . . Is that it? Or was I supposed to get a link or. . . . . ? ? ?

Just got the update to 1.8

But that double tap does not seem to be working?

I did log in put in the hashtag as given. Still did not work out

One day latter and still 1.70 in the mp..

keep getting trial expired. if I tap to support quick enough, I get there, but a double tap on the logo doesn't do anything. Edit:
Go into settings superfast and login, then it works! Thanks gleek!

Ok the magic worked. Was able to unlock

I downloaded gleek and entered the code, thanks.
Is there a Twitter client out there that gives notifications on new tweets from people you follow? I don't ever get mentioned and don't receive dm's as I only use Twitter to receive info. The only one I've found so far that has this feature is Peregrine but it's a little slow and can't find a setting for gleek that enables this feature.
Some advice will be appreciated.

Not working for me when I double tap the logo... :(

Cool, got called a cheapstake. It's alright, I am one. XD

Installed 1.8, tapping on the icon but nothing happens

Log in first & type the hash tag.

It works and it's pretty nice...

This is ridiculous, i finally got the update...TODAY! and nothing happens when i dubbel tapp Gleek logo. Well well, seems im not destined to use or try this app.

First add a twitter account and then use the hashtag.

I can't get in to add a Twitter account because it wants me to upgrade to full version. I guess if you've ever done the trial that you won't be able to take advantage of this offer.

Thanks for the heads up!. Working in India. Can anyone point out the difference between the paid and trial version of gleek ?.

The trial works for like 24 hours

Just tried this and got:
I'm a "cheapskate" and tried to rip off the Windows Phone Community and developers of glƏƏk! using #wpcentralrocks @gleekthis ☻
LOL :D
#benthepcguyisbald is the code for today, I assume something equally drole will be tomorrows :)
Windows Central Newsletter
Thank you for signing up to Windows Central. You will receive a verification email shortly.
There was a problem. Please refresh the page and try again.