Halo 3 on PC — List of all known bugs and issues
There aren't many bugs, but they're important to be informed about nonetheless!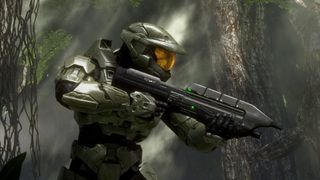 (Image credit: 343 Industries)
After 13 long years, PC players can finally experience the final chapter of the original Halo trilogy, Halo 3, by playing it through Steam or the Windows 10 Store. However, while this port of the game is extremely high-quality, there are a handful of bugs and issues that could impact your experience with Halo 3. Here's everything you need to know.
Finishing the Fight 13 years later
It's finally time, PC gamers

The port of Halo 3 to PC is excellent across the board, though there are a few notable known issues.
Halo 3 PC Multiplayer issues
There are a handful of issues present in Halo 3's Multiplayer offerings. The primary one is that the game's hit detection/registration can be slightly off compared to the original Halo 3 due to the fact that the Master Chief Collection version of the game has a higher tick rate. This causes some hitscan projectiles, such as Battle Rifle bullets, to travel a little slower than normal. This issue is currently being worked on by 343 Industries. The other issue present in Multiplayer is that on rare occasions, clones of grenades or pieces of equipment can be created when players throw them. This issue is being investigated by 343 and it will share an update on the issue at a further date.
Halo 3 PC Forge issues
Halo 3 on PC launched with its Forge mode, but there are a few bugs affecting it. Firstly, when holding an object in Forge, players can occasionally be clipped through the map, causing death. Additionally, navigating Forge menus with a controller's D-Pad will incorrectly cause players to toggle rotation axis modes. Hosts and Clients may also notice inconsistent movement behavior of objects while they are being moved in multiplayer Forge sessions. Lastly, Auto-Turrets placed down in Forge sessions will incorrectly target allied players, including the turret's owner. All of these issues are being worked on by 343 Industries.
Halo 3 PC Miscellaneous issues
There are a handful of miscellaneous issues with Halo 3 on PC, as well as the systems around it. Firstly, keybindings can break for people who switch from Insider builds of Halo 3 to the full retail version. This can be fixed by resetting keybindings to their default settings. Next, certain weapon viewmodels can appear clipped or culled when editing field-of-view (FOV) and crosshair settings. Also, players are currently unable to equip Security chestpieces in the customization menu. Additionally, Campaign Terminals can only be navigated with Page Up/Down keys. Finally, certain keys can't be properly bound when using keyboards that aren't English. All of these issues are currently being investigated and worked on by 343.
Your thoughts
What do you think of Halo 3 on PC? Are you happy to see that the buglist is pretty small? Personally, I'm hoping that the ports of Halo 3: ODST and Halo 4 are also this stable. We'll have to wait and see, though.
Halo 3 is available as a standalone game for $10 on PC through Steam and the Windows 10 Store. If you want, you can also get the full Master Chief Collection for $40 on either PC or Xbox One as well. It contains all of the pre-Xbox One Halo games, which will offer you plenty of fun to tide you over until Halo Infinite later this year.
Finishing the Fight 13 years later
It's finally time, PC gamers

The port of Halo 3 to PC is excellent across the board, and the addition of new features and content make it the best the game has ever felt to play.
Finish the Fight
Halo: The Master Chief Collection
Experience the entirety of Halo history

The Master Chief Collection is a collection of every Halo shooter from the pre-Xbox One era, offering incredible value at an incredible price.
Get the Windows Central Newsletter
All the latest news, reviews, and guides for Windows and Xbox diehards.
Brendan Lowry is a Windows Central writer and Oakland University graduate with a burning passion for video games, of which he's been an avid fan since childhood. You'll find him doing reviews, editorials, and general coverage on everything Xbox and PC. Follow him on Twitter.