While it lacks older ports and loses some advanced technology, the core features of the new Dragonfly Pro, including excellent battery life and performance, make it an oddly charming laptop that feels sturdy and reliable and is backed by free 24/7 help and support for one year. It's not the best laptop, yet it's one of the best because it's just very good at many things. But its new side keys and myHP app need some work.
Pros
+

Sturdy, reliable design and features

+

Excellent performance from Ryzen 7 CPU

+

Very good battery life

+

Free 24/7 instant support (1 year)
Cons
-

A bit heavy at 3.5lbs

-

myHP app and new keys are buggy/weird

-

Standby battery life could be better

-

No headphone jack, Type-A port
Why you can trust Windows Central Our expert reviewers spend hours testing and comparing products and services so you can choose the best for you. Find out more about how we test.
Looking at the new HP Dragonfly Pro, it's hard not to think of this as a generic-looking laptop. Indeed, there seems to be nothing extraordinary about it. It's not super light at 3.53lbs (1.6kg), the display is only full HD and not AMOLED, and it only has integrated graphics. And while there is nothing offensive about its design, it looks as if someone was asked to draw a standard laptop for 2023.
If all that sounds bad, it's not.
Powered by AMD's latest Ryzen 7 processor, the HP Dragonfly Pro is solid all around. That may not sound exciting, but between the excellent battery life, reliable CPU performance, haptic touchpad, and professional design, sometimes it is all you need.
A laptop with few compromises, who'd thunk it?
HP Dragonfly Pro: Pricing and availability
The HP Dragonfly Pro is available starting today from HP.com, which can ship worldwide. HP doesn't offer many configuration options besides RAM, storage, and color, which makes things easy to recommend and for ordering.
All versions ship with Windows 11 Home.
Pricing starts at $1,399 for the 16GB RAM/512GB storage model in either ceramic white or sparkling black.
Swipe to scroll horizontally
| Spec | Dragonfly Pro |
| --- | --- |
| OS | Windows 11 Home |
| CPU | AMD Ryzen 7736U |
| GPU | AMD Radeon Graphics |
| RAM | Up to 32 GB |
| Storage | Up to 1 TB |
| Display | 14-inch, 1920 x 1080, touch |
| Camera | 5MP with IR and shutter |
| Audio | Bang & Olufsen, dual mics, quad speakers, Soundwire Waves Maxx audio |
| Ports | 2x USB-C (40Gbps, USB4/Thunderbolt 3) |
| Row 9 - Cell 0 | USB-C (10Gbps, USB 3.2) |
| Connectivity | Wi-Fi- 6E, Bluetooth 5.2 |
| Dimensions | 12.39 in x 8.78 in x 0.72 in |
| Weight | 3.53 lbs |
| Colors | Sparkling black or Ceramic White |
The next level up is 32GB of RAM, which automatically boosts you to 1TB of storage for $1,549, again with either color as an option.
There are also two Chromebook versions but only with 16GB of RAM, 256GB of storage, and either ceramic white or sparkling black. Pricing for those begins at $1,000.
I am using the $1,399 Windows PC model in sparkling black for this review.
Our recommend HP Dragonfly Pro configuration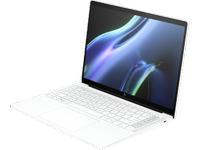 HP Dragonfly Pro | 16GB | 512GB
The starting version of the HP Dragonfly Pro is the best option for many unless you need 32GB of RAM and/or 1TB of storage (you can always upgrade the SSD yourself). The only other decision is black or white?
HP Dragonfly Pro: Design and build quality
As previously mentioned, the Dragonfly Pro comes in at a relatively hefty 3.53 lbs, over a pound heavier than the updated Elite Dragonfly G4 (I called the G3 model one of my favorite laptops ever), which is 2.22 lbs (1kg). Much of that is likely due to the decently sized 65WHr battery and use of heavier materials compared to the Elite Dragonfly, making it feel more solid and robust. It feels premium and not something like a toy, which is nice.
The sparkling black colorway is lovely, with a matte finish and a subtle textured feel. The sparkling is mild, so don't think of it as glitter, but rather a slight shimmer – it's a nice effect.
Ports are also limited to just three Type-C, and two are on the left side, both Thunderbolt 3 (which is interesting for an AMD laptop). The other on the right is a standard Type-C (10Gbps) with power delivery, DisplayPort 1.4, and HP Sleep and Charge (but no data).
Not only is there no HDMI out or "legacy" Type-A, but there is also no headphone jack, which is one of the first I've seen for an HP laptop.
All that contributes to a minimalist design with only HP's logo on the lid, no stickers on the keyboard deck, and a tasteful mention of Bang & Olufsen on the sides in small print, reminding you who tuned the Dragonfly Pro's quad-speaker array. Those speakers are arranged with two flanking the keyboard and two more on the bottom laptop side edges.
HP Dragonfly Pro: Display
The Dragonfly Pro's screen is basic but also on the higher end for quality. HP states it's a 14-inch 1920 x 1200 display with multitouch, IPS, edge-to-edge glass, micro-edge, anti-reflection Corning Gorilla Glass NBT, with 400 nits of brightness and 100% sRGB for color accuracy.
In my testing, HP's analysis is correct, with the Dragonfly Pro yielding even more brightness at 426 nits max (low setting at just 18 nits) and 100% sRGB as advertised. AdobeRGB comes in at 81% and 86% for DCI-P3, which is not the best, but still quite suitable for this price range.
This laptop is fine for webwork and photo editing at a 'prosumer' level, while true pros who need more gradation and color tuning would require a much more expensive laptop.
Aesthetically, the bezels are thin enough and balanced, giving the Dragonfly Pro a modern and premium look, especially with the edge-to-edge glass (versus a plastic bezel). Speaking of premium, you can open this lid with one hand, thanks to the notched cutout.
In terms of usage, it's a pleasing display. It's plenty bright, the colors look good, there is touch, and everything looks evenly lit. The only critique would be the relatively low resolution with no higher-tier option. That said, I have no problem using full HD on a 14-inch laptop; this display choice helps contribute to the Dragonfly Pro's good battery life.
The Dragonfly Pro can also auto-adjust brightness and contrast, which is nice.
HP Dragonfly Pro: Performance
The Dragonfly Pro is my first laptop with the AMD Ryzen 7 7736U, which features 8 cores, 16 threads, and a base clock of 2.7GHz with a max boost of 4.7GHz. It's configurable from 15 to 28 watts.
Regarding performance, it's a fine chip but nothing extraordinary compared to Intel. For instance, the Lenovo Yoga 7i 14 with a Core i7-1255U still beats it out on Geekbench 5. That said, on Cinebench 23, it beats the Dell XPS 13 Plus with its tuned-up and beefier P-series 28-watt processor (1,650 / 10,661 versus 1,527 / 11,444 from the Dragonfly Pro). That's quite impressive, although such a lead will be compromised when put up against Intel's 13th Gen series instead of last year's CPUs.
On PCMark 10, the Dragonfly Pro just beats the HP Spectre x360 16 with its beefy 45-watt 11th Gen Intel Core i7. Sure, that's a two-year-old chip, but that's a lot of performance for a 14-inch laptop. It also edges out a 12th Gen Intel Core i7 P-series processor, which is just as impressive.
Image 1 of 4
The AMD Ryzen 7 processor is quite powerful compared to older Intel H-series processors.
ON Geekbench 5, Dragonfly Pro earns some respectable scores for single and multi-core processing.
Dragonfly Pro just beats out an older Spectre 16 with a 45W Intel H processor.
HP used a very fast SSD in the Dragonfly Pro.
---
Turning to the SSD and HP uses a good one here as it hits over 7,000 MB/s for sequential read and 3,738 for sequential write. That puts it in our number two spot, where it is only beaten by a very high-end and expensive gaming laptop.
Combined with 16GB of zippy LPDDR5-6400 MHz RAM and (the slightly superior) Radeon graphics (vs Intel Iris Xe), the Dragonfly Pro has no bottlenecks in performance.
As far as daily use for things like web browsing, photo editing, documents, and video, the Dragonfly Pro feels quite zippy, and I had no complaints. Of course, it's not the fastest laptop out there, but it's good enough for this price range so that you'll never feel slow, either.
Image 1 of 2
Interestingly, under Windows settings for the processor levels (balanced, more performance, etc.), users can't override what HP and AMD have set up, meaning the system simply auto-adjusts for you. I have never seen this in any laptop before, and it's different. That said, AMD does seem to do a good job figuring out how much power you need at the moment, so I like that.
The Dragonfly Pro also has two fans below the deck, and most of the time, they are either not on or barely audible. Start doing some intense CPU work, and you get a lot of whooshing with a slightly high-pitched whine, but it's barely there. Under heavy CPU load for 10 minutes, the keyboard deck center can hit a warm (but reasonable) 111°F (44°C).
Fan volume never went over 50dB and usually hovered at 45dB, making this a relatively quiet laptop. Thermals were also not an issue, with the laptop never seeming to get hot.
HP Dragonfly Pro: Battery life
Battery life is where the Dragonfly Pro shines and where HP and AMD are taking some bragging rights. The boasting is earned in this case.
Using PCMark 10's Modern Office, a synthetic benchmark that loops through web browsing, document, photo editing, video calls, etc., with occasional pauses to simulate a typical workload, the Dragonfly Pro managed 14 hours and 32 minutes when set to around 150 nits of brightness. Admittedly, that's not a record in our testing with other laptops with similar configurations, but it is certainly up there with the best, which makes it a noteworthy feature.
But what about real-world experiences? Using the Windows battery report, which keeps a record of charge/discharge along with battery life estimates over weeks of use, and I'm getting between 10 and 12 hours of what I'd call knowledge worker workloads: Web, email, Slack, YouTube, Twitter, Word, Telegram, etc.
There is one caveat to this greatness: Standby battery drain. Even with the latest firmware, it's not uncommon for the Dragonfly Pro to lose 10% of battery life overnight, which is oddly high. Hopefully, some more CPU tuning can address that.
Basically, this is one of the longest-lasting laptops I've used that's not ARM-based. Good job, AMD.
HP Dragonfly Pro: Keyboard, touchpad, software
Things get a little weird around the Dragonfly Pro's touchpad, which is haptic. Typically, I'm all-over haptic touchpads because, with no moving parts, they are a lot less likely to fail over time. However, like all things, there are different haptic touchpad technologies. While I prefer those made by Sensel, HP decided to do its "own" (according to PR) instead of going to a third party.
The results are satisfactory. It's not a lousy touchpad, and it is amply sized. But the haptics is just not as good as what Sensel does (like in some of Lenovo's laptops or the Microsoft Surface Laptop Studio). So my advice is to go into Windows settings to the touchpad section and increase haptic feedback to either 75 or 100% to feel it more.
The keyboard is … curious. HP's font choice is different, but I like it. The keys themselves are square and provide a good amount of travel. In short, it's a good keyboard, and I like using it. The multi-stage backlighting is also well done.
The bad news is two-fold. First, HP put a row of keys on the right-hand side, which are, let's say, unique. The first key launches myHP, a hub for the laptop with features for audio and video, and to program one of these keys. This may be bad because the backspace key is now half its size, and I know some people may have issues with that (I've been OK with it, for what it's worth).
The second key launches HP Support, found in the myHP app. It offers "one-touch access to 24/7 Pro Live Support," which is undoubtedly different. The app lets you talk to support, who can see which model laptop you have, and they can call or chat with you through the app any time of day.
HP includes this for free for the first 12 months. After that, it's $10.99 monthly for up to 36 months, and you can cancel anytime. Notably, that includes accidental damage protection (drops, spills, etc.) and timely repairs. Indeed, you can file for one incident every 12 months for up to 3 over 36 months. That's pretty cool.
I'm not sure people will pay for HP's Subscription Care Pack after one year, but a) It's an excellent value for 12 months, and b) It gives peace of mind to owners who get instant access to HP support.
The third key jumps into camera settings, where you can adjust the smart filter, toggle the background blur, head tracking, cropping, add a background, and more. It's a nice touch for those of us who spend a lot of time in video meetings.
Finally, the fourth key is a user-programmable one, so you can link it to whatever you want.
While all these keys are unquestionably something new in a laptop, I'm not sure everyone would use them. Lenovo does something similar on its consumer Yoga laptops, like the Yoga 9i. Still, it does other things like toggle performance/fan modes, toggle background blur for video, and toggle light/dark mode for Windows, which I think are more valuable.
Moreover, three of the keys basically do the same thing: Jump into the myHP app, albeit to different sections, making them all feel a bit redundant and unnecessary.
The myHP app, which is brand new, is also a problem, at least at this stage. Sections for audio are difficult to read because the fonts and sliders are pale white. And hitting those dedicated keys results in a bizarrely long wait time for the myHP app to launch, making it feel like something is wrong.
While I'm sure HP will tune up myHP in the coming weeks, I'm not sure it saves those dedicated keys for it.
Surprisingly, there's not a lot of other HP software compared to its Intel laptops. Perhaps HP wanted to keep things simple this time.
HP Dragonfly Pro: Camera and audio
The full HD camera is also acceptable. Again, it's on the better end of most laptops, but it's nothing outstanding, either. In addition, the blurring ability via HP's software is below that of Intel laptops and Qualcomm-based ones, which have a discrete Neural Processing Unit (NPU) to handle AI.
The camera does have Window Hello face recognition (there's also a fingerprint reader for backup), and it works well.
Unlike Intel laptops, however, there is no human presence detection (HPD), where the computer can "see" you to unlock automatically and to lock when you are not in view. HP even has software that alerts you if someone is looking over your shoulder, but none of those frills are here, which is a shame. (My guess is it has to do with the AMD chip, which is not as advanced as Intel when it comes to AI).
The sound is also solid from the four speakers. It's not the best, but it's up there. Audio is ample, and there are some settings in the myHP app, although I think the software is either bugged or oddly designed, as I had trouble reading the text.
I will say the Dragonfly Pro can get very loud, which is great, and it has good spatial separation (although there are no Dolby Atmos settings or Dolby Vision).
HP Dragonfly Pro: Competition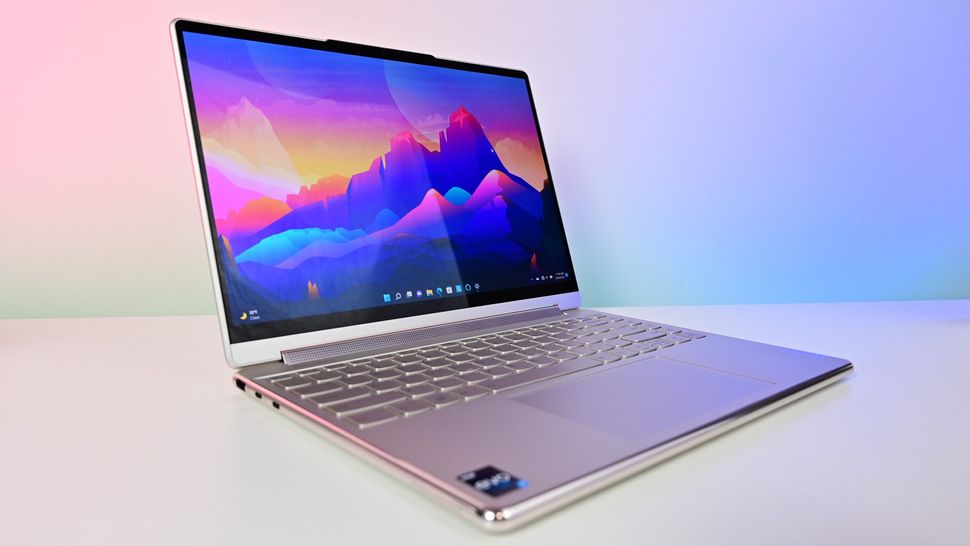 There are a lot of 14-inch laptops on the market these days as they are one of the most popular sizes.
The first laptop I would suggest is the Lenovo Yoga 9i Gen 8 (read my Gen 7 review). It's $100 more at $1,499, and you get Intel's latest 13th Gen Core i7 P-series processor, which has more cores, 16GB of RAM, 512GB of storage, but a very impressive 14-inch 2.8K (2880 x 1800), OLED touch display with glare resistance, 100% DCI-P3 (so higher quality) and 400 nits of brightness. That's also a 2-in-1 convertible laptop (pen included) with a superb speaker system in its hinge area.
The one weakness? It won't get nearly as good battery life. That said, it's a great laptop with an incredible display and impressive sound.
Microsoft's Surface Laptop 5 is also a good choice as you get a better display, webcam, and audio. Pricing starts at $899, but you're only 8GB of RAM and a 256GB SSD with the 12th Gen Core i5 processor. That's an excellent laptop for many, but if you spec it up to a Core i7, 16GB of RAM, and 512GB of storage, you're at $1,499 for a second time. Again, battery life won't be as good as the Dragonfly Pro.
Dell's XPS 13 (9315) and not the Pro version is comparable. Right now, you can get it with a 12th Gen Core i7-1250U, 16GB of RAM, and 512 GB of storage with a full HD touchscreen for $999.00. It's a gorgeous laptop, and the performance will be excellent, but it likely won't get as much battery life as the Dragonfly Pro.
HP's Elite Dragonfly G3 from last year (a newer G4 mild refresh is due in the spring of 2023) can be found for $1,269 on Amazon with 16GB of RAM, Intel 12th Gen Core i5, and 256GB of storage. I like this laptop much more than the Dragonfly Pro, although its battery life will fall short. However, it is over a pound lighter.
HP Dragonfly Pro: Should you buy?
If you've read this review, you may have noticed I said "fine" and "OK" a few times when describing this laptop, noting it's not the best but also above average. As I mentioned in the intro, that sounds bad, but it's not. The Dragonfly Pro is just an all-around solid laptop with exceptional battery life.
Sometimes, being a solid B+ at everything instead of an A- here and a C+ there is more respectable. And that's how I feel about the Dragonfly Pro. It feels like a laptop you buy, and it'll last for years with the same consistency the whole time.
The Dragonfly Pro's other positive feature? Battery life. I haven't tested many 13th Gen Intel laptops, but I can tell you while battery life seems better (vs. 12th Gen), I'm not convinced they can be as efficient as the AMD Ryzen 7. Competing with Intel between its U- and P-series chips while adding hours of battery life is not trivial.
Regarding cons, those new side keys are a bit pointless. Or, rather, the new myHP app is a bit buggy and undercooked at the moment. Having three keys that (slowly) launch into the same app (in different sections) feels poorly thought out.
As to who the Dragonfly Pro is for, HP says it's aimed at "freelancers who need everything to work seamlessly," remarking that it is "optimized for all kinds of productivity" with "support whenever you need it" and it "looks and sounds good anywhere."
Is all that true? Yeah. To be honest, this would be a superb laptop for the Windows Central staff and other writers, journalists, creators, and knowledge workers. If I were a support department at a company, I'd look to deploy these to my workers who need a solid laptop for work that they can also enjoy off work.
Overall, the Dragonfly Pro is a robust, all-around enjoyable laptop that finds the right balance of features and performance for its target audience. HP just needs to get its software better-tuned.
HP Dragonfly Pro (ceramic white)
With a solid, robust design, excellent performance and above-average battery life the Dragonfly Pro makes a good laptop for freelancers, especially thanks to its included 1-year of 24/7 HP support at the touch of the button. However, some software issues need to be worked out.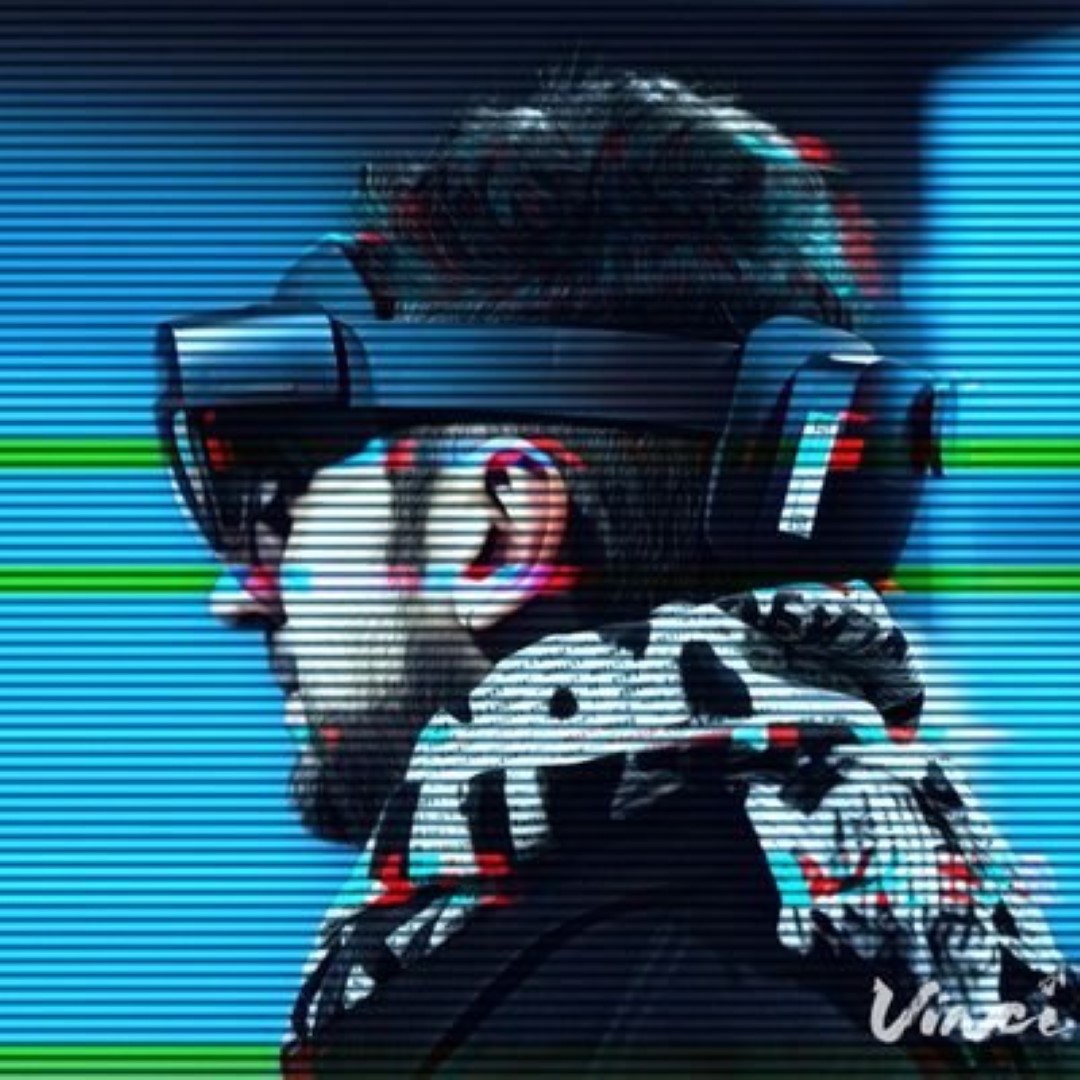 Daniel Rubino is the Editor-in-chief of Windows Central, head reviewer, podcast co-host, and analyst. He has been covering Microsoft since 2007 when this site was called WMExperts (and later Windows Phone Central). His interests include Windows, laptops, next-gen computing, and for some reason, watches. Before all this tech stuff, he worked on a Ph.D. in linguistics, watched people sleep (for medical purposes!), and ran the projectors at movie theaters because it was fun.