HBO Go app for Xbox One nearing completion, currently in testing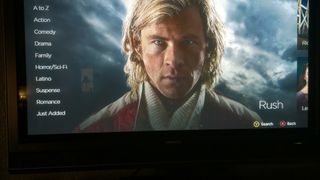 HBO Go might finally be ready for the Xbox One. Anyone with an HBO subscription is familiar with HBO Go. HBO Go gives you access to the entire catalog of original HBO programming, plus movies, comedy specials, documentaries, sports and late night adult programming. We're finally about to get HBO Go on our Xbox One.
About a month ago we saw the Plex Xbox One app show up on the Reddit community r/xboxone. At the time, the Plex app was still in beta testing and nothing official was known about it. Then a few weeks later the Plex app launched for Xbox One.
A similar thing has happened today. A OneDrive album link was posted to r/xboxone with screenshots of the alleged HBO Go app for Xbox One. The poster said the app was currently in beta, just like Plex. We wouldn't be surprised to see HBO GO show up on the Xbox One in the very near future.
Check out the screenshots of HBO Go in action for the Xbox One and let us know what you think. We can't wait to finally finish the last season of The Wire with HBO GO.
Source: r/xboxone
Windows Central Newsletter
Get the best of Windows Central in in your inbox, every day!
Where is the WP hbogo app?

Now that's what I'm talking about. HBO Go for the Windows Phone! Hopefully, that too will come soon.

Or the Win 8.x app? They should all come out at the same time in line with the "One Windows" mantra.

Now I can finally retire my 360.

One of the major reasons I haven't purchased one yet as well. But give me backwards compatibility, or some way to trade in old games for a xbone version and I'll buy one today.

The ability to trade in games has always been there. Most major game retailors will trade in games, and quite a few titles had offered the deal where you buy the 360 version, and then trade it in for the X1 version for like $10.

Yeah make it for the phone as well I hope !

More good news!!!! Wow, great week.

They said it was coming soon when the last game of thrones season started...

First official porn app on X1? Or does "late night adult programming" mean something else?

I think it just means things that are rated r

Nah, I'd say Internet Explorer

I use Firefox for that...for eveything else, there's IE

Neat, bit I don't care because my Xbox one is on the same tv as my dish box is... Looking for a app for Windows phone and then I would use it

Keep in mind HBO Go has a larger catalog than what's available on HBO through your cable provider.

Now I just need Crunchy Roll and Fanimation and when HBO Go allows me to pay for the service sans a cable subscription next year, we can cut the cord.

10 bucks says Comcast is absent. Any takers?

I would consider taking that bet. With HBO having announced it's streaming service, I have a feeling they might not allow that to happen. They are going to want to attract as many people to want that service as they can before it launches. Purely speculation though, they could be dumb and alienate people too.

What you're saying is rational. Also CEOs are egomaniacs :/ I'm locked into a 2 year contract with them which contains HBO so no outs for me. It's a hell of a deal but their X1 set top boxes are so slow, I've returned all but the main box which is kind if okay. I'd prefer to watch HBO on my Xbox One or Roku 3 but the Roku is blocked. Hope I'm wrong about the xbox but Comcast's track record says otherwise (comedy central, vh1)

I don't think Verizon's record is as good, could be wrong but I've heard some stories. I dumped Comcast for everything but internet a while ago so I'm happy with anything available through streaming.

Funny thing, both corps listed above are my current telcos, & are the most unfriendly towards Microsoft =) Let the good times roll

WPCentral should make an XONE app!.

There would be to many notifications

Ugh.... Where is Windows 8/RT and Windows Phone????

It'll probably launch with Windows10 for phones.

I like to vape and play with my WP

I approve this message. Arizer Solo, 2013 edition.

So frustrating we haven't had this from the entertainment console from the beginning,.. well i guess if its out soon thats not bad.

It did take the 360 about five years to become worth a damn.

Except nothing had these apps at that time. Now that we live in an "appy" world, launching without providing equal services to the predecessor was a mistake.

I have HBO movie central on Shaw direct. I hope I get this.

The TMN GO app is already available in Canada, and has all the HBO content on it.

Hopefully it doesn't have the same poor audio quality that the 360 app has/had. That app was worthless. You had to max out your systems volume, and the sound was very flat.

will be available globally where we can sub to the HBO GO? (I live in Hungary)

Yes this. Does anyone know if this is globally available? I even have an American subscription, but live in the UK

How do you use this US subscription outside the US? I'm curious because I would like to do the same for HBO shows, here in France I need a canalsat subscription plus a paid option to watch some (not all) HBO production the next day of their US diffusion.

I wish Arrow and Flash were added into the HBO catalogue

Just get Hulu plus or download the free CW app? Flash and Arrow are both CW shows.

Oh, I'm sorry. The website "project free tv" has tv shows and movies that can be streamed, I'd check that out.

In the UK HBO is called Sky Atlantic. Would I be able to log onto this using my sky TV account?
I doubt it.

I feel like that's the new promised land. "Just wait until Windows 10". It seems like "next year" is always the year for Windows Phone.

Can't wait just wish for WP app too

I really, really want this in Australia.

Doesn't surprise me, I work for a cable company and I was talking to our HBO rep last time she was in and she said it'd be out very soon, before the end of the yr.

check this..... https://onedrive.live.com/redir?resid=3625A1564D7243A6!10876&authkey=!AJn7yiFzxBRrKfA&v=3&ithint=photo%2cjpg
Windows Central Newsletter
Thank you for signing up to Windows Central. You will receive a verification email shortly.
There was a problem. Please refresh the page and try again.