These three hidden options make Windows Ink even better
Windows Ink works great with the default settings, but you can make it awesome with these three simple options.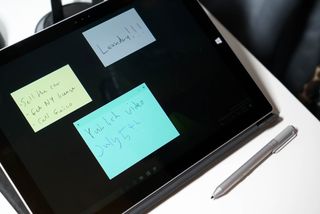 Microsoft really gave us a reason to use a pen on our touch PCs with the Windows 10 Anniversary Update. That reason is Windows Ink, and it's a whole new pen experience.
More than just handwriting recognition, there's a new Windows Ink Workspace with three new apps: Sticky Notes, Sketchpad, and Screen sketch.
The new digital ink experience comes enabled by default on devices like Surface Pro 4 and Surface Book, with a set of default configurations that work well out of the box, but you can improve your experience by customizing three key features.
In this Windows 10 guide, we'll walk you through the steps to enable Windows Ink on the Lock screen and Sticky Notes insights, and we'll tell you how to get rid of the pen cursor.
1. How to enable Windows Ink above the Lock screen
While you can use Windows Ink when you're signed in to your account, but the Windows 10 also allows you get to the Windows Ink Workspace even when your device is locked.
To enable the Windows Ink Workspace on the Lock screen, do the following:
Open Settings.
Click on Devices.
Click on Pen & Windows Ink.
Under Pen shortcuts, configure the Click once drop-down menu to open Windows Ink Workspace.
Select Home from the second drop-down menu.
Turn on the "Click once to open my Windows Ink Workspace notes even when the device is locked" toggle switch.
Now when your computer is locked, you can click the button on your pen once, and the Windows Ink Workspace experience will open, letting you access Sketchpad, Screen sketch, and Sticky Notes. The rest of the PC will remain locked behind your passcode or Windows Hello.
2. How to enable Insights for Sticky Notes
The Anniversary Update also includes a new version of Sticky Notes that is optimized to take advantage of Windows Ink using an active pen. Sticky Notes now also integrates with Cortana to create reminders from your notes. Cool, right? Just one catch: you need to manually enable this feature for it to work.
The feature is called "Insights", and you can use these steps to enable it:
Open Sticky Notes.
On any note, click the three dots (...) menu button on the top-right corner.
Click the Settings (gear) button on the bottom-left corner.
Turn on the Enable insights toggle switch.
Once you enable insights, Cortana will be able to scan the content of your notes, and help you create reminders.
3. How to disable pen cursor while using Windows Ink
Using an active pen to write notes, sketch, or annotate on screenshots is a surprisingly good experience on Windows Ink. However, if you use an active pen on Windows 10, you probably noticed the cursor that appears as you bring the pen towards to the screen.
This pen cursor can add distraction and a lag effect that can hurt the user experience. Fortunately, Windows 10 now includes an option to disable the cursor if it's bothering you.
Open Settings.
Click on Devices.
Click on Pen & Windows Ink.
Under the Pen settings, turn off the Show cursor toggle switch.
Now you will no longer see the cursor on the screen while using your Surface Pen or any other pen. Not sure if you want to turn the cursor off? Give it a shot, I'm sure you'll like it.
Wrapping things up
Although the default settings for Windows Ink will work for most people, now you know a few new tips to get even more out of the experience.
How have you customized your Windows Ink preferences? Let us know in the comments!
More Windows 10 resources
For more help articles, coverage, and answers on Windows 10, you can visit the following resources:
Windows 10 help, tips, and tricks
Windows Central Newsletter
Get the best of Windows Central in in your inbox, every day!
Mauro Huculak is technical writer for WindowsCentral.com. His primary focus is to write comprehensive how-tos to help users get the most out of Windows 10 and its many related technologies. He has an IT background with professional certifications from Microsoft, Cisco, and CompTIA, and he's a recognized member of the Microsoft MVP community.
They are good to know, will try the lock screen one !!! I would like the insights in the UK, not able to get it to work :(

I changed the Region on my SP3 to US & now I have Insights (after some d'loads/updates & reboots); There might be some issues w/this workaround, there was in the past -but unsure any of them remain. One issue IIRC... Is that Cortana will eventually serve-up stuff not tailored for Australia, but so far she's still pretty local.

Wish I could do the same with Double click, cause I like having OneNote on single click.

Thanks for the tips, however I could not enable the Insight feature. Is it because I am using a SP3?

I think it works on sp3, but only in the US ??

I think it works on sp3, but only in the US ??

It works on my SP3. It relies on Cortana. Are you are in an unsupported region?

Why are these 'Hidden Options'? They are clearly labeled options in settings. Yes they may not be well advertised, and it is great you are hilighting them, but they are no more 'hidden' than any other settings. You might as well have a headline, Windows has hundreds of hidden cusomization options under this thing called settings. If it involves a registry 'hack', that's hidden. A switch in a settings/control panel is not.

This is what everything on the Internet has become. Click-bait titles that have nothing to do with the content. Article titles are a mess, everything is hyperbole. I just waiting for the time this is going to go out of fashion. "Hidden this and that", "X# of secrets revealed", "jaw dropping this", "One trick that will blow your pants off". *sigh*

I'm slightly more concerned about the amount of people this isn't bothering.

Actually the button is hidden if you are not using the ink Hub thing. Once you select that, then you can see the button.

Thx, that explains it; I'm in Canada.

Why is it that the Windows Ink options don't exist in the settings for me even though I enabled it? Posted via the Windows Central App for Android

i turned off cursor since the first windows 10 release. but it has some issues - like you will not see any tooltips in windows explorer (which show file size, and other info), also you will have lots of problems selecting multiple files because checkboxes will not be visible in desktop mode. no tab thumbnails in edge and lots of other stuff missing. but i still hate the cursor so much, that i will never turn it on again

That's pretty much the idea behind it though, turning off the cursor should make the pen behave like a pen not a glorfied pointing device that acts like a mouse too that was always a awful design idea.

Just FYI - Web to App links are working in Windows Central App now. You can uninstall/reinstall to activate them.

This is great. Good job Daniel.

Not sure if it is now but this needs to be made extensible and avilable to 3rd party programs in a more meaningful way than just adding shortcuts to open them. Onenote for example should be integrated so you can browse the headings of your sections/pages and open them directly. Or have them flyout so you can make a quick note without having to open the full program. I can already pin a shortcut to Onenote the taskbar or start menu so just offering the ability to open it from the workspace doesnt make it appealing. Needs to do more than just focusing on the 3 bundled programs.

Windows ink is available for all developers as an API, one note is an app not a feature/capability. I think they will add more to the actual ink workspace, perhaps making it almost like a start menu for all ink capable apps you've installed, and adding more options to the pen button actions is a given. Rome wasn't built in a day and windows ink is a major feature, borderline platform of its own so Microsoft will be extending it and improving it for years to come.

Insights is definitely not there in Australia

I confirm. Seems to be USA only.

Cool. But just need to "re-ink" that first paragraph in 1. It's gibberish.

Some flights that Bing can recognize is not available in Sticky Notes :(

I have realized that the flight numbers have to be written in a certain way. I guess AI needs a bit more improvement.

what is this "certain way"? There is flight, e.g. U6-224 that is available in Bing and Edge address bar but sticky notes can't show info for this flight. Also Microsoft said Sticky Notes will be integrated with maps, the map should appear on the sticky note somehow. I have no idea how to try it :)

Windows ink on phones could give Microsoft a reason to add a stylus along with one note support for the stylus to their next phone

So, by "hidden" you mean in plain sight, exactly where one would expect the options to be?
Windows Central seems to become more and more tabloid, and less serious all the time.

Hi Posted via the Windows Central App for Android

Hoping that microsoft will finally ramp up more regional and language support for Cortana. Cortana not available in the Netherlands, so no insights on the sticky notes.

Yes, but they also screwed up Sticky Notes. There is now a limit to how much you can resize them and the font is too large and the note itself is HUGE!

Only wish my Dell XPS 13 had pen support

If you turn off the pen cursor/dot, does it disable "hover mode"? Hovering helps with drop-down menus on websites and applications before you even register a touch. Hovering is I guess equivalent of mouse roll-over.

Would be neat if they could make a little device that wraps around your index finger and detects hover, phones + tablets would be great

'Insights' why just the US? It can't just be a language issue as the Brits gave it to them....

Nice! I really like this new INK center.
Windows Central Newsletter
Thank you for signing up to Windows Central. You will receive a verification email shortly.
There was a problem. Please refresh the page and try again.