Surface Pro 4 with 1TB of storage available for pre-order for $2,699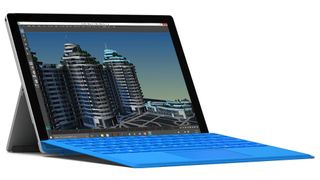 When Microsoft first announced the Surface Pro 4 12.3-inch tablet earlier this month, we mentioned that there would be a very high-end model that would have 1TB of PCIe storage and an Intel Core i7 processor. Now that version of the tablet is now available for pre-order on the Microsoft Store site, and it has a premium price point of $2,699.
This version of the Surface Pro 4 is so special, it gets it own pre-order page on the Microsoft Store site, separate from the site's normal Surface Pro 4 order page. Shipments of this model are also different; they are not scheduled to begin until January 22.
Would you pay $2,699 to get a Surface Pro 4 with 1TB of PCIe 3.0 storage and a Core i7 chip? Let us know in the comments!
Everything we know about the Surface Pro 4
Pre-order the 1TB Intel Core i7 Surface Pro 4 at Microsoft Store / $2.,699 (opens in new tab)
Get the Windows Central Newsletter
All the latest news, reviews, and guides for Windows and Xbox diehards.
Wow, and the (to me!) amazing part is there are people who will get this.

Not me. But I will pay that much for a Surface Book with half a TB of storage.

My SP3 does everything I need but I will get the new keyboard for better typing and the larger precision touchpad. I do WANT this SP4 though, but just can't justify the expenditure :( Maybe next year :)

Can the sp4 keyboard fit over the sp3 without overlapping the edges of the tablet

External dimensions are the same for both SP3 and SP4. The extra screen real estate on the SP4 comes from MS reducing the bezel size.

Yes, they are both the same size. The SP4 has a larger screen size due to less bezel. I think keeping the same size is a stroke of genius by Microsoft as we can update the accessories.

I agree. Or, to put it differently, a fairly obvious and only sensible thing to do since the SP4 is probably not worth an upgrade for most SP3 owners. :) This way they can benefit from new accessories if they want, and MS can squeeze a bit more revenue from them. Posted via the Windows Central App for Android

At this point I'll go with a Surface Book!

Somebody lend me the money. I'll pay you back in 2020.;)

Sure 25% interest and someone else must co-sign...I'll loan you the money :) LOL

I don't have a need for it, but I want one. I just can't afford it.

Dedicated GPU for the ULTIMATE laptop confirmed! Daniel please make an article. I won't tell yet what it is though. For obvious spoiler reasons. ;)

So cheap, I pre ordered two! /s

OK, OK. It's a modified GTX 940. Daniel, you probably know this already but what do you think? Why not a GTX 960?

It's not a modified anything, completely custom GPU that needs to be benchmarked on its own.

Yeah, it's probably optimized as hell. Still, the clock speeds are even slightly lower than a normal GTX 940m. So, it will more likely be a bit slower even. Also, interchangable basis! Maybe more powerful GPU base in 2016? Would be kinda plausible, we already have different TypeCovers...

Do ALL Surface pro 4's use a PCIe ssd? If not, why not?

No thanks I'll grab 4TB external

Enjoy that spinning disk experience over USB.

So you can get the 1TB SP4, Type Cover, and 2 year complete warranty and still be $121 ahead of the VAIO Z Canvas... Not a bad deal in comparison.

Out of reach for me. But what a dream.

No thanks , I will grab Dell Inspiron 7000 series 6th i7 with intel real sense for Windows Hello , 16GB Ram , 1TB hard disk when it arrives India... Well I miss the pen feature... But its ok Microsoft won't sell them in India

What do you think the price rate will be?

Nah, I don't need that much flash storage, and my mobile computing needs are too infrequent and casual for an i7. I'd sooner go with the m3 or i5 and a portable external HDD for another $50-100.

This is a 1TB PCIe SSD though.

That was my point. I don't need 1 TB of flash storage. Really, no one does. In most cases, people with large libraries have media content that doesn't really take a long time to access in the first place. The time between opening a TV show on a 7200-RPM external drive vs. a SSD is negligible, same for music. I just don't need the speed, it's nowhere near worth the money to me. Like I said, such a thing, for me, would be a secondary PC. My desktop does the heavy lifting, so something much cheaper would fit my wants and needs without making my wallet cry out in agony.

Lol Posted via the Windows Central App for Android

In Europe will problaby cost 2699 euros. With that money i will buy a 699euros desktop pc and a car and i will be much more mobile than surface will ever be.

Daniel you may need to update your blog post. In the US the i7, 16gb RAM, 1tb says coming soon on the Microsoft site as of 3:30pm pacific

Is stupidly expensive... the sad part is that some people will buy it hahahahahah Posted via the Windows Central App for Android

That option isn't even available in the UK online store. Why not? How come we keep getting the short straw?