Hit the open road with the latest additions to the Forza Horizon 3 car list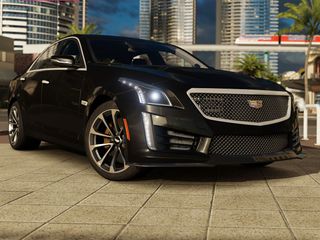 Microsoft has revealed the latest additions to the car list that will be included in the upcoming open world driving game Forza Horizon 3 for the Xbox One and Windows 10.
One of the cars on the list is the 2016 Cadillac CTS-V Sedan, which is also the subject of the latest Forza Horizon 3 trailer. Here's a look at the rest of the new additions to the game's car list:
2016 Abarth 695 Biposto
2002 Acura RSX Type-S
2016 Aston Martin Vantage GT12
1986 Audi #2 Audi Sport quattro S1
2015 Audi TTS Coupé
2011 BMW Z4 sDrive35is
2013 BMW M6 Coupe
1967 Chevrolet Chevelle Super Sport 396
2014 Chevrolet Super Sport
1969 Dodge Charger Daytona HEMI
2003 Ferrari 360 Challenge Stradale
1984 Ferrari 288 GTO
2010 Ferrari 599 GTO
2012 Ferrari F12berlinetta
1953 Ferrari 500 Mondial
1969 Fiat Dino 2.4 Coupe
1993 Ford SVT Cobra R
1940 Ford De Luxe Coupe
2003 Ford Focus RS
1981 Ford Fiesta XR2
1988 Holden VL Commodore Group A SV
2005 Honda NSX-R
1993 Jaguar XJ220
1971 Nissan Skyline 2000GT-R
2017 Nissan GT-R
1968 Opel GT
2011 Subaru WRX STI
1980 Subaru BRAT GL
2016 W Motors Lykan Hypersport
Forza Horizon 3, developed by Turn 10 Studios and Playground Games, will be released on September 27. Which of these new car additions is your favorite and why? Let us know in the comments!
See at Microsoft Store (opens in new tab)
Windows Central Newsletter
Get the best of Windows Central in in your inbox, every day!
Someone near me has a Brat that they park out by the road! It's a little rough, but considering what PA road salt does to cars, it's amazing that it's still alive! And it moves places a little bit, and I've been by when it's not there, so they definitely still drive it.

I was in japan for a bit and i managed to see both a beater 1971 skyline and fully restored and my goodness... to be able to see these in the world setting that FH allow is going to be fun... also FH is the only racing game now that i find myself drawnto... FMS is still a great game but just driving for noreason and going to the next race is much fun than getting dropped back into a menu and then picking the race and so forth and so on... long live FH i do hope they do strive for 60FPS this time around :(

Any word on if they are doing an XBox One S Horizon 3 bundle?

Very happy they added a Tesla Model S P90D (Ludicrous Mode!) a few weeks ago. I now look to these lists to see if they added a Roadster (It was was Forza 4) or a Model X P90D. Elon Musk is known video game fan.

Chevy SS will be nice to drive. I'm more interested in the wild terrain options than anything, though.

I want a Forza with the new NSX!

1971 VH Valiant Charger. If Forza Horizon was the least bit serious about this game having an Australian Feel or flavour... This car would be added already!
Windows Central Newsletter
Thank you for signing up to Windows Central. You will receive a verification email shortly.
There was a problem. Please refresh the page and try again.