How to add an Ethernet port to your Microsoft Surface Pro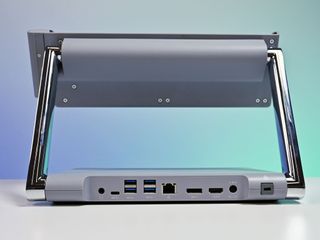 (Image credit: Windows Central)
If you want a solid and stable internet connection, your best bet most of the time is to go with an Ethernet connection. While some PCs, gaming laptops, and business laptops have built-in Ethernet ports, Surface Pro devices require additional hardware. Luckily, there are quite a few options, ranging from expensive and sturdy docks that create a desktop setup to inexpensive dongles.
Products used in this guide
How to add Ethernet to your Surface
Dock your Surface Pro into whichever dock or device you have, or connect your dongle to the USB port.
Connect an Ethernet cable to your router.
Plug the Ethernet cable into your dock or dongle.
You don't have to do any software configuration for an Ethernet connection. Generally speaking, Windows 10 handles this and it's plug-and-play. You can always choose which network to connect to through the Settings app.
Our top equipment picks
There is a wide range of devices that add Ethernet connectivity to the Surface Pro. You can get one directly from Microsoft or jump up or down in price depending on your needs and budget.
New dock from Microsoft
(opens in new tab)
New and improved

The new Surface Dock 2 adds four USB-C ports as well as Ethernet, USB-A, and headphone/mic ports.
The Surface Dock 2 is the much-needed refresh to the original Surface Dock. It adds USB-C ports and supports Gigabit Ethernet. It can drive two 4K displays at 60Hz, or two 5K displays at 30Hz. It also has a higher power delivery than the original, allowing it to push 120 watts to connected Surface devices. To use the Surface Dock 2, you'll need a Surface device that came out in 2017 or later. Specifically, it works with the Surface Book 3, Surface Pro 7, Surface Pro X, Surface Laptop 3, and Surface Go 2. It's expected to start shipping on May 26, 2020.
Original dock from Microsoft
(opens in new tab)
Directly from the source

The Surface Dock has four USB ports, two mini-display ports, and a 3.5mm audio jack to go along with the dedicated Ethernet port.
You can leave the Surface Dock on your desk with all your peripherals set up or carry the dock in your bag to increase your ports on the go. It utilizes the Surface connect port, so you only have to plug one wire into your Surface Pro. The dock is a bit dated and hasn't dropped in price like older pieces hardware often do, but it still works and allows you to connect your device through Ethernet.
A mini studio
(opens in new tab)
Kensington Surface Pro Dock
A unique desktop setup

This docking station doesn't just make your Surface Pro look like a Surface Studio; it also packs ports, including Gigabit Ethernet.
The Kensington Surface Dock is a heavy-duty setup with a plethora of ports, a rock-solid design, and a hinged dock that allows you to use the Surface Pro at an infinite number of angles. In his review of the device, Executive Editor Daniel Rubino said that the dock was "so good Microsoft should have made it." This dock works with the Surface Pro 7, Surface Pro 6, Surface Pro 5, and Surface Pro 4. It does not work with the Surface Pro X as the dimensions for that device are different. There's also a smaller Kensington Docking Station (opens in new tab) that works with the Surface Go.
Best budget
(opens in new tab)
StarTech USB 3.0-A to ethernet adapter
Budget-friendly and lightweight

You can easily toss this adapter into a bag or use it as part of a permanent setup.
This dongle handles 10/100/1,000mbps networks and is a reliable way to add an Ethernet connection to your Surface Pro. You don't gain the ports of the Surface Dock, but you gain portability.
Best for Surface Pro X
(opens in new tab)
StarTech USB C to Gigabit Ethernet Adapter
Modern connectivity

This tiny dongle can easily fit in a bag
You can use this dongle with either of the Surface Pro X's two USB-C ports. It supports USB 3.1 and can transfer files with 10/100/1,000 Mbps network speeds.
Additional Equipment
It doesn't matter which dongle or dock you use if you don't have a good Ethernet cable. This Amazon Basic cable is Cat-6 and can handle ridiculously fast internet speeds.
Amazon Basics Cat-6 ethernet cable (opens in new tab) ($7 at Amazon)
This cable will work with internet speeds all the way up to 1Gbps.